Stephen Hawking Picks Neil deGrasse Tyson and 'The Big Bang Theory' for Science Communication Awards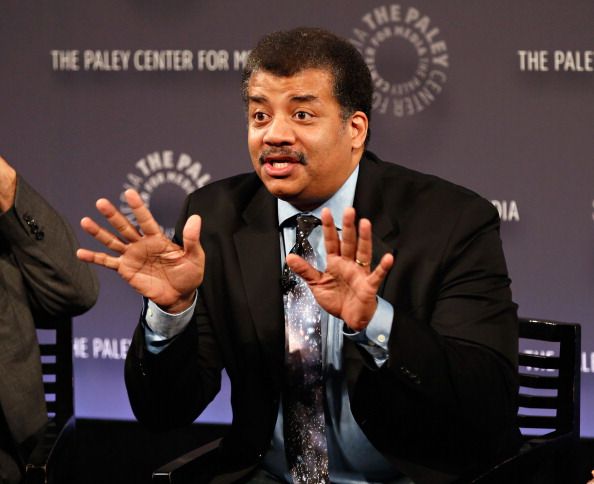 Neil deGrasse Tyson has become the first American scientist to win the Stephen Hawking Medal for Science Communication. The astrophysicist and popular science figure, who also heads the Hayden Planetarium at the American Museum of Natural History, will take home the 2017 medal for writing, due to be presented by Hawking himself later this month at the Starmus Festival in Trondheim, Norway.
Tyson "is noted for his exceptional and unique capacity to communicate science through his popular TV shows, books and lecturing around the world," the Starmus website explains. "His efforts have helped popularize science around the world—bringing new enthusiasm and interest to many disciplines within science."
Related: Neil deGrasse Tyson is on your TV, on a mission
Hawking, who reportedly handpicks each recipient, announced the 2017 recipients on Tuesday at the Hayden Planetarium in New York City. In addition to Tyson's award for writing, he announced that the award for music and arts would to go to Jean-Michel Jarre, a French electronic music composer, and the award for films and entertainment would go to a long-running CBS series, The Big Bang Theory.
"Congratulations and I look forward to presenting the medals to the winners at the Starmus Festival in an official ceremony on the 20th of June in Trondheim, Norway's scientific capital," Hawking said in a short video.
The award is still young, with 2017 marking only the second round of medals. It was first announced in December 2015 "to recognize the work of those helping to promote the public awareness of science through different disciplines such as music, arts and cinema." Last year, the three prizes went to Jim Al-Khalili, a British theoretical physicist, writer and broadcaster; Hans Zimmer, a German film score composer; and the documentary film Particle Fever.
Tyson graduated from the Bronx High School of Science and earned his bachelor's degree in physics at Harvard University and his doctorate in astrophysics at Columbia University. He's led the Hayden Planetarium since 1996, and he has simultaneously embarked on a myriad of projects and activities. He served on two commissions under President George W. Bush—on the future of the U.S. aerospace industry and the implementation of the U.S. space exploration policy—and was appointed in 2006 to NASA's Advisory Council. He's written more than a dozen books—including Astrophysics for People in a Hurry, published just last month—and worked on television shows such as PBS-NOVA's NOVA ScienceNOW and Cosmos: A SpaceTime Odyssey and podcasts such as StarTalk. He has garnered more than 7.61 million followers on Twitter, where he communicates with fans about his various projects, about science topics and about the news of the day.
"By engaging with everyone from schoolchildren to politicians to pensioners, science communicators put science right at the heart of daily life," Hawking said in a statement when the awards were introduced in 2015. "Bringing science to the people brings people into science. This matters to me, to you, to the world as a whole."