Stephen Hawking's Voice Will Be Beamed Into a Black Hole
Late physicist Stephen Hawking's voice will be beamed into a black hole during his memorial on Friday, his family have revealed.
His voice will be accompanied by the music of Greek composer Vangelis, who is perhaps best known for creating the iconic soundtracks of movies including 1981's Chariots of Fire and 1982's Blade Runner.
Vangelis—real name Evángelos Odysséas Papathanassíou—also composed the score to PBS' 1980 TV series Cosmos: A Personal Voyage.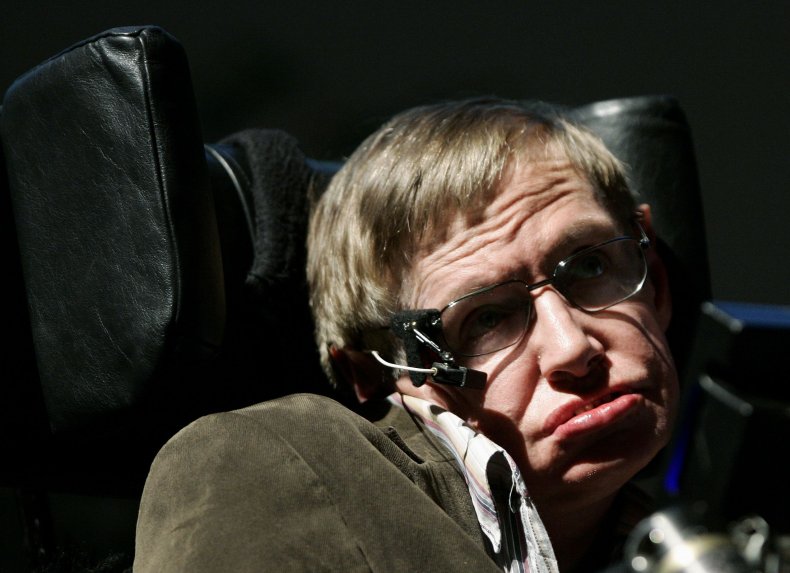 Hawking's daughter, Lucy Hawking, said the broadcast will be channeled towards a black hole in the 1A 0620-00 binary star system, according to the Telegraph. The system is relatively close, sitting about 3,300 light years away in the constellation Monoceros.
Hawking's voice will deliver "a message of peace and hope, about unity and the need for us to live together in harmony on this planet," his daughter said. The unusual broadcast will be a "beautiful and symbolic gesture that creates a link between our father's presence on this planet, his wish to go into space and his explorations of the universe in his mind."
The service of thanksgiving will take place at Westminster Abbey in London on Friday. It will celebrate the life of the acclaimed cosmologist and science communicator. The service will include traditional elements such as Bible readings and a full choir.
Notable figures including British actor Benedict Cumberbatch, who portrayed the scientist in 2004 TV movie Hawking, will give readings and addresses at the ceremony, the Telegraph stated. British astronaut Tim Peake will also play a role in the memorial, executive director of the Stephen Hawking Foundation Elizabeth Forrester previously told Newsweek.
1,000 lucky members of the public are set to attend following a ticket ballot earlier this year.
Hawking's ashes will be interred between the graves of Isaac Newton and Charles Darwin. His funeral took place earlier this year at Great St Mary's Church in Cambridge, U.K.
Hawking died at the age of 76 on March 14 this year after battling amyotrophic lateral sclerosis (ALS) for some five decades. A revolutionary within his field, he kept working until the end of his life. His final scientific paper was published posthumously less than two months ago.
Hawking is also remembered for his work in science communication, introducing millions to astrophysics with the release of his 1988 bestseller, A Brief History of Time. Unafraid of whimsy, he took on several cameo roles in his time, notably appearing as himself in Matt Groening cartoons The Simpsons and Futurama. He also once held a party for time travelers. Unfortunately, nobody showed up.
In 2014, Hawking released a paper proclaiming traditional black holes incompatible with quantum physics. "There is no escape from a black hole in classical theory," he previously told Nature. Quantum theory, however, "enables energy and information to escape from a black hole." The ebony behemoths, it seemed, might really be gray.