Stephen King Says We May Never Know Exactly How Brian Laundrie Died
Stephen King has given his take on the Gabby Petito and Brian Laundrie case, sharing his belief that the public may never know exactly how Laundrie died.
Following a month-long, high-profile search, Laundrie's remains were found on October 20 in Myakkahatchee Creek Environmental Park, near the Carlton Reserve in Florida.
His parents, Chris and Roberta Laundrie, had reported him missing on September 17. The remains were confirmed to be Laundrie's one day after the discovery, following a comparison of dental records.
Brian Laundrie, 23, was a person of interest in the disappearance and death of his fiancée Petito, whose remains were found on September 19 in Wyoming, one of the places the pair visited during a cross-country road trip. A coroner ruled her death a homicide caused by strangulation.
And as the discovery of Laundrie's remains has left a number of questions unanswered, King—famed for his top-selling horror and crime novels—said that the circumstances surrounding his death could well remain a mystery.
"I suspect Brian Laundrie committed suicide," King informed his 6.5 million Twitter followers on Sunday, "but unless he left a suicide note in the notebook found with his body, the cause of his death may be tough or even impossible to prove."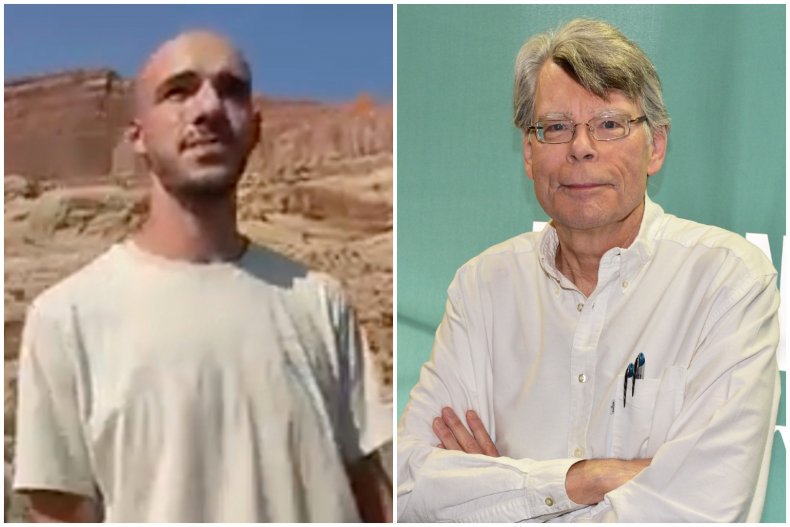 King's weighing on the high-profile case surprised a number of his followers, who noted that he rarely comments on current mysteries.
His singular tweet on the matter also sparked a debate among those followers, a number of whom agreed with the star.
The notebook King referred to was among Laundrie's belongings that were found in the reserve at the time that his remains were discovered. Law enforcement have said that the notebook is salvageable, even though belongings were previously underwater.
Throughout the search for Laundrie, he remained a person of interest in the disappearance and death of Petito. He was never accused of killing her.
Laundrie returned to his parents' home in North Point, Florida, on September 1 without Petito. He then went for a hike in Florida's Carlton Reserve on September 13, but never returned.
Laundrie was not reported missing by his parents until September 17. His remains were found after his parents joined law enforcement on the weeks-long search.
Steven Bertolino, attorney for the Laundrie family, said last Friday that the Sarasota County Medical Examiner had sent Laundrie's bones for an analysis of how and when he died. He also stated that the results could come at some point this week.
Bertolino also shot down social media accusations that the Laundries planted evidence or engaged in any illegal activity while searching for their son with police last Wednesday.
He told reporter Angenette Levy: "A lot of people have been asking, 'How did they know where to go?' and I keep repeating that this was the beginning of the trail right near the access of the trailhead and the parking lot to the park, and they started down that trail, and as they were able to go off into the woods, they did so, checking in a zigzag fashion, looking for certain items when Chris came across a light dry bag, and about the same time, law enforcement came across a backpack and some remains."
On Tuesday, the North Port Police Department announced that a DNA analysis on Laundrie's body had yet to be performed. The police department also addressed a "false report of DNA not matching Brian Laundrie."
A statement from the local medical examiner's office, shared by the police department, read: "The identity of the remains found at the Carlton Reserve on October 20th was confirmed by comparison to known dental records of Brian Laundrie. No DNA analysis has yet been performed on the remains."
The statement continued: "Samples will be submitted for DNA testing once the examination of the remains by the medical examiner's office is complete."