Stephen King Calls for Susan Collins' Ouster From the Senate Following Impeachment Trial
Best-selling author Stephen King has slammed Republicans and called for the ouster of his state's senator – Susan Collins of Maine – predicting that the GOP lawmaker will vote to acquit President Donald Trump in the ongoing impeachment trial.
King, whose well-known books have been developed into films and television series, has been a frequent critic of Trump and Republican lawmakers. The author was even previously blocked by the president on Twitter. As a Maine resident, King has strongly criticized Collins on multiple occasions in the past.
On Friday, the Republican majority of the Senate voted against calling for additional witnesses and evidence in the president's impeachment trial, despite Democrats' urging. Collins, as well as GOP Senator Mitt Romney of Utah, voted with Democrats to hear from further witnesses. It's unclear whether Collins and Romney plan to vote to acquit or remove Trump from office.
"Whitewash. Shameful," King tweeted on Saturday, referring to the impeachment trial. He then went on to predict that Collins would vote to acquit the president along with her Republican colleagues, calling for her to be voted out of office as she faces re-election this year.
"Republican [Lisa] Murkowski [of Alaska], not up for re-election, voted against witnesses. Republican Collins, up for re-election, voted for witnesses. Both will vote to acquit," he tweeted. "It's Moscow Mitch [McConnell] at his finest. Hey hey, ho ho, Susan Collins has to go."
Murkowski had previously suggested that she would consider voting with Democrats to call for additional witnesses, but inevitably sided with her Republican colleagues against the measure. Democrats needed at least four GOP lawmakers to side with them in order for the vote to pass with a simple majority of 51 to 47 in the Republican-controlled Senate.
McConnell, the Senate majority leader from Kentucky, had repeatedly said ahead of the trial that he planned to coordinate closely with the White House. This led many Democrats, and some Republicans, to raise concerns about his lack of impartiality. McConnell has previously drawn significant criticism for blocking legislation to address foreign election interference – particularly from Russia – leading to critics calling him "Moscow Mitch." U.S. intelligence agencies concluded that Russia interfered in the 2016 presidential election in favor of Trump.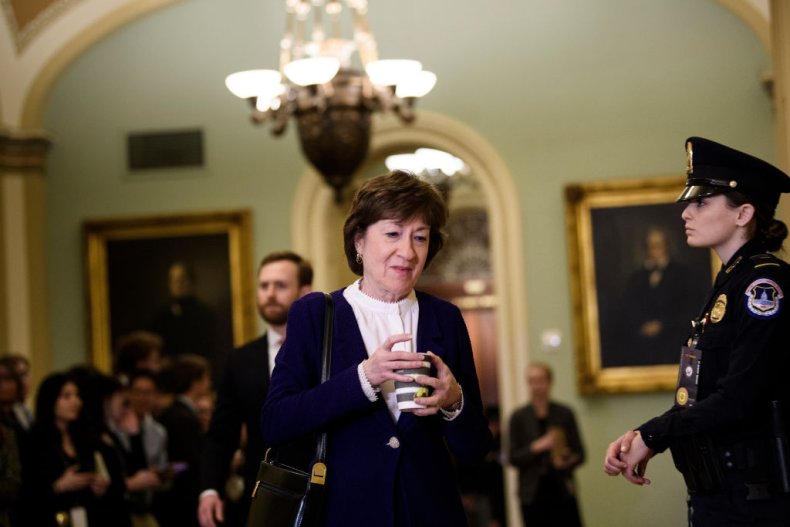 King has repeatedly called for Collins to be voted out of office.
"It's time for Susan Collins to go," the author tweeted last June, after Democrat Sara Gideon announced her intention to challenge the senator in 2020.
"Susan Collins has been there for about a thousand years," he later lamented in September during an interview on The Late Show With Stephen Colbert.
Collins' approval rating has dropped sharply since Trump took office in 2017. Morning Consult found that she has the highest disapproval (52 percent) of any senator nationally, dropping from 67 percent approval when the president took office to just 42 percent at the end of 2019.