Stephen King Says Don't Be Trump's Friend: 'Ask Jeff Sessions'
Author Stephen King called out President Donald Trump's treatment of Attorney General Jeff Sessions on Monday—using a "Lethal Weapon 2" quote.
The prolific writer and ardent Trump critic took to Twitter and warned those close to the president that Trump will "f*** you at the drive-thru" if you try to be his friend. King was apparently referencing a Lethal Weapon 2 scene about realizing a mistake too late just hours after Trump tweeted several messages publicly disparaging Sessions for investigating two Republicans and longtime Trump supporters.
"Today's lesson: Don't be Trump's friend. He will f*** you at the drive-thru if you cross him. Ask Jeff Sessions," Stephen King tweeted on Labor Day to his nearly five million followers.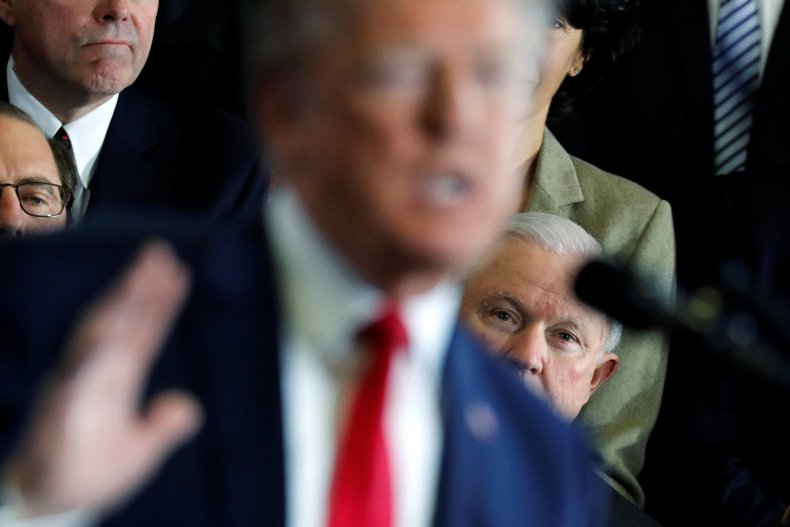 Hours before, Trump used his own Twitter account to blast the U.S. attorney general he appointed last year:
"Two long running, Obama era, investigations of two very popular Republican Congressmen were brought to a well publicized charge, just ahead of the Mid-Terms, by the Jeff Sessions Justice Department. Two easy wins now in doubt because there is not enough time. Good job Jeff..........The Democrats, none of whom voted for Jeff Sessions, must love him now. Same thing with Lyin' James Comey. The Dems all hated him, wanted him out, thought he was disgusting - UNTIL I FIRED HIM! Immediately he became a wonderful man, a saint like figure in fact. Really sick!"
Sessions issued a rare rebuke of the president last week after Trump ridiculed him for recusing himself from Special Counsel Robert Mueller's Russia investigation last year. Sessions said he would not be "improperly influenced by political considerations."
The line used in King's Monday tweet references actor Joe Pesci's lecture to Lethal Weapon 2 co-stars Mel Gibson and Danny Glover from the 1989 film. In the scene, Pesci's character Leo Getz explains to LAPD officers Riggs and Murtaugh the risk of using a fast-food drive-through versus approaching the person at the counter inside the restaurant. The dialogue is sparked after Pesci receives a Subway tuna sandwich.
"Can I give you two guys a friendly piece of advice?" says Pesci. "Don't ever go up to the drive-through, okay? Always walk up to the counter. You know why? Let me tell you. They f*** you at the drive-through, okay. They f*** you at the drive-through. They know you'll be miles away before you find out you got f***ed. They know you're not going to turn around and go back...I'm not eating this tuna."