More Than 100 Democrats Call for Stephen Miller's Firing Following Leaked E-Mails Linked to White Nationalism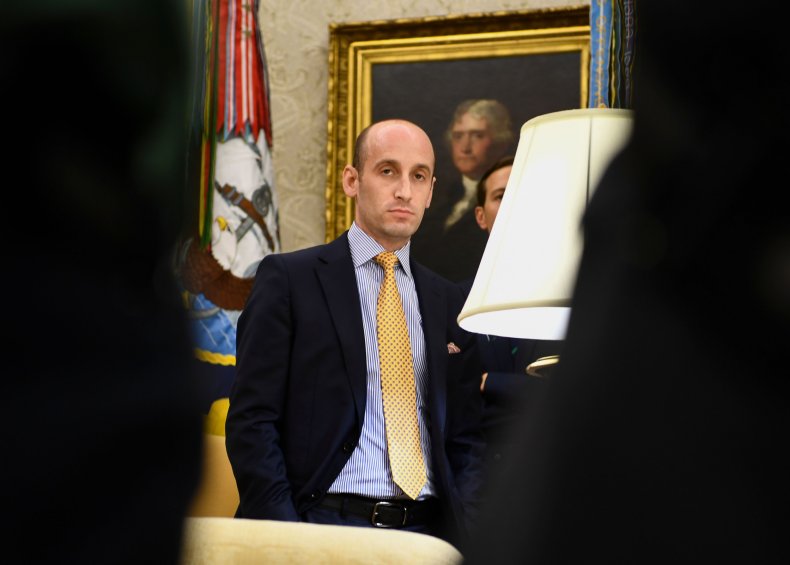 More than 100 Democratic members of Congress are demanding the firing of senior White House aide Stephen Miller after e-mails that contain white nationalist sentiments he sent as a congressional staffer were leaked.
"A documented white nationalist has no place in any presidential administration, and especially not in such an influential position," the representatives wrote Thursday in a letter to President Donald Trump. "Miller's white supremacist influence on your immigration policy, and it seems like that his perfidious adherence to extremist ideology has shaped your administration in ways that are not yet public."
[Read the full letter below.]
The Southern Poverty Law Center (SPLC) published a report last week that analyzed more than 900 e-mails Miller sent to Breitbart editors while he was an aide to former Sen. Jeff Sessions and later as a Trump campaign policy advisor in January 2016.
More than 80 percent of the e-mails, leaked to the non-profit by former Breitbart editor Katie McHugh, "relate to or appear on threads relating to the subjects of race or immigration," the center's analysis showed.
In October 2015, Miller responded to McHugh's query about whether refugees could earn temporary legal status in the U.S. if an impending hurricane devastated parts of Mexico by linking to an article from the white nationalist site VDARE.
In another exchange the following month, Miller recommended that McHugh include references to the book "Camp of the Saints" in coverage about comments the Pope made at the time relating to migration.
The dystopian 1973 novel is widely regarded as racist and traffics in fear-mongering about immigrant invasions. It is popular among white nationalist circles and has been invoked by former White House aide Steve Bannon and Iowa Congressman Steve King.
In their letter, the members of Congress link the white nationalist sentiments in the email with policy produced by the White House.
"Stephen Miller's nativism was cited as a major impetus behind your decision to reject a bipartisan compromise immigration bill that would have protected Dreamers due to his belief that the compromise would not reduce enough documented immigration," the authors wrote. "Appallingly, Mr. Miller referred to refugees as 'foreign-born terrorists' in his e-mails, a belief which clearly translated to the unprecedented low ceiling on refugee admissions and even lower actual entrants at a time of the worst refugee crisis in history."
The representatives concluded that they "refuse to tolerate white nationalism and xenophobia in the White House" and that Miller "must be fired immediately."
The White House did not respond to Newsweek's request for comment.