Emails Show Stephen Miller Directed Breitbart to Attack Marco Rubio Campaign, Shared Reports from Anti-Immigrant Think Tank
White House senior policy adviser Stephen Miller directed far-right news site Breitbart to attack Senator Marco Rubio's 2016 presidential campaign with the help of an anti-immigrant think tank, newly leaked emails show.
Miller mentioned Rubio 26 times in emails he sent to then-Breitbart editor Katie McHugh in July 2015, 17 from his personal Hotmail account and nine from his government email, according to a report the Southern Poverty Law Center (SPLC) released on Thursday. Miller⁠, who at the time reported to the Senate Subcommittee on Immigration, Refugees and Border Security chairman, criticized the Cuban-American senator on immigration in every instance.
On July 7, 2015, Miller sent McHugh a 2013 study by the think tank Center for Immigration Studies, which the SPLC listed as an anti-immigrant hate group in 2016. Hours later, McHugh contacted the author of the CIS report requesting comment on why "GOP candidate Marco Rubio hasn't publicly retracted his support for Gang of Eight," a bipartisan group of senators behind an immigration bill proposal.
That day, Breitbart published McHugh's piece titled "Rubio's Gang of Eight Bill Would Have Rewarded Sanctuary Cities Harboring Illegals," with quotes from the CIS author.
The coordination continued. Miller told McHugh in an email that evening that her story was "phenomenal and important," and then-presidential candidate Donald Trump, Miller's future boss, tweeted the story with the remark "Marco is a politician-he flip flops!"
The following day, McHugh wrote a story about Trump's tweet, again criticizing Rubio, and Miller that day encouraged her to keep attacking the Florida senator.
"Really important that you got the Rubio hit in there," Miller wrote in an email obtained by the SPLC.
"He needs to be hammered constantly on this," McHugh replied minutes later.
Miller wrote a minute later: "Yes. Every day."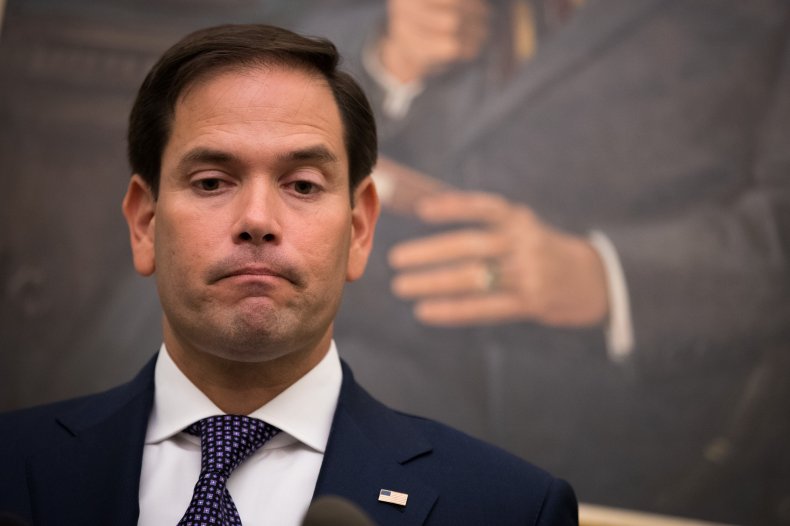 Trump went on to win the Republican nomination and the presidency.
McHugh, who was fired from Breitbart in 2017, apparently for anti-Muslim tweets, has abandoned far-right principles and shared her emails with Miller on the SPLC's Hatewatch blog.
"We used [CIS material] to spin a narrative where immigrants of color were not only dangerous, violent individuals but also posed an existential threat to America," McHugh told Hatewatch about Miller's pitches to Breitbart. "We never fact-checked anything. We never called up other organizations to get any other perspective about those studies."
CIS describes itself as a "nonpartisan, nonprofit, research organization" and "low-immigration, pro-immigrant." But others besides the SPLC, a nonprofit advocacy group, have pointed out instances in which CIS seemed to have an anti-immigrant agenda.
In May 2015, U.S. Immigration and Customs Enforcement deputy press secretary Gillian Christiansen said a CIS report claiming the Obama administration released 36,000 undocumented immigrants with 88,000 convictions did not point out that convicted criminals are sent to ICE for deportation only after they finish their sentences.
At the time, Muzaffar Chishti, a director of the nonpartisan think tank Migration Policy Institute, called CIS's report "a select presentation of a set of facts without any comparative analysis that can lead to misleading conclusions."
The White House did not immediately respond to a request for comment from Newsweek on Thursday.