Stephen Miller Pushed to Embed ICE Agents in Refugee Agency to Target Parents of Unaccompanied Migrant Children for Deportation: Report
Stephen Miller pushed to embed agents from the U.S. Immigration and Customs Enforcement (ICE) at a refugee agency in a bid to target the parents of unaccompanied migrant children for deportation, a new report has revealed.
The Washington Post reported that according to six current and former Trump administration officials, the White House sought to plant ICE agents at the Office of Refugee Resettlement (ORR), which cares for migrant children who cross the border without a parent as part of the The Unaccompanied Alien Children (UAC) Program.
The plan was not publicly revealed, but according to the newspaper, it was crafted by Miller, a White House senior policy advisor who has been the architect behind some of President Donald Trump's most controversial immigration policies, including the "zero tolerance" policy that separated migrant children from their parents.
According to the Post, Miller has long claimed that the ORR is being exploited by parents who hire smugglers to bring their children into the U.S. illegally. Three officials familiar with Miller's plan said it was part of his wider effort to dismantle the barriers between ICE and the refugee program. The White House has been contacted for comment.
Senior officials at the U.S. Department of Health and Human Services (HHS), which oversees the ORR, ultimately rejected Miller's plan, the Post reported. However, they allowed ICE agents to collect fingerprints and other biometric data from adults attempting to claim custody of migrant children staying at government shelters.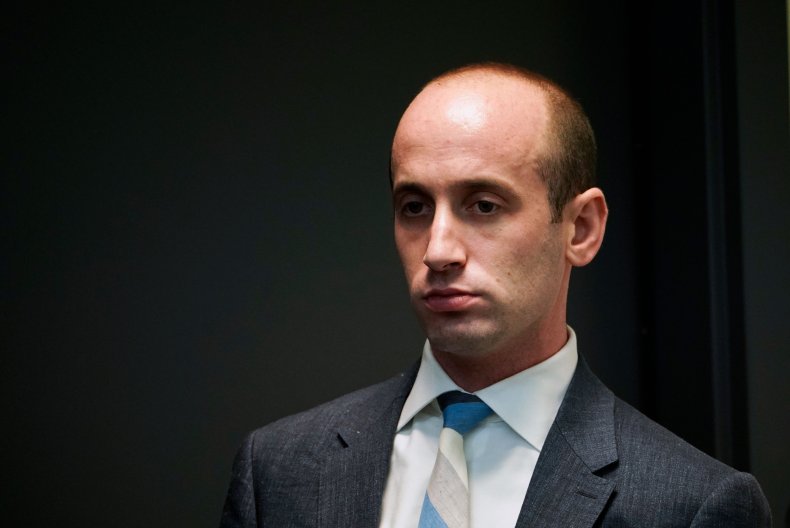 According to the Post, if those adults aren't permitted to take custody of the children, their data could be used to target them for arrest and deportation—which appears to go against laws that prohibit the use of refugee programs for deportation enforcement.
But officials have insisted that adults who are denied custody of their children lose their status as "sponsors" or "potential sponsors" and are eligible for arrest by ICE agents.
ICE and HHS officials say the information shared with immigration enforcement agents would be used to check if the adults had a criminal record or other "red flags," the Post reported.
ICE spokesman Bryan Cox told the newspaper that ICE would help HHS ensure children are not handed over to sponsors until they have been "thoroughly vetted." Cox also defended the program's legality, saying that if a potential sponsor's application is denied, then they are no longer considered a sponsor or potential sponsor and therefore open to arrest.
He acknowledged that the program could leave children in government shelters for longer, but maintained thorough screening "should take precedence over speed of placement to what may ultimately be an unsafe environment for the child." ICE has been contacted for additional comment.
The infographic below, provided by Statista, shows the states where ICE detains the most migrants.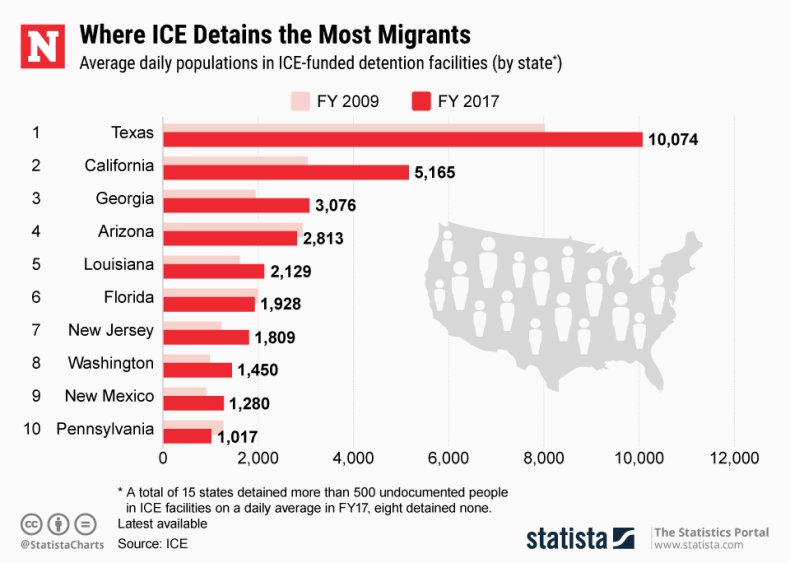 HHS spokesman Mark Weber confirmed to Newsweek that no ICE agents are currently stationed with the agency and there are "no plans" for them to be placed there.
In a statement, he added that the ORR did not share biometric date with ICE, but the biographical information of a number of individuals was shared.
"ORR did not share biometric data (fingerprints). Biographic information was shared on a small number of individuals, less than 200 with serious criminal history who applied to be a sponsor. None were parents," Weber said.
"This is an example of the screening process for sponsors working to prevent potential bad actors from getting access to children."
He added: "Our top priority at ORR is to unify children with their parents, family members or other suitable sponsor as swiftly and safely as possible. While we are working to identify a sponsor, each child is provided a safe and healthy environment that ensures access to nutritious food, clean clothes, education and medical services.
"In fact, with the largest number of UAC referred to ORR for care in the program's history in Fiscal Year 2019, the program and shelter network staff must be recognized for their ability to rapidly expand, care for and unify the largest number of children ever (72,593), all in an incredibly difficult environment."
The latest data from the ORR, from October, said approximately 4,200 children were in the care of the government. Unaccompanied migrant children spent an average 57 days in ORR custody, according to data from September this year. That figure was down from a recent high of 93 days in November last year.
This article has been updated with a statement from HHS.