Stephen Miller Tells Fox Host Attacks on Him Are Due to 'Deep Vein of Anti-Semitism' in Democratic Party
White House senior policy adviser Stephen Miller, appeared on the Fox Business program Trish Regan Primetime Friday, telling the host that Democrats' attacks on him are the result of anti-Semitism.
Miller gave an exclusive interview to Regan addressing the allegations of racism against him. The interview comes the same day as a letter to the White House signed by all the Jewish Democratic members of the House of Representatives demanding his resignation.
"I find the accusation to be profoundly offensive and completely outrageous," Miller said. "And it's an attempt on the part of the Democratic Party to attack and demonize a Jewish staffer. And make no mistake, there is a deep vein of anti-Semitism that is running through today's Democratic Party."
Miller also claimed that the allegations against him were the result of Democrats projecting their party's own problems onto Republicans.
"The Democratic Party of today traffics in lies, hatred and, yes, racism," Miller said. "And a lot of projection involved in the attacks they make. They divide people by race. They divide people by color. They try to separate, they tried to pull people away from one another and tear at the seams that hold us together."
"Donald Trump is the anti-racist president, and everyone who works underneath him are absolutely committed to the philosophy of everyone as equal in the eyes of God," he added.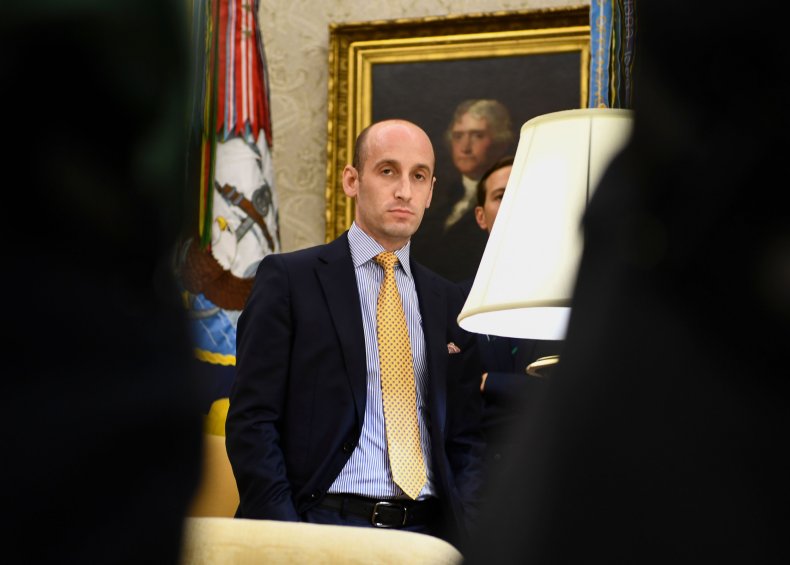 Miller came under fire recently when the Southern Poverty Law Center (SPLC) leaked a series of emails to Breitbart News last month. The emails show Miller suggesting story ideas to the far-right news outlet, as well as directing the tone of stories about Islam and immigrants.
"It has never been easier in American history for illegal aliens to commit crimes of violence against Americans," Miller claimed in a January 5, 2016 email to Breitbart. In another email, he wrote, "Illegals with mental diseases, psychopathy, coming back to USA ... Don't believe your lying eyes and those liars in law enforcement."
The emails were revealed to SPLC by former Breitbart editor Katie McHugh, who renounced her ties to the alt-right in a May Buzzfeed News interview. The White House responded by calling the SPLC an "utterly-discredited, long-debunked far-left smear organization."
Since the SPLC published the emails, many Democrats have called for Miller to resign or be fired from the White House. In November, 107 Democratic members of the House signed a letter urging his departure from the Trump administration.
"A documented white nationalist has no place in any presidential administration, and especially not in such an influential position," the letter read. "Miller's white supremacist influence on your immigration policy, and it seems like that his perfidious adherence to extremist ideology has shaped your administration in ways that are not yet public."
Friday, a letter from the Jewish Democratic Representatives reiterated the claims of white supremacy, again calling for Miller to leave the White House.
"It seems likely that his perfidious adherence to extremist ideology has shaped your administration in ways that are not yet public," the letter read. "We refuse to tolerate white nationalism and xenophobia in the White House or elsewhere in the United States. Mr. Miller must be fired immediately."