Stephen Miller Violated Hatch Act by Criticizing Biden, Watchdog Group Says
Stephen Miller, President Donald Trump's senior adviser, was accused of violating the Hatch Act by watchdog group Citizens for Responsibility and Ethics in Washington (CREW) on Friday.
CREW says Miller violated the act while appearing "in his official capacity" for a Friday morning interview on the Fox News program Fox and Friends. During the interview, Miller spoke disparagingly about former Vice President Joe Biden and touted Trump's accomplishments while standing in outside the White House.
"This administration continues to use its official powers improperly to assist the president's re-election and to chip away at the checks and balances that preserve our democracy," CREW Executive Director Noah Bookbinder said in a statement. "It is well past time for those like Stephen Miller, who show an open disdain for ethics laws like the Hatch Act and who illegally use official resources to promote the president's re-election bid, to be held accountable for their actions."
The Hatch act prohibits those employed in the Executive branch of government, except for the president, vice president and some other specific positions, from participating in political campaigns.
CREW's complaint called on the U.S. Office of Special Counsel (OSC) to "take any appropriate disciplinary action against Miller." The group has launched several complaints against Trump administration officials that have resulted in reprimands and other measures.
"Well, as you know Joe Biden is stuck in a basement somewhere," Miller said during Friday's interview. "And he just emerges every now and again and someone just hands him a note card and he says whatever his 23-year-old staffer tells him to say. And then he dutifully disappears, to be seen a week later."
Miller also blasted "a Democrat party that has sided with rioters and has sided with looters and arsonists of the worst kind," while praising Trump for ignoring local authorities and forcing federal law enforcement agents into Portland, Oregon.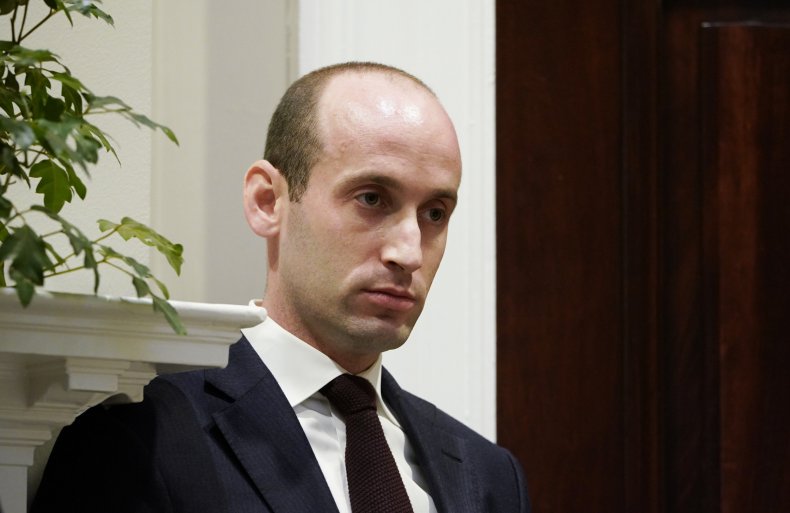 In addition, he said that former President Barack Obama had "delivered nothing but failure and betrayal" during his eight years in office. Miller denounced Obama's recent remarks at the funeral of civil rights icon and congressman John Lewis, which included comments against voter suppression, as "shockingly political."
The complaint points out that the "Team Trump" Twitter account, which calls itself the official account for the president's reelection campaign, tweeted a clip from the interview with the caption "Senior Advisor Stephen Miller: Obama and Biden delivered 'failure and betrayal' to the people of this country."
"Senior officials in this administration repeatedly act as though laws and ethics rules do not apply to them, particularly when it comes to misusing office for the president's political or personal benefit, and it needs to stop," Bookbinder said. "OSC should act swiftly and decisively to investigate Miller and take appropriate action."
Most of the interview saw Miller mirror Trump's recent rhetoric by repeating evidence-free claims about mail-in voting. He insisted that allowing Americans to use mail-in ballots during the pandemic would lead to widespread fraud and be "catastrophic," despite the president mailing in his own ballots in multiple past elections.
A 2017 report from The Brennan Center for Justice at New York University Law School found that fraudulent voting by mail occurs at an incident rate of between 0.00004 percent and 0.0009 percent. Five states have used mail-in ballots as their sole method of voting for years, with no widespread or significant fraud reported.
Newsweek reached out to the White House for comment.