Las Vegas Shooting Suspect Stephen Paddock's Father Was Apparently on the FBI's Most-Wanted List After Prison Escape
Updated | The father of the suspect in a deadly mass shooting in Las Vegas on Sunday night was a bank robber who escaped from prison and wound up on the FBI's most-wanted list, the suspect's brother reportedly said.
In an interview with the news media on Monday, the brother said their father was Patrick Benjamin Paddock, NBC News correspondent Peter Alexander tweeted. The father went by the alias Benjamin Hoskins Paddock, according to accounts from the time.
Also on Monday, asked about their father's apparent criminal past, a brother named Eric Paddock told reporters, "My father was on the top-10 list for a while.... I didn't know him, we didn't know him. He was in jail and broken out of jail." It was unclear if Eric Paddock was the brother who made the comment that Alexander cited.
Related: Who is Stephen Paddock, the Las Vegas shooting suspect?
Around 1960, the older Paddock, then said to be 34, was accused of robbing at least three banks in Phoenix, according to archival newspaper accounts. He allegedly stole more than $20,000, the equivalent of around $165,000 today. In 1960, FBI agents reportedly arrested him in Las Vegas after a bank employee gave police information about the getaway car. He reportedly appeared in a lineup before bank employees and was later sentenced to 20 years in prison.
On Christmas Eve in 1968, Paddock reportedly escaped from a Texas prison. Six months later, he robbed a bank in San Francisco, according to a newspaper account. Under his alias, he appeared on the FBI's 10 Most Wanted list. A "wanted" notice from 1969 described him as having a scar above his right eyebrow and as an "avid bridge player." The notice also said that he had been "diagnosed as psychopathic," and that he might be suicidal and "should be considered armed and very dangerous." The notice is signed by J. Edgar Hoover, the famous FBI director from that era. Life magazine published his "wanted" picture. The New York Times mentioned him, too, saying he also went by the aliases "Big Daddy" and "Old Baldy." In 1971, an FBI agent described Paddock, then on the run, to the Tucson Daily News as "a glib, smooth-talking man who is egotistical and arrogant."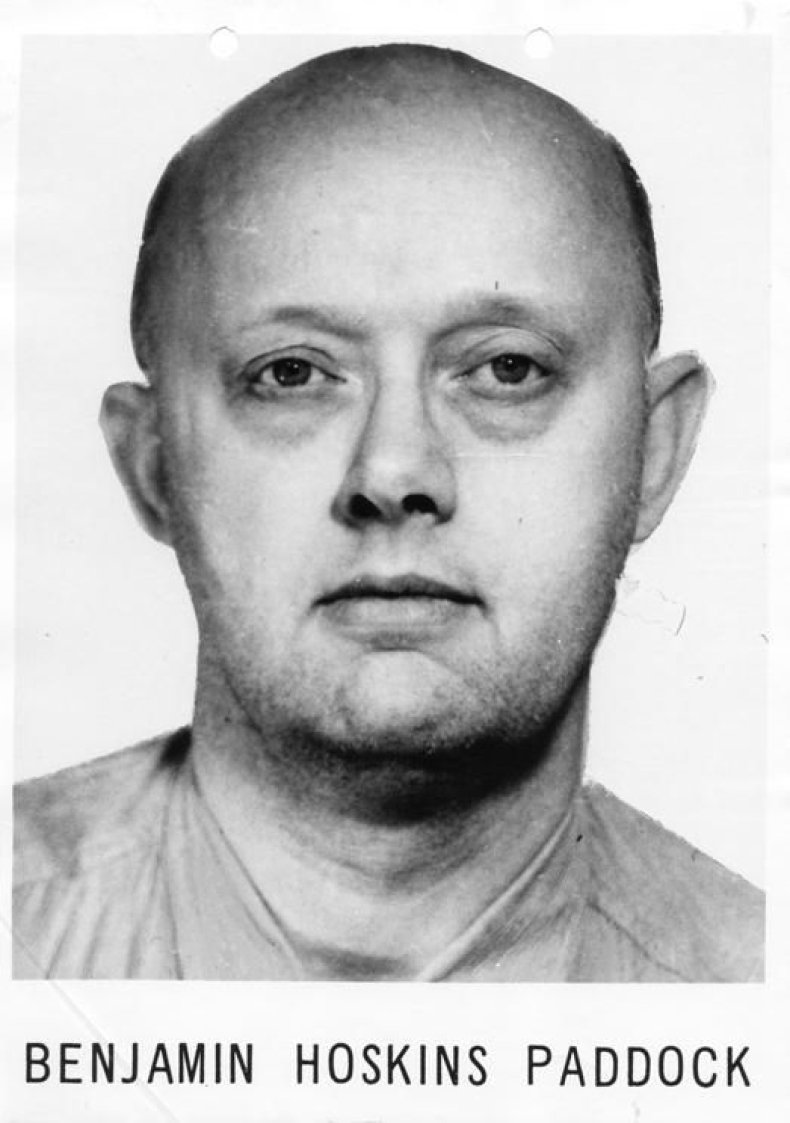 The older Paddock remained on the "most wanted" list until 1977, according to bureau records. The following year, police arrested him, Oregon's Eugene Register-Guard reported at the time. He was reportedly then the manager of a bingo parlor in the Eugene, Oregon, area and living under the name Bruce Werner Ericksen. It was not immediately clear what happened after that arrest. Public records indicate that he died in 1998.
Newsweek could not immediately verify the reported claim by Eric Paddock.
Stephen Paddock, 64, who the police said is now deceased, is suspected of committing the shooting in Las Vegas late Sunday that left at least 58 dead and at least 515 injured. From the Mandalay Bay Hotel and Casino, he is believed to have fired a gun or guns at a crowd that had gathered for a country music concert.
This article has been updated to include comments by Eric Paddock and to clarify that it was unclear whether it was Eric Paddock or his brother who first spoke to the press about their father's apparent criminal past.