Stephen A. Smith Dogs Himself and Doubters, Gets Rave Reviews as Kimmel Host
Sports journalist Stephen A. Smith, known for his brash opinions on ESPN shows, might have talked his way into his own late-night talk show. Smith was a guest host Monday night on the Jimmy Kimmel Show, and the reactions were mostly positive.
Smith opened the show with some digs at his role on ESPN's First Take, he talked about memes about him and took jabs at Jeopardy!, which has a new search for a permanent host.
"Now you might recognize me from television, or the 10 billion memes about me on the internet," Smith said to open his monologue.
"There's sad news to break to you. I'm only here for one night," Smith said. "But I do have good news. I've already lasted longer than the new host of Jeopardy!"
Smith, who is a co-host of ESPN's First Take, was the first guest host of the show this week, and he welcomed guests rapper Snoop Dogg, Olympic sprinter Allyson Felix and R&B star Nelly.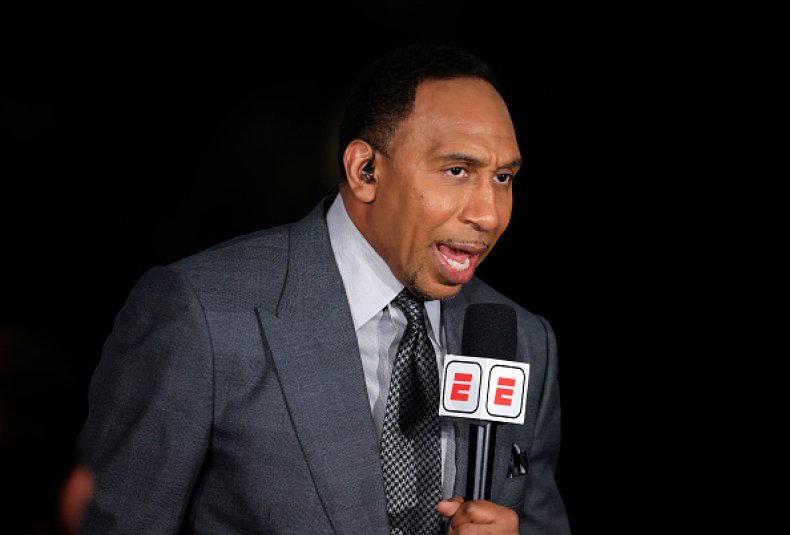 Smith talked about his shows and presences on multiple Disney and ABC/ESPN platforms, which Monday spanned from sunrise to midnight on the east coast, and joked that he's now coming to take down another high-profile personality.
"Now here I am at late night. There's 24 hours of Stephen A.," he said. "Watch out, Ryan Seacrest."
The Jimmy Kimmel Show will be hosted Tuesday night by Lizzo and the Jonas Brothers, according to Smith, and RuPaul is scheduled to host the show Wednesday and Thursday nights.
During Monday night's show, Smith not only took a few jabs at himself, but also some news items that typically find their ways into late-night talk, like the latest "milk crate" craze that has overtaken social media.
He also took a swipe at Mississippians. The FDA announced Friday that it's not safe to take ivermectin to treat COVID-19. Ivermectin is used to treat livestock, not "to ward off" the coronavirus, as Smith said
"This is no joke," Smith said. "This is a tweet from the FDA. You are not a horse. You are not a cow.
"Seriously, y'all, stop it. I gotta admit this. They are absolutely right. You are not a horse. You are not a cow. You're a jackass, though."
Smith went on to do a meditation segment before his first guest. Smith, who was chastised just a month earlier for making fun of MLB slugger and pitcher Shohei Ohtani, got glowing reviews on Twitter.