Tom Brady Should Decide Whether Antonio Brown Returns to the Patriots, Says Stephen A. Smith
ESPN pundit Stephen A. Smith has suggested the decision of whether the New England Patriots may resign Antonio Brown should rest with Tom Brady.
The Patriots signed the wide receiver on September 9 only to release him less than two weeks later amid off-field allegations of sexual misconduct.
Brown initially thanked the franchise for giving him an opportunity, but two days after his release he called out Patriots owner Robert Kraft on Twitter, suggesting the latter's legal issues didn't give him the right to take any sort of moral high ground.
"Kraft got caught in the parlor AB speculations fired different strokes different folks clearly," Brown said in a tweet that has since been deleted.
The 31-year-old referred to Kraft's ongoing case, in which the Patriots owner has been charged by authorities for soliciting prostitution in a massage parlor in Florida.
On Tuesday, however, Brown backtracked and apologized to Kraft with an Instagram post.
"Mr. Kraft I apologize sincerely to you and your organization!," he wrote.
"All I wanted to be was an asset to the organization; sorry for the bad media and the drama ! Thank you sincerely AB"
Brady was among those who liked the post and Smith hinted the veteran quarterback should have the final say on whether the Patriots offer Brown a second chance.
"That decision should be made completely up to Tom Brady," Smith said on Wednesday's episode of First Take on ESPN. "Completely up to Tom Brady. Because he's the 42-year-old, six-time Super Bowl champion [...] who's playing with close to nothing at this particular juncture and needs all the help he can get.
"The man needs a running game, he needs receivers, he needs tight ends, he needs offensive linemen. The only thing that Tom Brady has been given by the New England Patriots is probably breakfast and lunch. That's about it. They've done nothing for him this year, thus far."
The Patriots' 17-10 win in Philadelphia over the Eagles on Sunday improved their record to 9-1, but their offense has struggled this season.
New England ranks third in points scored per game, but is only 16th in yards per game and 24th in yards per play with 359.9 and 5.1 respectively.
Brady lost trusted lieutenant Rob Gronkowski to retirement in the offseason and Smith suggested he needed all the help he could get to get a misfiring offense back to the Super Bowl.
"When it comes to Tom Brady, you are going after the Super Bowl, specifically because your defense is elite this year. Give the man something," he said.
"Now if he doesn't want Antonio Brown, then of course to hell with it because I wouldn't be apt to give Antonio Brown a chance — not with the distraction he has been. [...] Tom Brady wanted this man on board. If the sexual assault allegations are no longer an issue and it's strictly about football, I would say allow Tom Brady to make that decision. He's earned it."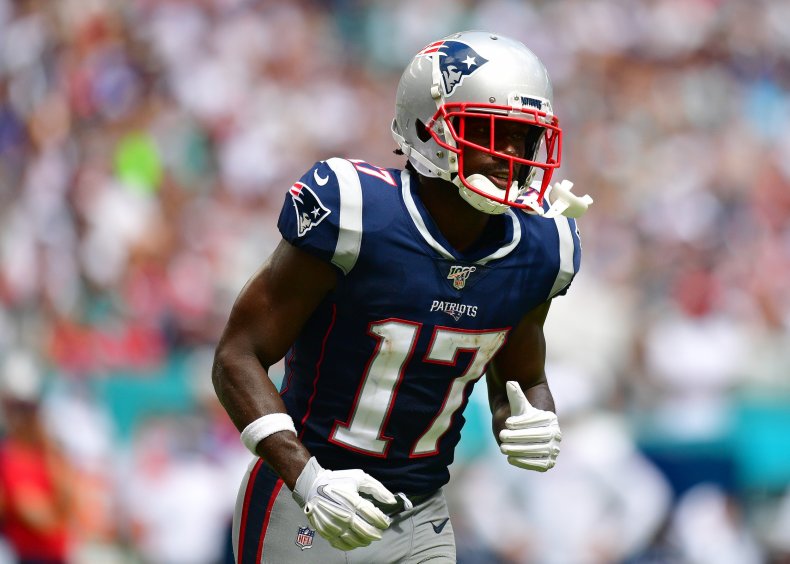 According to ESPN Stats & Info, Sunday's win against the Eagles was the first time in Brady's 20-year career with the Patriots he has played an entire game and didn't lead the team in touchdown passes—wide receiver Julian Edelman threw New England's only touchdown pass.
Brady, who ranks 15th in the league in quarterback rating, admitted being frustrated with the Patriots offense.
"It's just frustration with the offense," he said on "The Hill Show" on sports radio WEEI.
"We're trying to grind them out. I'm happy we won on the road, but at the same time, I just wish we'd score more points."
Veteran receiver Mohamed Sanu has been a valuable addition since the Patriots acquired him from Atlanta in October, but New England's offense has been depleted this season after losing Gronkowski and waving Josh Gordon at the end of last month.
Tight end Matt LaCosse played on Sunday after missing five games with a knee injury, while rookie wide receiver N'Keal Harry played his first NFL game after spending the first part of the season on injured reserve.
Meanwhile, Isaiah Wynn, the Patriots' 2018 first-round pick, is eligible to come off injured reserve and play against the Dallas Cowboys on Sunday.