Stephen Sondheim, Giant of the Broadway Musical Theater, Dies at 91
Stephen Sondheim, one of the great composers and lyricists in the history of musical theater, died on Friday at the age of 91, at his Roxbury, Connecticut, home, according to several media reports.
No cause of death has yet been given. His death was confirmed by Rick Miramontez, president of DKC/O&M, publicist for the current Broadway production of Company.
Sondheim's words and music have graced world stages for over 60 years. His songs have been marked by sharp, clever lyrics and beautifully complex music. He is presently represented on New York stage with a Broadway revival of Company, starring Katrina Lenk in a role usually played by a man, and an off-Broadway production of Assassins, a dark musical on the lives of nine assassins and would-be assassins in America.
Sondheim previously told Newsweek that this new production of Company "may be the best evening I've ever had at a musical."
At the time of his death, Sondheim was working with playwright David Ives on Square One, a musical reportedly based on two movies by Luis Buñuel, The Discreet Charm of the Bourgeoisie and The Exterminating Angel.
Sondheim gave many interviews over the years. Clips from them were assembled in Six by Sondheim, a documentary by his longtime collaborator James Lapine. On the surface it is about the making of six of Sondheim's best-known songs, but it is also reveals much about his life and work.
Another documentary Lonny Price's Best Worst Thing That Ever Could Have Happened tells the story of the making of the musical Merrily We Roll Along, which was a flop on Broadway but has since become a cult favorite. The score for Merrily is one of Sondheim's best.
Sondheim's theatrical career began inauspiciously when Saturday Night, a show he worked on, was canceled due to the death of the producer Lemuel Ayers. After that, at the age of 27, he was asked to write the lyrics only for West Side Story, which disappointed him but enabled him to work with two major talents of the theater, Jerome Robbins and Leonard Bernstein. In 1959, he wrote the lyrics for Gypsy, starring Ethel Merman.
His first chance to write music and lyrics, came with the hit comedy A Funny Thing Happened on the Way to the Forum, which was based on the works of Roman playwright Plautus. It starred Zero Mostel and had a libretto by Larry Gelbart, who later achieved fame as a creator and producer of the TV show MASH.
In 1970, Sondheim had a critical success with Company, starring Dean Jones and Elaine Stritch. It marked the real beginning of his collaboration with producer-director Hal Prince. Prince and Sondheim had worked on West Side Story, but this time Prince directed, and the results were magical for musical theater fans.
Prince and Sondheim went on to work on A Little Night Music, Follies, Pacific Overtures, Sweeney Todd and Merrily. The negative critical reception to Merrily proved too much for Sondheim, and the two decided to stop working professionally. They reunited in 2003 on Bounce.
After the split with Prince, Sondheim teamed up with Lapine to work on Sunday in the Park With George, about the creation of Georges Seurat's masterpiece A Sunday Afternoon on the Island of La Grande Jatte. The collaboration was so pleasant that they continued to work together for 10 years, creating on Into the Woods and Passion, as well as a revised version of Merrily.
While beloved in theater circles, Sondheim was not universally accepted in popular culture, certainly not at first. A Little Night Music produced Sondheim's greatest hit, "Send in the Clowns," which has been covered by hundreds if not thousands of singers. Sondheim has said that the song was intended as a little "throwaway song" for actress Glynis Johns. But recordings by Judy Collins and Frank Sinatra helped make it a hit.
Most of his work, however, was an acquired taste, but those who acquired it became addicts. For many fans, original cast albums became gateway drugs to his music. They allowed for repeated listening, which enabled people to savor the cleverness of his lyrics. And his music would sit easier on the ears.
On the surface, Sondheim's shows never seemed promising. Company is about a 35-year-old with commitment problems. It has no traditional plot. It is more a serious of playlets with music. Follies is about a reunion of former showgirls, and what went wrong with their lives; it is not a show in the vein of the old Ziegfeld Follies, which some theatergoers at the time might have expected.
Pacific Overtures is about the opening of Japan to the Western world in the 1850s. Sweeney Todd is about a barber seeking vengeance, killing people and helping in the creation pies from their remains. Merrily is the story told in reverse chronological order of a man who has sold out, giving up on his dreams, and lost his friends and purpose in life.
That all of these, save Merrily, were critical successes is in no small part a testament to Sondheim's genius. Even Merrily, in its revised form, has achieved a measure of success.
In recent years, Sondheim had also become a grand old man of the theater, well-known for having helped young composer-lyricists, such as Lin-Manuel Miranda (Hamilton, In the Heights) and Jonathan Larson (Rent, Tick, Tick… Boom!) in their early years. While he could be almost uncompromisingly objective about a work, his criticism was constructive and tempered with kindness and thoughtfulness.
Sondheim's mark on the musical world was major and indelible, and it spanned generations of theatergoers and professionals.
On November 28, hundreds of the biggest names in theater gathered in New York's Duffy Square and sang "Sunday," from Sunday in the Park With George, to honor Sondheim.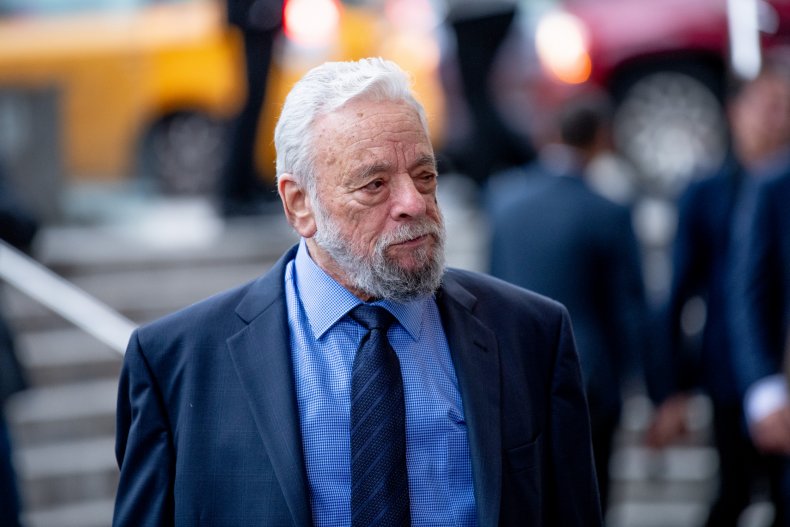 Update 11/26/2021 8:50 p.m.: This story has been updated to include more background information on Sondheim's life and work.
Update 11/28/2021 4:15 p.m.: This story has been updated to include information about the gathering in Duffy Square.