Stepmom Bashed for Telling Teen She's 'Lucky' to be Treated Equal
A mother of two was slammed online after revealing she thinks her 18-year-old stepdaughter is a burden to her and her family.
The OP, known as u/Jearshsbd, posted about the situation in Reddit's popular "Am I The A******" forum where it received more than 8,500 upvotes and 1,400 comments. The post can be found here.
With over 50 percent of American children living in a home with a nonbiological parent, it is important for parents to understand the complex relationship between them and a stepchild.
According to Trevor Crow, LMFT, EFT, the couple is responsible for communicating about their family dynamics without involving the kids.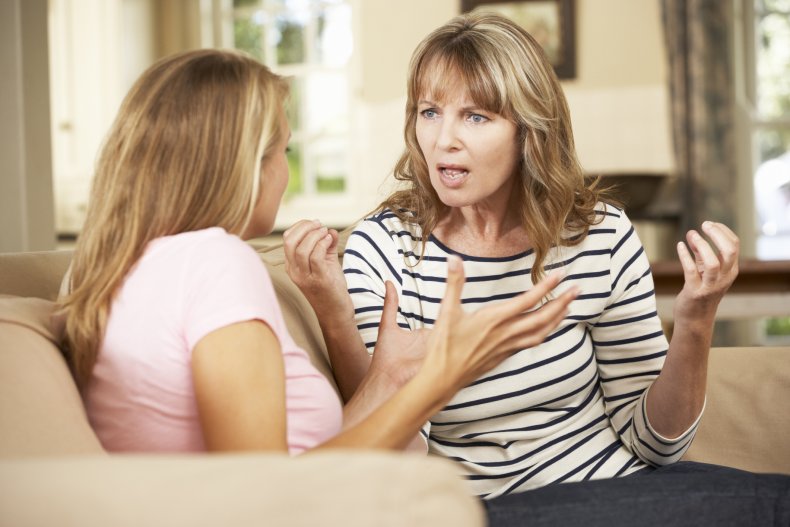 "First of all, our value systems, the way we run our lives, our financial agreements start with the couple," Crow told Newsweek. "It needs to start with the couple in agreement on what are we doing and what does that look like."
Crow said parents often put their children first in these situations and begin to lack communication with their significant other or co-parent.
"We make the family about the kids and not the couple. When you make it all about the kids, it stops being stable," Crow said. "Even if you're divorced you need to be in a team and kids are not making decisions."
'AITA?'
In the post titled "AITA for telling my stepdaughter she's lucky I treat her as my own?" the 44-year-old OP said she and her husband have a son, 2, and a daughter, 3.
She said her stepdaughter Emily, 18, moved in with them six months ago after her mother kicked her out for being "too problematic."
"Since her moving in, I've been very welcoming and I've spent more than enough money to help Emily get on her feet," the post read. "We told her that she could live here as long as she needed, but since her moving here she's become a burden to both my children and I."
The OP said that she and her family are used to a morning routine that has now been altered due to her stepdaughter moving in.
"My stepdaughter has become a burden," the post read. "She has become entitled and whenever she needs anything financially she will ask either myself or my husband."
The woman said she has provided her stepdaughter with many basic necessities such as clothes, shoes, beauty products, underwear and a work uniform—adding that her stepdaughter quit her job after three weeks.
"She has taken most of my savings, taken the time from my children to my husband and used that time for herself," the post read.
The OP said her stepdaughter is "extremely unappreciative" and that she recently told her to figure out her future plans since she is a legal adult.
She suggested that her stepdaughter find more to do than take online classes and "be lazy all day."
"She told me that I am jealous of her relationship with my husband and I reminded her that she's living in our home rent-free," the post read. "I told her that she should be lucky that I treat her as my own because not everyone would do such with their stepchild."
The OP's husband said she was too harsh on his daughter and should not have made that comment, but she said she disagrees since she is 18 and "grown."
Stepparent Resentment
"This stepmom is resentful," Crow said. "The problem with being friends with your daughter is that you're elevating your daughter close to the spouse and there's always a natural jealousy between the second spouse and the daughter."
To combat this potential resentment, Crow recommends having parental conversations regarding family goals and determining a shared parenting style to ensure expectations are shared among the parents and children. This includes treating all the children in the household equally and not enabling one child's behavior over another.
However, it is important not to involve the children in matters that should be solely the parent's responsibility.
"Using your child as a pawn for communication is absolutely, massively damaging to the child," Crow said. "It's an abdication of your responsibility as a parent. Those are adult matters and kids need to be kids and grow up feeling safe with other people making decisions."
Redditor Reactions
More than 1,400 users commented on the post, many criticizing the OP for being too harsh on her stepdaughter.
"It's harsh because she isn't taking time away from his kids—he IS his kid," one user commented. "This is something dad needs to handle. YTA."
"Hard YTA," another commented. "You said she is lucky you treat her like your own, but you don't. I doubt you would call YOUR OWN children 'a burden' or 'problematic.'"
"So you provided her with basic necessities and she isn't bowing down to you, she's spending time with her father, and she goes to school and for all these things she is a burden? She's a teenager being thrown around because no one wants her, and instead of trying to help, you're adding to HER burden."
"You most certainly do not treat her as one of your own; if you did, then you wouldn't have said that to her," another commented. "You do sound jealous that she's there interacting with her father in the evenings."
"What do you mean with 'taken the time from my children and used that time for herself' so shes being social with you guys? And outcompeting a 2 and a 3 year old for attention?" one user commented. "Also, 'not everyone would do such with their stepchild' except everyone who would want a good relationship with the child's partner absolutely would treat the stepchild like that. YTA."
Newsweek reached out to u/Jearshsbd for comment.
Other Viral Posts
In another viral Reddit post, a man was backed for pulling his stepdaughter's tuition after she decided to pursue medical school.
Another stepparent was criticized after she refused to pay for her stepkids to go on a "once in a lifetime" trip. In another post, a woman was backed for saying being a stepmom was "traumatic."
If you have a similar family dilemma, let us know via life@newsweek.com. We can ask experts for advice, and your story could be featured on Newsweek.