Bannon Attacks Romney for Draft Dodging—But Breitbart Chief's Former Boss, Trump, Has Also Faced Questions Over War Record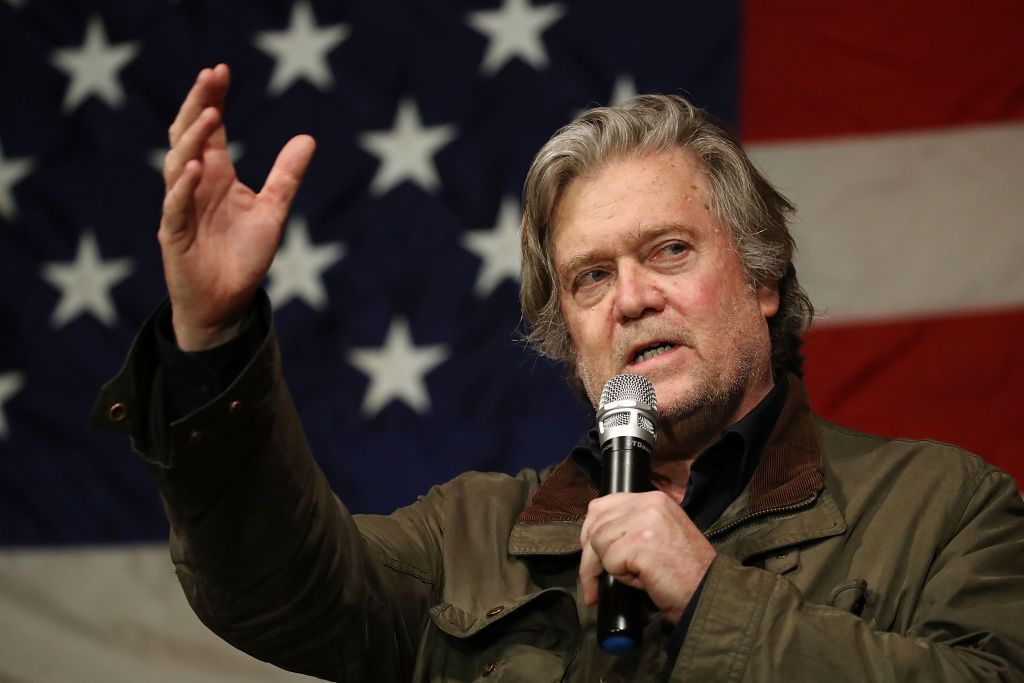 Former White House strategist Steve Bannon launched a scathing, personal attack on former Republican presidential candidate Mitt Romney during a stump speech for Alabama Senate hopeful Roy Moore Tuesday night.
The Breitbart chief criticized Romney's religion and his children at the rally for Moore.
"You hid behind your religion. You went to France to be a missionary while guys were dying in rice paddies in Vietnam," Bannon said.
"You ran for commander in chief and had five sons—not one day of service in Afghanistan or Iraq. We have 7,000 dead and 52,000 casualties, and where were the Romneys during those wars?" Bannon asked.
"Judge Roy Moore has more honor and integrity in his pinkie finger than your entire family."
Moore's campaign has been dogged by claims he molested a 14-year-old girl and harassed other teenagers. Romney had in a tweet earlier called Moore unfit for office, and said his election to the Senate would be a "stain on GOP and the nation."
"He's still bitter about Donald Trump. Embrace it, Mitt. He is president of the United States and commander of armed forces, something you so miserably failed at," Bannon said Tuesday.
Romney received a missionary deferment during the Vietnam War.
However, Bannon's former boss, President Donald Trump, has also faced questions over his war record.
Trump received deferments for military service in Vietnam—three for medical reasons and two educational. Trump has claimed that a bone spurs ailment prevented him from serving.
Trump's longtime personal physician, Harold Bornstein, made no mention of the heel spurs when he gave Trump a clean bill of health when the reality-TV star and property developer announced his candidacy.
None of Trump's four adult children have served in the military.
Bannon served for seven years in the U.S. Navy before going on to work as an investment banker for Goldman Sachs and joining the Trump campaign in 2016 as chief executive.
Trump threw his backing behind Moore in a tweet Monday for the first time since accusations of sexual assault were made against the candidate.
In his speech, Bannon also attacked other GOP figures who have been critical of Moore, including Arizona Senator Jeff Flake and Senate Majority Leader Mitch McConnell.
Flake announced Tuesday that he was going to put "country over party" by donating $100 to the campaign of Doug Jones, the Democratic candidate who is running against Moore.
"C'mon brother, if you're going to write a check, write a check," Bannon said of the amount, before mocking Flake's approval ratings.
Bannon has vowed to wage war against GOP establishment figures he accuses of setting out to derail Trump's populist agenda—and backed Moore against establishment candidate Luther Strange in the Alabama Republican primaries in September.
Bannon called accusations of sexual assault against Moore a "setup" by the "opposition party," a term he uses to refer to the media.
"If they can destroy Roy Moore, they can destroy you," Bannon said.