Steve Bannon Addresses 'Replacement Theory' Following Buffalo Shooting
Conservative podcaster Steve Bannon says he won't back down from promoting the controversial "replacement theory" after a mass shooting suspect in Buffalo allegedly used the conspiracy theory to justify his killing of African Americans.
On Saturday, New York law enforcement arrested Payton Gendron, a white 18-year-old accused of killing 10 people and wounding another three at a supermarket in what authorities have described as a "racially motivated hate crime." Gendron allegedly wrote a 180-page essay using the replacement theory as justification to "kill as many Blacks as possible," according to The Buffalo News.
Although the replacement theory promotes a far-right ideology alleging that non-white individuals are being brought to America in an effort to replace the political power and culture of white people, Bannon says he will continue to argue against immigration, saying that this was not about excluding people on racial grounds.
On his War Room: Pandemic podcast, Bannon said the media is using the replacement theory to distract Americans from the "lies and misrepresentations" of the Democratic party.
"Of course, all of the morning shows are all over Tucker Carlson and a few others about the replacement theory," Bannon said. "They seem to miss the point. And here's what we're not going to back off on... we are inclusive nationalism."
Bannon said that Mexicans and African Americans have been leaving the left to join the GOP "in droves," adding the Republican Party is truly inclusive and focuses on all citizens of the United States.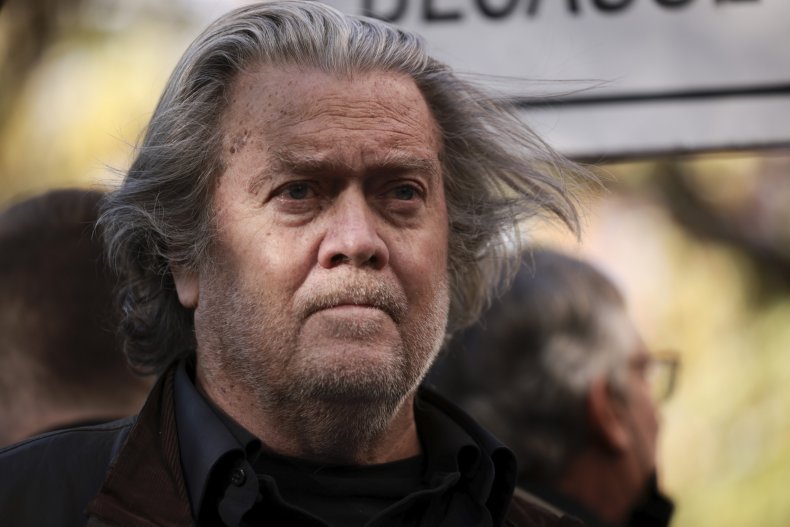 "We are not backing off one inch because inclusive nationalism, participatory populism, is what's changing this country," Bannon said. "And that's what they're freaking out about."
Bannon went on to say that the replacement theory isn't about pitting whites vs. other races, but about immigration compromising the sovereignty of the U.S.
Bannon added he's also against Ukrainians fleeing their country to come to America during the ongoing Russian invasion.
"This is not about race," he said. "This is about American citizenship! This is about the value of your citizens."
The former Trump administration strategist went on to say that the replacement theory and inclusive nationalism are a threat to the Democratic Party and will allow the GOP to take back the White House.
"This is why we're going to take over every elections board in the nation," he remarked. "This is why we're going to take over every medical board in this nation. This is why we're going to take over state legislatures and D.A.s and attorney generals [sic] and secretaries of state and governors. And we're not going to stop. We are ascendant!"
Newsweek reached out to Bannon for comment.