Steve Bannon Admits Democrats Have 'Compelling' Case for Trump Impeachment
Steve Bannon, a close ally of Donald Trump, is worried that the former president's political future could be at stake with his upcoming impeachment trial.
"The Democrats have a very emotional and compelling case," Bannon told Politico on Friday. "They're going to try to convict him in the eyes of the American people and smear him forever."
Although chances of acquittal are highly likely, Trump's supporters are worried that the trial may stain his reputation if Democrats implicate him as the key figure in the January 6 Capitol riot, in which a violent mob stormed the halls of Congress and five people were killed.
Trump's legal team has focused its case on constitutionality, questioning whether it is constitutional for Trump, who is now a private citizen, to be impeached now that he's left the office.
Next week, Democrats will try to make the argument that Trump incited the insurrectionists at the Stop the Steal rally that preceded the riot.
On Thursday, House Democrats asked for Trump to testify under oath during the Senate trial, but the former president's lawyers said he won't be taking the stand.
In response, Trump attorneys Bruce Castor and David Schoen called the request a "public relations stunt", writing to the House impeachment counsel that "there is no such thing as a negative inference in this unconstitutional proceeding."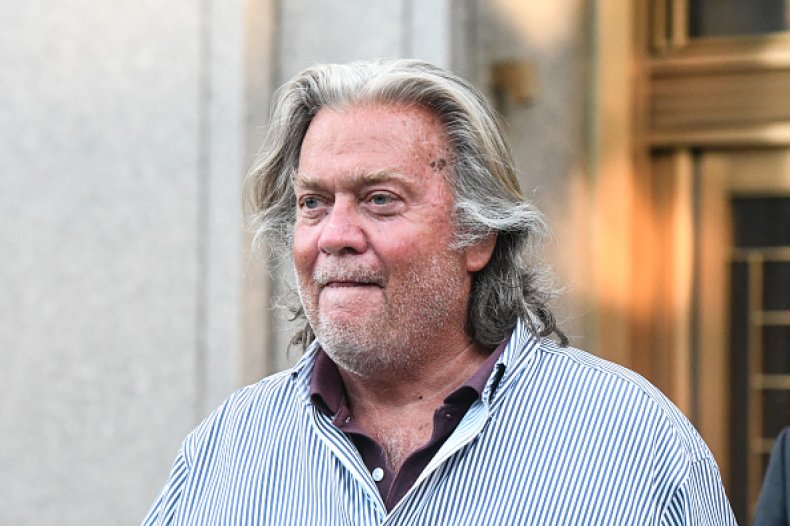 Bannon, Trump's former chief White House strategist, said the legal team should shift the defense argument to the claims that Trump used to motivate the rioters, as well as bringing up his unsubstantiated allegations of voter fraud and a stolen election.
"He is not going to be convicted, so we must address November. 3. And the best place to adjudicate this is the well of the U.S. Senate," Bannon said. "It has to be dramatic, it has to be big. It has to be the big lie versus the big steal."
But because Trump does not plan on testifying, it will be up to Castor and Schoen to raise those arguments.
Attorney Alan Dershowitz, who helped represent Trump during his first impeachment trial, told Politico that Bannon's suggestion would be a "serious mistake." Derschowitz, who declined to represent Trump again, argued that reintroducing claims of election fraud will drive away the votes he will need for acquittal.
"He loses senators if he starts going into a defense of his claims on the election or his defense of his speech [before the riot]," Dershowitz told Politico. "He's better off if he allows his lawyers to make constitutional arguments under the First Amendment and the limitations of the Senate to try anyone who is no longer in office."
Newsweek reached out to Trump's office for comment but did not hear back before publication.