Steve Bannon and Allies Are 'Specialists' at Nominating People Who Lose, Mitch McConnell Claims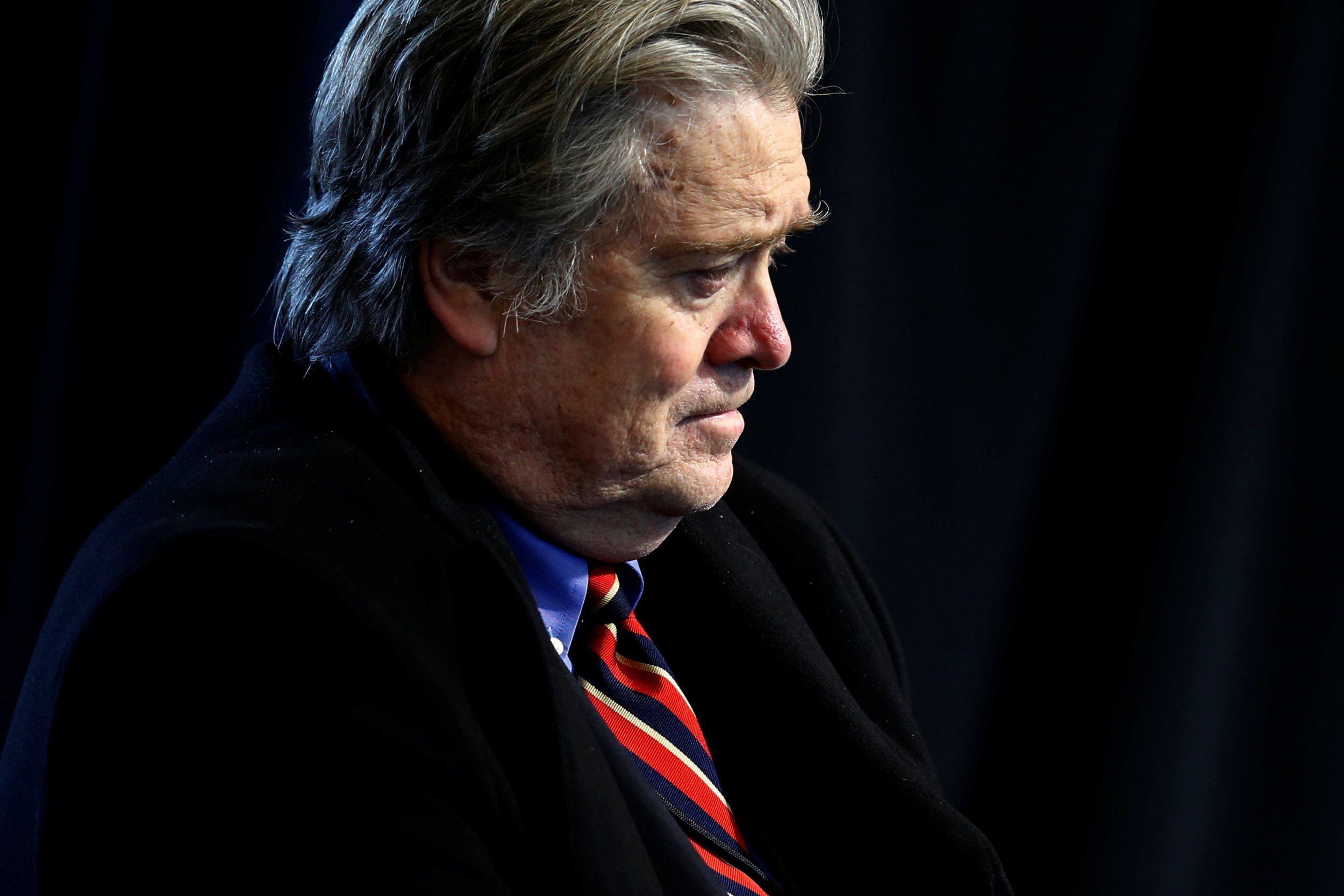 Former White House chief strategist Steve Bannon has come under fire from Senate Majority Leader Mitch McConnell of Kentucky, who suggested the Breitbart executive chairman is a "specialist at nominating people who lose."
The Republican's comments emerged as Bannon openly expressed his frustration over GOP Senate members and taunted McConnell with the astounding victory of Roy Moore—a candidate Bannon backed in Alabama's primary runoff last September.
Fox News Sunday, which also interviewed McConnell, played a clip in which Bannon hit out at the Senate majority leader, stating that "this revolt is going from Alabama to Arizona. The last couple of days, Mitch has been saying this big thing, hey, you got to win. Winners make policy. Losers go home."
Bannon later added, "Hey, Mitch, note to self, Mitch, big Luther Strange and Little Bobby Corker are both going home. These people, Mitch, it's 2-0."
Following Moore's victory over President Donald Trump's preferred candidate, Luther Strange, CNN reported that Bannon wanted to take down those who refused to support his own outsider agenda.
But McConnell told Fox News Sunday that people with a similar agenda to Bannon's were nothing new in politics.
"Well, let me just say with regard to the element that you're referring to here, they've been out there for a number of years," he told host Dana Perino. "They caused us five Senate seats in 2010 and 2012. We would have gotten the majority of senators, but for the fact that they were able to nominate people who could not win in November."
McConnell later added, "In '14, they were defeated everywhere. In '16, they were defeated everywhere. And the difference is, we've been in majority, in 2014 and 2016, two congresses in a row."
Despite Moore's victory and Bannon's confidence over Kelli Ward—who has risen to be a serious contender for incumbent Senator Jeff Flake in the GOP Arizona primaries—McConnell explained that those candidates do not have what it takes to achieve a general election win.
"Look, this is not about personalities. This is about achievement. And in order to make policy, you have to actually win the election," McConnell added. "The kind of people that are supported by the element that you'd just been referring are specialists in defeating Republican candidates in November. And that's what these inner-party skirmishes about."
He later concluded, "Our goal is to nominate people in the primaries next year who can actually win and the people who win will be the ones who enact the president's agenda."