Steve Bannon And Breitbart News Want To Take Out Jared Kushner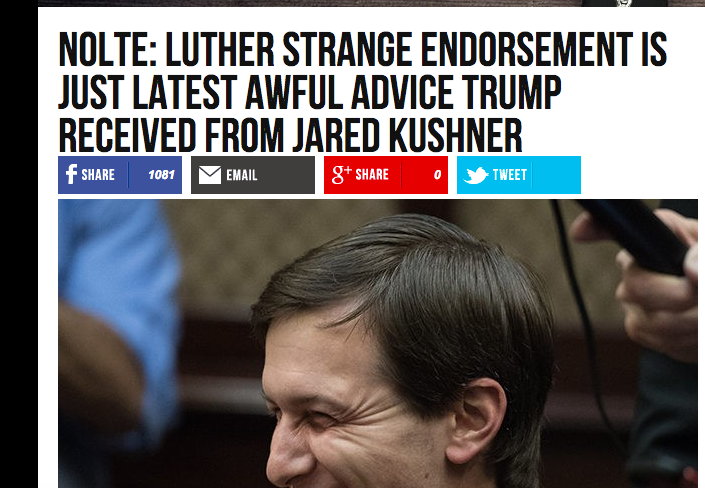 Like the politicians it covers, far-right outlet Breitbart News goes on campaigns. Except its campaigns are of the military variety, waged with unremitting intensity against public figures who have crossed either President Donald Trump or the site's executive chairman, Stephen Bannon, who returned to Breitbart after seven months as the White House's chief political strategist.
A self-proclaimed street fighter, Bannon and his journalistic gang set upon their helpless subjects, leaving them invariably bloodied—and perhaps out of a job. Earlier this week, Bannon & Co., claimed a major victory in helping former Alabama Chief Justice Roy Moore prevail in a special primary against Senator Luther Strange, the pick of the Republican establishment, not to mention of Trump himself.
Less successful, but no less intense, campaigns have been waged against National Security Adviser H.R. McMaster, with whom Bannon is said to have clashed, and National Economic Council Director Gary Cohn, the former Goldman Sachs chief who has not embraced Trump's populist message. Both men remain in the White House, but only after enduring months of negative coverage from a site read daily by millions of conservatives.
In recent days, Breitbart seems to have found a new foe: Jared Kushner, the president's son-in-law and close adviser. Kushner reportedly suggested that Trump endorse Strange over Moore, thus putting him at odds with Bannon and other conservatives, including former Alaska Governor Sarah Palin and former White House counterterrorism adviser and Bannon ally Sebastian Gorka.
Kushner is also at the nexus of the several investigations into the Trump campaign's possible ties to Russia. And his real estate company has just come under investigation in Maryland for overcharging tenants.
In the past week, Breitbart ran eight articles critical of the 36-year-old husband of Ivanka Trump. Some of those were summaries of developments widely reported elsewhere, such as the news that Kushner is registered to vote as a woman, or the revelation that he and other senior White House staffers, including Bannon, used private email addresses.
But other articles were plainly calculated to embarrass Kushner with Trump's base, if not with Trump himself. The headline of a column by John Nolte, for example, called the Strange endorsement "the latest awful advice" given to the president by Kushner. Nolte recounts other decisions for which Kushner is said to have been responsible, including the firing of FBI Director James Comey and the hiring of Anthony Scaramucci as the White House communications director.
As Nolte puts it, "How many 'fool me once' chances will the 36-year-old Mr. Kushner receive from his devoted father-in-law?"
Another article gleefully summarizes an unflattering Vanity Fair profile of Kushner, highlighting its comparison of Kushner to Fredo Corleone, the incompetent mafia-family scion in The Godfather. (Fredo is killed by his brother Michael in the second film in the Godfather trilogy.) In its lead, the Breitbart News article describes Kushner's "track record of mediocrity and bad business decisions." While it is not uncommon for one publication to write about the work of another, it is plain from the article's tone that Breitbart delighted in skewering Kushner.
Yet another Breitbart News article from this week describes a poll that found first lady Melania Trump is the most liked member of the Trump family, while Kushner is the least liked.
A review of Breitbart News articles from the summer suggests that the site has always been suspicious of Kushner, who is seen as a New York liberal with views on immigration and other social issues that, according to detractors, are more suitable to the Democratic Party. His wife, Ivanka, may share similar convictions, but she is protected from (some) criticism because she is not only the president's daughter but his favorite child. Kushner enjoys no such insulation from attacks.
Kushner's poor relationship with Bannon may explain the recent tone at Breitbart, especially since the site—at Bannon's direction—made the Alabama primary a referendum on the future of the Republican Party, not to mention its own influence.
In an article published in Vanity Fair in May, before Bannon's ouster from the White House, Sarah Ellison described the "civil war" between the combative strategist and the reticent son-in-law. Ellison wrote that "while Bannon and Kushner got along well during the campaign, Bannon seems to have felt betrayed by Kushner and has retaliated by planting negative stories about him. Kushner sees Bannon as an ideologue whose approach has stymied the president's effectiveness."
If the Alabama contest was, as some have said, a proxy fight, it was not between Bannon and Trump (who plainly regrets having endorsed Strange) but between Bannon and Kushner, seen by the right as a destructively moderating force whose influence is marred only by his incompetence.
The irony of Breitbart's broadsides against Kushner is that Democrats and the left have similar complaints about the callow Kushner and the inordinate amount of power he wields. And while he has achieved little thus far, Kushner has fostered agreement between Bannon and the left-wing editors of Salon and The Nation. That may not be quite akin to solving the Israeli-Palestinian conflict, as his father-in-law has charged him to do, but it is something.