Steve Bannon Says Antifa is 'Just As Violent As These KKK Guys,' Praises Trump For Charlottesville Comments
Steve Bannon on Friday returned to the subject of a deadly white supremacist rally in Charlottesville, Virginia, one year ago and insisted that President Donald Trump was right to put equal blame on both sides following the killing of counter-protester Heather Heyer.
Bannon was ousted from his role as Trump's chief strategist shortly after the riots last August but is promoting a new film, Trump @ War. And now, from the outside, is hoping to aid Trump's effort to maintain the Republican Party's grip on Congress this fall.
Appearing on MSNBC, Bannon was asked by host Ari Meiber whether Trump was wrong to utter his much-criticized statement that there was "blame on both sides" following the clashes between white supremacists, neo-Nazis and those protesting them.
"No, he's absolutely correct," Bannon said. "What he's saying is that the discussion about the Confederate monuments, whether the Confederate moments should be covered, whether the Confederate monuments should be removed, or whether the Confederate monuments of these generals are part of Southern heritage."
Bannon is a proponent of economic nationalism and previously ran the right-wing news site Breitbart News, which he described as "the platform for the alt-right." The alt-right is an offshoot of conservatism that combines white nationalism, racism and populism. Many of those who marched to protest the removal of a Confederate monument in Charlottesville identified as members of the alt-right.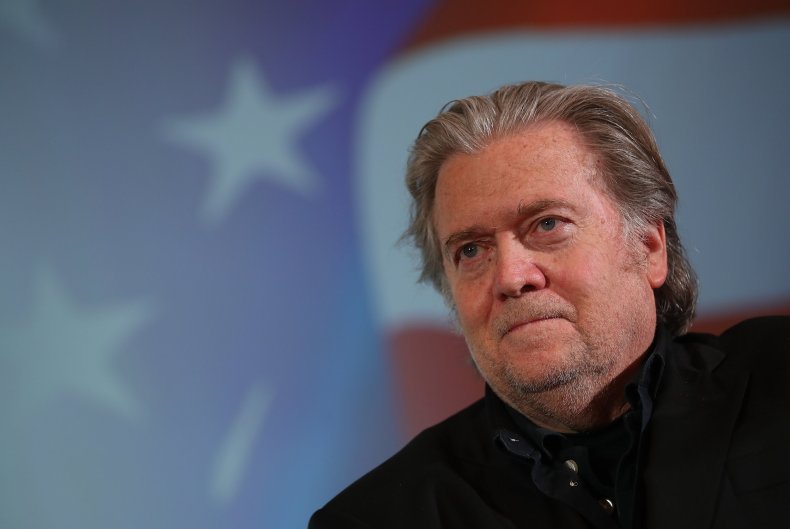 Bannon and Meiber got into a heated back and forth, with Meiber pressing the guest about Heyer's death, when one of the white nationalist marchers allegedly drove his car through a crowd of counter-protesters. Still, Bannon instead that Antifa, or "anti-fascists," a collection of groups, some of whom advocate for extreme actions to combat fascism, were just as responsible as those on the far-right.
"When you talk about the people that come there for violence, he's condemned those people," Bannon said. "He condemned the neo-Confederates. He condemned the neo-Nazis. He condemned the KKK [Ku Klux Klan]. He also condemned Antifa. And if you look at [CNN host, Chris] Cuomo the other night, the problem with the left and the problem with the mainstream media, you give Antifa a complete, free pass. They are just as violent as the Neo-Confederates. They're just as violent as these KKK guys, and they have to be condemned."
Bannon and Trump had a very public falling out earlier this year due to Bannon's negative comments about Trump in Michael Wolff's book, Fire and Fury. But, whether his help is wanted or not, Bannon has unveiled a new political operation designed to help the president and Republicans in the midterms.