Steve Bannon is a Lone Warrior Fighting a Losing War After Breitbart Exit
Updated | When he left the White House in August, Stephen K. Bannon promised to use Breitbart News, the right-wing news site, as the primary weapon in his war against the Republican establishment. Now, however, amid a growing rift with the Trump administration, he has been pushed out at Breitbart and finds himself a lone warrior waging what increasingly appears to be a losing fight.
Bannon was the executive chairman at Breitbart before signing onto the presidential campaign of Donald J. Trump and later becoming the president's chief political strategist. He'd resumed that title after leaving the White House last year for the Capitol Hill townhouse — affectionately known as the Breitbart Embassy — that functions as both Breitbart's newsroom and Bannon's living quarters.
"Stephen K. Bannon has stepped down from Breitbart News Network, where he served as Executive Chairman since 2012. Bannon and Breitbart will work together on a smooth and orderly transition," said a brief — but prominently featured — note on Breitbart's website on Tuesday afternoon. The article included a statement from Bannon as well: "I'm proud of what the Breitbart team has accomplished in so short a period of time in building out a world-class news platform."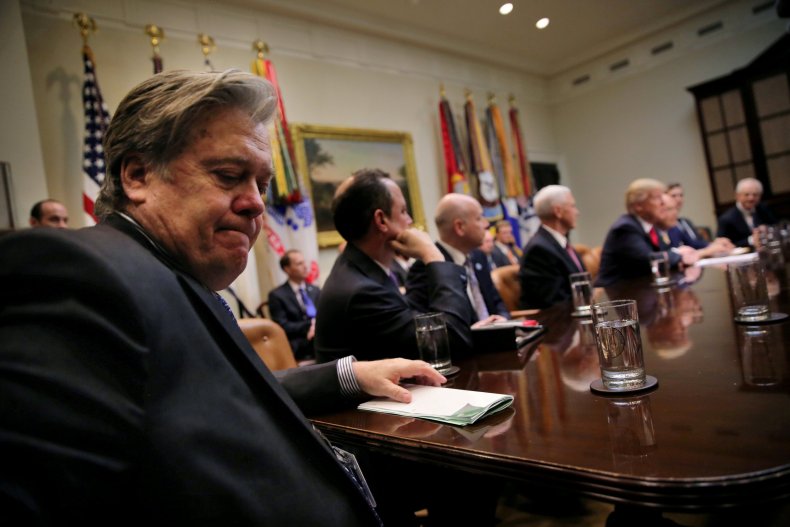 The unceremonious exit also effectively deprives Bannon of another outlet for his views: his SiriusXM radio show. The radio company announced Tuesday he would no longer host "since our programming agreement is with Breitbart News."
Bannon did not respond to a request for comment from Newsweek. Nor did his personal publicist. But one person familiar with Bannon's thinking said that Bannon, who is intending to run candidates in the 2018 midterm election, was finally forced to choose between electoral politics and journalism. "Him being involved in politics was interfering with Breitbart's ability to act as a news organization," said the Bannon associate.
For months, Bannon had voiced plans to start a 501(c)4, a type of not-for-profit organization that is able to engage in some political advocacy. The group would presumably bolster Bannon-supported candidates. However, Rosie Gray of The Atlantic reports that the effort "appears to have stalled."
The departure underscores the extraordinary consequences of the publication of Fire and Fury, Michael Wolff's book about the turbulent Trump administration. Bannon served as one of Wolff's primary sources, providing incendiary quotes about both Trump and his children. "To the extent the book has a main character with an arc, that protagonist isn't Trump, but Bannon," wrote Alyssa Rosenberg in her review of the book for The Washington Post , adding that Wolff's depiction of Bannon was "romantic." His depiction of Trump was a lot less so.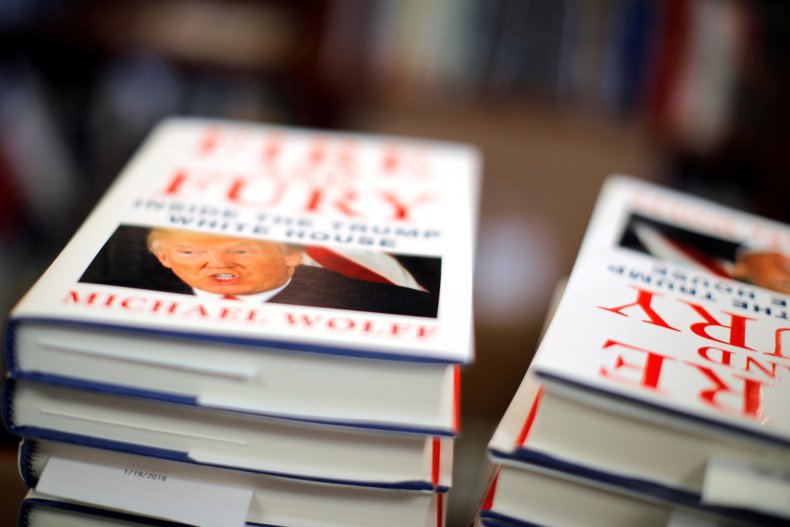 Bannon's critical comments first appeared in pre-publication excerpts of Wolff's book, including calling Ivanka Trump "dumb as a brick." They led to an uncharacteristically harsh statement from Trump that began, "Steve Bannon has nothing to do with me or my Presidency. When he was fired, he not only lost his job, he lost his mind." Bannon apologized for some of his comments several days later, casting himself as a tireless supporter of the president. But the apology was rejected, with a White House spokesman announcing, "I don't believe there is any way back for Mr. Bannon at this point."
The White House did not respond to request for comment regarding Bannon's departure, though press secretary Sarah Huckabee Sanders had previously advised the site's leadership to "look at and consider" disassociating from him.
The book also complicated Bannon's ties to Rebekah Mercer, the conservative billionaire activist who is believed to fund many of his activities. Mercer, who is generally averse to media attention, issued a statement last week in which she said, "I support President Trump and the platform upon which he was elected. My family and I have not communicated with Steve Bannon in many months and have provided no financial support to his political agenda, nor do we support his recent actions and statements."
Breitbart News, meanwhile, did not cover the spat between Trump and Bannon with any notable fealty to its executive chairman. It may well be that the site's editor, Alex Marlow, and chief executive, Larry Solov, concluded that they need Trump more than they need Bannon. As The New York Times reported earlier this week, Breitbart has been losing both advertisers and readers, with its traffic in November at only 13.7 million visitors, a significant drop from the months immediately before and after 2016's presidential election.
Now, Bannon finds himself excluded from the very movement he helped found, and from the site he raised to national prominence. Then again, the self-proclaimed "streetfighter" may well relish his newfound status as an outcast, even if it means no more private jets and security details.
Updated: This story has been updated to reflect SiriusXM ending its relationship with Steve Bannon.