Steve Bannon Out at Breitbart: Seven Most Controversial Articles Published by Trump's Former Aide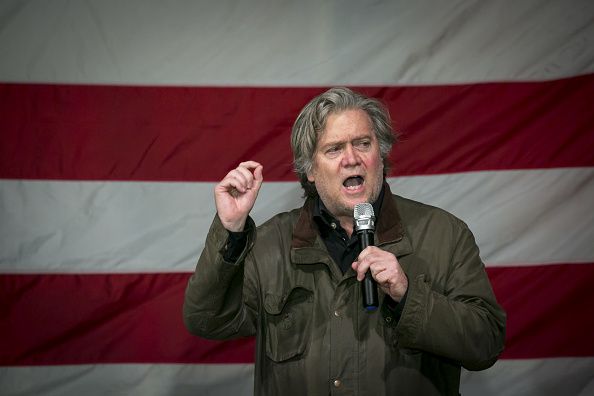 Steve Bannon, former chief strategist to President Donald Trump, has officially stepped down from the alt-right news site Breitbart just months after returning to the website following his ousting from the White House.
Breitbart announced the news Tuesday afternoon on its website.
"I'm proud of what the Breitbart team has accomplished in so short a period of time in building out a world-class news platform," Bannon said.
The former chairman caused plenty of controversy after his remarks in the book Fire and Fury: Inside the Trump White House, written by journalist Michael Wolff, which quoted him as saying a Trump Tower meeting involving Donald Trump Jr., Jared Kushner and a Russian lawyer during the 2016 campaign was "unpatriotic" and "treasonous."
His legacy at Breitbart will be remembered as publishing controversial articles and incendiary headlines. Here are seven examples:
1. 'Political Correctness Protects Muslim Race Culture'
Former Republican Congressman Tom Tancredo wrote in January 2016 that sex-crime rates in Europe could be blamed on a recent influx of Muslim immigrants and said that the mainstream media was not adequately reporting it because they wanted to be politically correct. "The good news is that across Europe today, there is widespread rebellion against political correctness when it comes to massive Muslim migration," he writes, referring to a rise in anti-immigrant movements in Europe.
However, research has shown that there is no correlation between immigration and violent crime rates. An official report released by the German government in 2015 found that the growing number of refugees to the country had not resulted in an increase in crime rates.
2. 'The solution to online 'harassment' is simple: Women should log off'
An article published in July 2016 argued that women are "screwing up the internet for men by invading every space we have online and ruining it with attention-seeking and a needy, demanding, touchy-feely form of modern feminism."
3. 'Birth Control Makes Women Unattractive and Crazy'
An article published in December 2015 article made a case against birth control and concluded, "We need the kids if we're to breed enough to keep the Muslim invaders at bay." The article was one of many blasted by critics of Breitbart.
4. 'Gay Rights Have Made Us Dumber, It's Time To Get Back Into The Closet'
Written by Milo Yiannopoulos, thearticlestated that gay men have greatly contributed to the arts and sciences and should go back to pretending they're straight to procreate at a better rate. Yiannopoulos also claimed that same-sex couples are destructive as parents.
5. 'Hoist It High and Proud: The Confederate Flag Proclaims a Glorious Heritage'
Writer Gerald Warner defends the Confederate flag and says there is nothing wrong with flying the flag of the South's failed rebellion. "The Confederacy was not a callous conspiracy to enforce slavery, but a patriotic and idealistic cause for which 490,000 men were killed, wounded or taken captive. The Civil War was not fought over slavery, but in defense of states' rights," Warner wrote.
6. 'Would you rather your child had feminism or cancer?'
A post published in February 2016 on the website featured a video made by the Michigan Review, a publication from the University of Michigan, promoting debate on campus featuring Yiannopoulos. In the video, participants were asked the following question: "Would you rather your child had feminism or cancer?"
7. 'Trannies whine about hilarious Bruce Jenner billboard'
An article published in December 2015 criticized a campaign to take down a billboard mocking Caitlyn Jenner's transition after she went public with news that she was transgender in September 2015. "Transsexuals have forced a company in New Zealand to take down a billboard poking fun at Bruce Jenner and his man-parts," the article said.