Steve Bannon Called Nancy Pelosi an 'Assassin' Who's 'Going to Get Us', New Book Claims
A new book claims to offer the "definitive insider narrative" on President Donald Trump's time in office, including a judgment former White House chief strategist Steve Bannon had of Speaker of the House Nancy Pelosi.
A Very Stable Genius, co-authored by Philip Rucker's and Carol D. Leonning, two Washington Post reporters, is set to hit stands on Tuesday, but news outlets have already offered glimpses into what readers can find within its pages. The book includes at least one named source, former White House communications director Anthony Scaramucci, and anecdotes compiled from interviews with more than 200 sources.
One passage of the book involved a meeting between Pelosi, Bannon, Trump and other congressional leaders. On the first Monday of his presidency, the members of Trump's administration gathered in the State Dining Room for a closed-door meeting.
Trump is reported to have begun the conversation with the claim that he won the popular vote, a comment that Pelosi refuted. The veteran Democratic representative told Trump there was "no evidence" to support his claim and if they're going to work together, "we have to stipulate to a certain set of facts," according to Axios' reporting of the book's segment.
"Watching Pelosi challenge Trump, Bannon whispered to col­leagues, 'She's going to get us. Total assassin. She's an assassin,'" Axios reported the co-authors wrote.
Newsweek reached out to Speaker of the House Nancy Pelosi, Steve Bannon and the White House but did not receive a response in time for publication.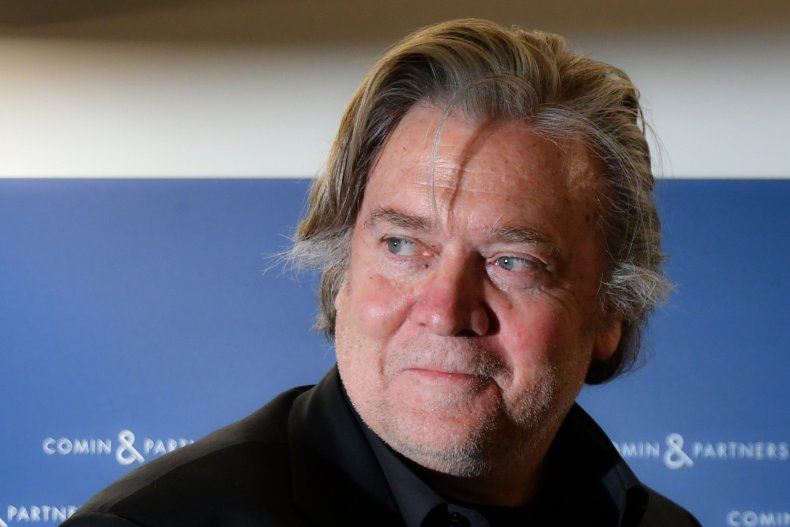 Bannon left the White House in August 2017 but has continued to voice his opinion about the political world surrounding Trump. In November, Bannon applauded Pelosi's political tact during an interview with CBS News about the impeachment inquiry House Democrats launched. He said her handling of the inquiring was "actually quite brilliant."
"I disagree with her ideologically, but I think Nancy Pelosi is a master at political warfare. I think, strategically, what she has done from their perspective is actually quite brilliant," Bannon told CBS News.
On December 18, the House of Representatives voted along party lines to impeach Trump on charges of abuse of power and obstruction of Congress. House managers delivered the articles of impeachment to the Senate on Wednesday and Senate Majority Leader Mitch McConnell formally accepted them on Thursday.
Convicting Trump on the two articles would require a two-thirds vote in the Senate, meaning more than a dozen Republicans would have to vote in favor of convicting the president. On Thursday, Senator Rand Paul told The Hill he thought the verdict was "already decided" because he didn't expect any Republicans to vote for impeachment.