Steve Bannon Demands Right-Wing 'War' Against Liberals, Curses Out Radio Show Host
Former White House Chief Strategist Stephen K. Bannon took to U.K. radio Sunday in a "call to arms," urging right-wing populists to fight back against so-called "globalist" forces.
Speaking with former U.K. Independence Party leader Nigel Farage on Sunday on LBC radio, Bannon repeatedly demanded that supporters of President Donald Trump and Brexit "rise up" against liberals across the globe. Bannon compared political disputes in the U.S. and U.K. to a world war in which right-wing populists must fight against people such as George Soros. Bannon concluded the British radio show by reportedly calling political editor Theo Usherwood a "f***ing liberal elite."
"I would rise up and I'd make sure the guys in Parliament knew it, I'd write letters, I'd get on radio shows, I'd get on the internet, I'd get on Facebook and say, 'This is not what we voted for.' We voted for our independence," Bannon said Sunday. "We did not vote for the corporatists in the city of London, the international banks in the city of London, the big corporations in the city of London, to just slow walk us until we give up. We're not going to give up."
Both Farage and Bannon then criticized British Prime Minister Theresa May, and reiterated that more rural parts of England should fight back against urban politicians and companies. "What I want to say to the people of Middle England...let me say one more thing about winning elections, they're not going to pat you on the head and give you your country back, you're going to have to fight to take your country back every day."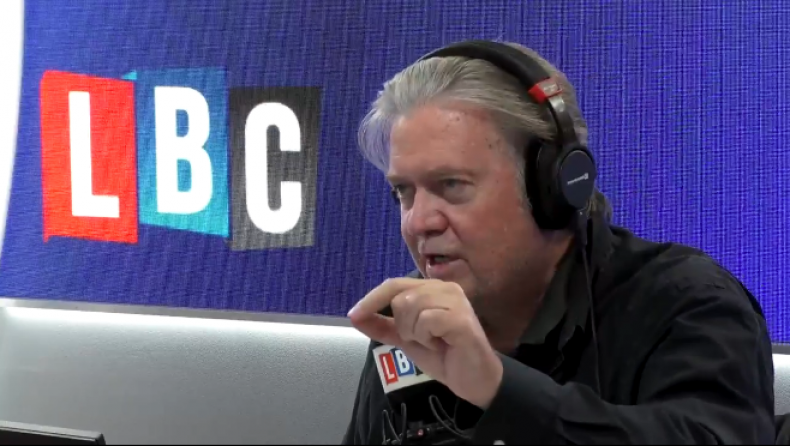 Bannon repeatedly framed Western politics as a form of warfare, saying, "Whether that's in Italy, whether that's in France, whether that's in England, the United States...we're going to win this thing, if we quit, and that's what they hope we do, if you quit then they're going to be in control." The former executive chairman of Breitbart News has spent several months traveling about Europe in order to stir right-wing populists movements since his departure from the Trump White House in August 2017. In May, Bannon praised Italy's far-right League party and the grassroots anti-establishment 5 Star Movement. "If it works in Italy, it's going to show that we've broken the back of the globalists," Bannon told a Rome crowd.
LBC political editor Theo Usherwood interjected into the conversation, saying Bannon's right-wing rant "sounds like a call to arms." Bannon responded, "absolutely." Farage then asked Bannon whether he sees everything in politics as some sort of "great military style battle."
"It is, it's war," said Bannon, before quoting Prussian General and military theorist Carl von Clausewitz: "War is politics by other means. Well, politics is war by other means. This is a war for control. This is a war for the little guy. They fight, look at [George] Soros and these other NGOs...they destroy you."
Bannon claimed that Soros tried to "destroy him personally," but that he does not "give a damn."
"The problem is the conservatives, and people in the United States and England have been too nice, and that's what I love about Trump. Trump is in your grill from the beginning and he's not going to back off," continued Bannon.
Bannon then compared the current Brexit and Trump-led populist movements to battles in the first and second World Wars. "If you've got the same grit we saw in the trenches in the western front, if you've got the same grit that was at Normandy that won World War II...we're going to win this thing."
Usherwood pushed back by saying it sounded like Bannon wants Middle England and London to be divided in a "civil war."
Following the radio show recording, Bannon reportedly engaged in a profane war of words with Usherwood over his recent support for ex-English Defence League leader Tommy Robinson, also known as Stephen Yaxley-Lennon. Robinson pleaded guilty to contempt of court and was jailed in May after he recorded a livestream on Facebook outside of a sexual abuse trial. Far-right groups and Bannon have come out in support of Robinson, saying he is an unfair victim of anti-free speech laws. According to Usherwood, Bannon put down his headphones after the show ended and told him: "F*** you. Don't you f***ing say you're calling me out. You f***ing liberal elite. Tommy Robinson is the backbone of this country."
Despite the raucous tone and fuming rant from Bannon, Farage issued a statement to anti-Trump protesters, asking that they show their outrage against the U.S. president "sensibly." Former Breitbart London editor in chief Raheem Kassam, who was present at the taping, blasted the journalist for allegedly telling Bannon he was "off the record" before Bannon's profane rant.
"LBC's @theousherwood introduced himself to Bannon before the interview as the "neutral" political editor of the station. He then proceeded to attack him both on and off air, and then tweet a private conversation," he tweeted Sunday.