Steve Bannon Clashes in Russia Investigation With Congress During 'Total Free-for-All'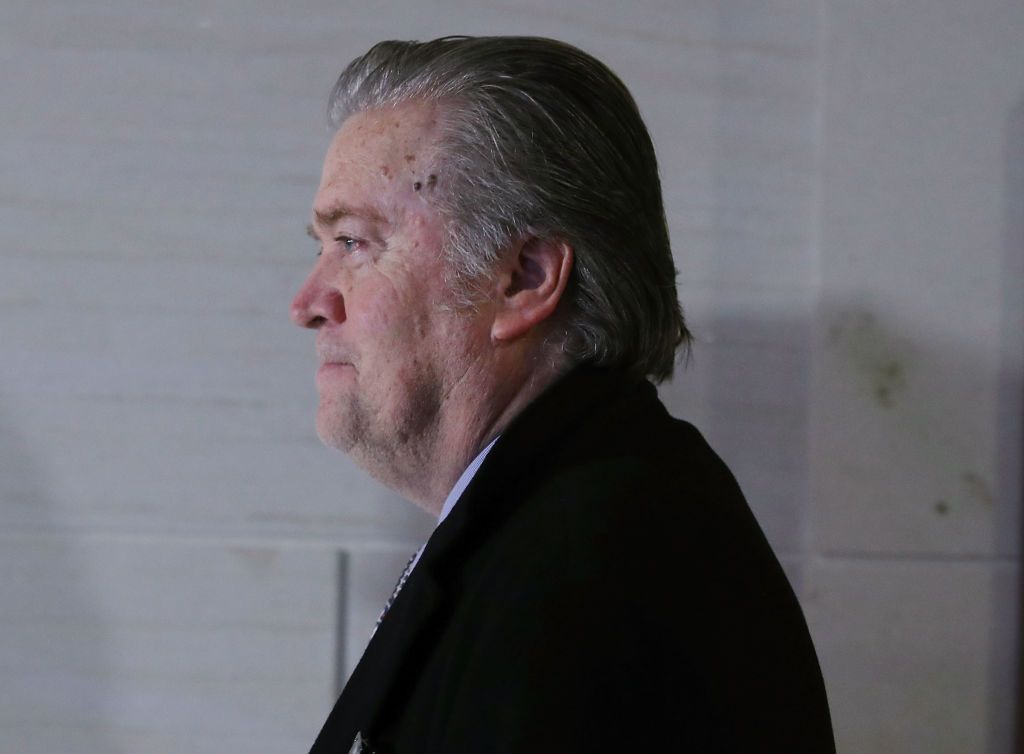 Congress issued a new subpoena against former White House chief strategist Steve Bannon Tuesday after he refused to answer questions during testimony in the Russia probe about his time in the West Wing and the transition period after the 2016 election.
Bannon sat for 10 hours with the House Intelligence Committee on Capitol Hill Tuesday as he faced questions for the investigation into whether the Trump campaign aided Russia's efforts to meddle in the election.
After the former White House official and ex-Breitbart News chief stonewalled Congress during the interview, the committee issued a subpoena seeking documents and more testimony, according to Rep. Mike Conaway (R-TX) who heads the committee's probe.
"We're going to get answers from Mr. Bannon," said Conaway.
Early in the session Bannon and his lawyer told lawmakers he would not answer questions about his time in the White House and transition, a source familiar with the interview told Politico. Lawmakers are said to have issued the subpoena on the spot.
What happened next during the interview was described by sources to The Hill as "brutal" and a "total free-for-all."
"He doesn't have any friends in that room," one source told the publication.
Read more: Steve Bannon said Trump has "lost his stuff" and won't get second term: Michael Wolff
Bannon has alienated Republicans after the publication of Michael Wolff's book Fire and Fury early this month in which he was quoted describing Donald Trump Jr.'s meeting with a Russia lawyer in June 2016 where he sought damaging information on Clinton as "treasonous" and "unpatriotic."
Bannon left the White House last August after Chief of Staff John Kelly was brought on board. After quickly being reinstated at Breitbart News, Bannon was ousted from that job last Tuesday after the website's co-owner Rebekah Mercer said she would no longer fund his projects following the release of Wolff's tell-all book.
If Bannon refuses to answer questions during future testimony, he could be found in contempt of Congress and potentially face a maximum of a year in jail and a $100,000 fine.
Bannon confirmed during his interview Tuesday that he has been issued a subpoena by special counsel Robert Mueller to testify before a grand jury, multiple sources told CNN. His attorney reportedly told the committee that he will answer the special counsel's questions. Mueller is independently investigating the Trump campaign's ties to Russia. The subpoena from his team targeting Bannon was first reported by The New York Times Tuesday.
Following the committee's subpoena against Bannon, its minority leader Rep. Adam Schiff (D-CA) told reporters that Bannon's lawyer contacted the White House, which "doubled down" on instructions that he should refuse to answer questions.
"This was effectively a gag order by the White House," Schiff told reporters after the interview adjourned.