Steve Bannon Demands Higher Taxes on the Rich: 'You're Being Scammed'
Steve Bannon demanded that the U.S. increase taxes on the wealthiest Americans, arguing that the current situation is "absurd" and that the country is "being scammed" by multibillionaires.
The ex–senior counselor to former President Donald Trump went on a rant against tax avoidance by the nation's wealthiest people during his War Room podcast on Thursday. Bannon's remarks came after ProPublica published a lengthy report this week examining the tax records of some of the country's richest individuals, finding that many paid little or no income taxes in various years over the past decade.
"Over five years with a half a trillion dollars of assets, they've paid collectively under $15 billion in taxes," Bannon said, arguing that this is "the reason the game is rigged."
"They don't pay any taxes anyway," the former Trump administration official continued. "You've got to start increasing the marginal tax increases for the wealthy."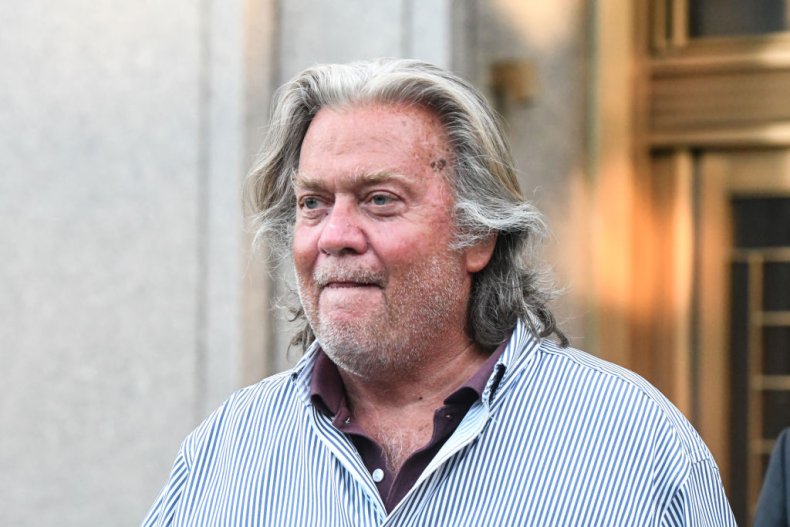 Bannon took aim at conservatives and Republicans who argue against raising taxes on the rich. He said their arguments against raising taxes are the same as their defense of free trade. Bannon called out Trump Treasury Secretary Steve Mnuchin and economic adviser Gary Cohn for opposing tax hikes on the rich, saying they "went absolutely nuts" when he suggested an increase.
"This is absurd. This is a scam. You're being scammed, just like you were being scammed on free trade," Bannon told his listeners.
He pointed to the rising deficit and argued that there are limited options to address the situation, saying that the U.S. can either cut spending, sell more bonds to foreign countries or raise taxes on the wealthy. He warned that Americans' grandchildren will have to pay the cost if difficult decisions aren't made now.
"Please don't sit there and tell me, 'No, I don't want to raise taxes.' Then stop the spending or just turn to your grandchildren and say, 'I'm condemning you,'" he said.
Notably, Trump's signature legislative achievement was the 2017 Tax Cuts and Jobs Act, which largely benefited corporations and the wealthiest Americans. The Congressional Budget Office has estimated that these tax cuts will significantly reduce revenues and raise the deficit by $1 trillion to $2 trillion in the decade after their passage.
Newsweek reached out to Trump's office for comment on Bannon's remarks but did not immediately receive a response.
President Joe Biden has proposed repealing the 2017 tax cuts, arguing that the wealthiest Americans should start paying "their fair share." However, Republicans in Congress have staunchly opposed any tax increases, saying that altering or undoing Trump's tax cuts are an uncrossable red line. Meanwhile, progressive lawmakers—such as Democratic Senator Elizabeth Warren of Massachusetts—have proposed implementing a wealth tax in addition to higher income taxes.
A March poll conducted by Morning Consult and Politico found that 54 percent of Americans supported increasing taxes on the wealthy to support infrastructure investment. Among Democrats, 73 percent were in favor of proposed tax hikes, as well as 52 percent of independent voters. Just about a third, 32 percent, of Republicans said they approved of taxing the wealthy.