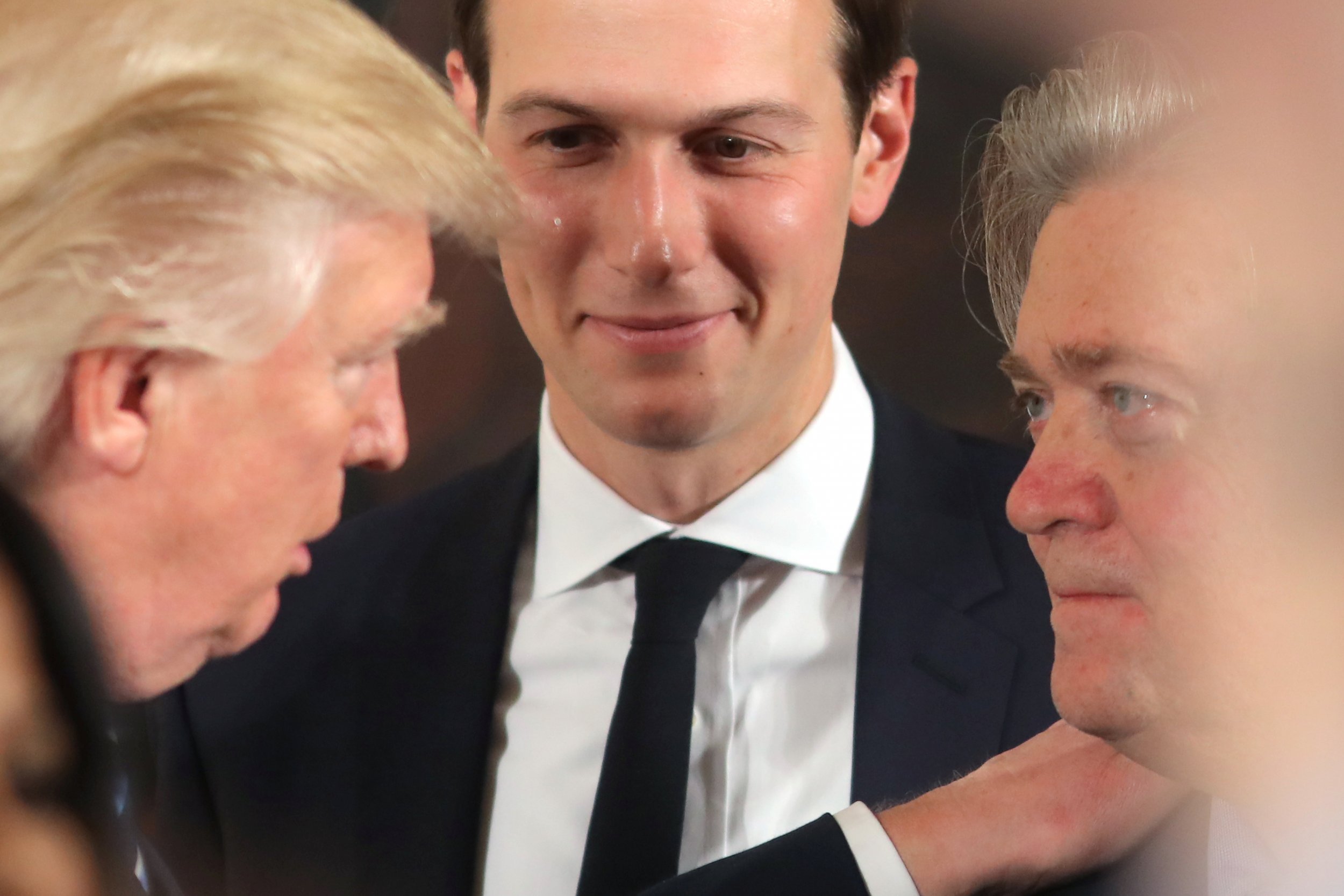 In the summer of 2016, as his presidential campaign appeared to be collapsing, Republican candidate Donald J. Trump appointed Stephen K. Bannon of Breitbart News to run his campaign. The choice was widely met with disapproval from anyone still hoping for Trump to leave aside the divisive rhetoric of the primary season and challenge Democratic nominee Hillary Clinton as a centrist, pro-business Republican.
"Donald Trump's merger with the Republican party has failed," declared the news site Quartz. "If you were looking for a tone or pivot, Bannon will pivot you in a dark, racist, divisive direction," said conservative strategist Rick Wilson. "Republicans should run away."
The GOP is finally doing just that, repelled in large part by the president's response to the white nationalist violence in Charlottesville, Virginia. Trump, in turn, is running away from Bannon, who has reportedly been dismissed from the White House. The departure, long rumored, comes as Trump marks his seventh month in office.
As the journalist Joshua Green recounts in his new book Devil's Bargain, Bannon had Trump narrow his appeal instead of broadening it. "Darkness is good," Bannon once told the candidate, Green writes. If the man he replaced, Paul J. Manafort, had tried to tame Trump's raw nativist instincts, Bannon encouraged them. It was indeed dark, but it was enough to win in November.
Related: Breitbart News, Donald Trump's Pravda, is in crisis
In the early days of the Trump presidency, many feared that Bannon's nationalist—some would say fascist—impulses would govern the West Wing. Saturday Night Live depicted the new president's chief political adviser as the Grim Reaper, commanding the Oval Office while Trump played with a toy. Time speculated that Bannon was the second most powerful man on Earth.
The speculation was fun, but also groundless, failing to note Bannon's deficiencies as a manager, deal-maker and strategist. He had strong opinions, sure, but the Oval Office is not the Breitbart newsroom. Bannon reportedly clashed with Jared Kushner, Trump's son-in-law, and other moderating influences, including former Goldman Sachs COO Gary D. Cohn and Dina Powell, also an alumna of the investment bank. Bannon formed an expedient alliance with chief of staff Reince Priebus, in what seemed less true intellectual kinship with the longtime Republican operative than a need to have someone he could turn to in the trenches.
Because of his longstanding nationalist views, Bannon incurred criticism for some of the president's least popular decisions: withdrawing from the Paris climate accords, banning travelers from some Muslim-majority countries and rolling back regulations that suggested the "deconstruction of the administrative state," as Bannon once called it.
The notion that his decisions were being directed by his chief strategist clearly bothered Trump. In an interview with the New York Post in April, the president downplayed his involvement in the campaign: "I'm my own strategist," he declared.
Bannon's influence on the presidency seemed to be exaggerated by supporters and detractors alike. Many on the left had long wanted him fired, calls that intensified after neo-Nazis and other right-wing extremists converged on Charlottesville, Virginia, last week, even if the nationalist firebrand had no direct influence on the ugliness that took place there. The far right, for its part, found comfort in the knowledge that one of its own was in the inner sanctum of American power.
Despite his stature and title, Bannon showed little capacity for policy, with proposals like a 44 percent marginal tax rate that were entirely unrealistic. His seeming endorsement of a trade war with China showed a staggering ignorance about the complex interplay of macroeconomic forces. As one White House insider told Axios, "His departure may seem turbulent in the media, but inside it will be very smooth. He has no projects or responsibilities to hand off.|"
During his short time in the Oval Office, Bannon showed the appeal of Trump's nationalism, but also its sharp limits. The fervor of a rally in rural Iowa does not translate well to striking a deal with House Speaker Paul D. Ryan; the darkness of the campaign never gave way to something sunnier, an optimistic vision to which those who do not read Breitbart could subscribe. In an already disorderly White House, Bannon only compounded the chaos. He once said he thought he'd have a year to enact his nationalist agenda. Turns out he was wrong by exactly five months.
Some think that Bannon will reunite with allies on the far right—Breitbart News, the powerful Mercer family—to attack Trump for failing to keep his campaign promises, like a border wall with Mexico. That may be true, but it may also be beside the point. Trump is his own man, immune to counsel and advice. Bannon was useful in Michigan and Wisconsin, where he stoked Trump's populist fires. In Washington, he proved little more than a distraction.