Steve Bannon, Frozen Out in The U.S., Wants to Foment a European Populist Uprising
Former White House strategist Steve Bannon, a champion of Donald Trump's "America First" agenda, will address the party congress of France's far-right National Front on Saturday, a senior official of the French anti-immigrant party said.
Bannon, an American nationalist who ran the right-wing Breitbart News, was among Trump's closest aides during the 2016 U.S. election campaign, the presidential transition and his first months in office.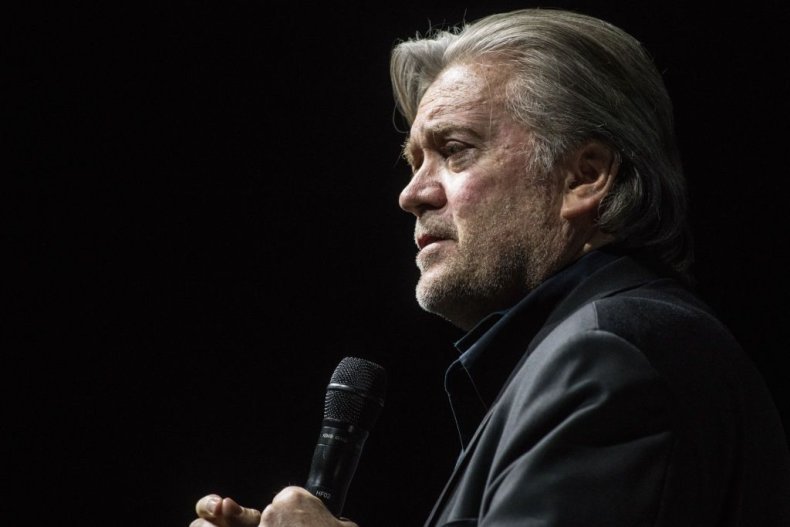 But the pair had a bitter public falling out and Bannon was fired by the White House last August, though he continued to speak with Trump and tried to promote the president's agenda.
National Front leader Marine Le Pen will meet Bannon at her party's convention in the French city of Lille on Saturday, her partner Louis Aliot said in a tweet.
The party is expected to unveil a new name as it searches for more voters and relevance in a political landscape transformed by President Emmanuel Macron, a centrist who defeated Le Pen in France's election last May.
In recent weeks Bannon has toured Europe, strengthening ties with European far-right leaders. In Zurich Tuesday he met with leaders of Germany's populist AfD party, which made significant gains in last year's German federal election with a fiercely anti-immigrant, anti-Islam platform. At a conference hosted by the conservative weekly Weltwoche, he enthused the potential of cryptocurrency for the populist movement.
In Italy, where populists won more than half of the vote in recent elections, he has hailed the success of the Lega Nord and Five Star parties. He is reportedly planning to meet Hungary's populist prime minister Viktor Orban later this weekend.
Bannon told The New York Times that he is seeking to create a European media network, modeled on Breitbart, to spread populist ideology, and an army of social media "foot soldiers."
"All I'm trying to be," he told the publication, "is the infrastructure, globally, for the global populist movement."
After the release of Michael Wolff's explosive Fire and Fury in January, in which Bannon was quoted criticising Trump's children, the two had a public falling out, with the president taunting Bannon as "sloppy Steve."
He was subsequently ousted from Breitbart, where he worked as CEO before joining the Trump campaign as chief executive in 2016.