Video: Steve Bannon Talks About 'Gameness' Class He Will Teach at His Italian 'Gladiator School' Set up to Fight Globalism
The former adviser to President Donald Trump says he wants European far-right leaders to appear at the alt-right academy in Italy which he hopes will school the next generation of nationalists.
Steve Bannon announced last June he was creating the so-called Academy of the Judeo-Christian West last June. He had planned for its location to be the Trisulti Charterhouse, a medieval monastery in a village about 43 miles east of Rome.
Speaking to Axios on HBO, Bannon described his lofty ambitions for the school, which included being a forum for debate which would attract prominent far-right figures.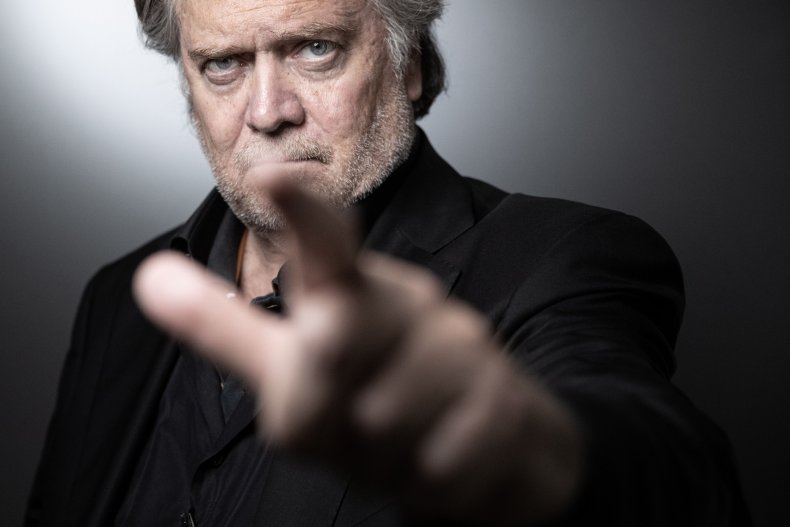 "Can you imagine in a couple of years when we get organized, when we have conferences here. You (will) have Salvini, you have Marion Le Pen…you get all these great professors," he said. The first name of Le Pen, who heads France's National Rally party, is Marine.
Bannon said that he was going to teach a course called "Gameness", which stems from a term which is used to describe the feistiness of competitors in dog fights. "In a dogfight, you say that dog's got 'gameness.' It's like when the dog's got his arm chewed off, he's still fighting," Bannon said.
He has used the expression as a flattering epithet for Rep. Alexandria Ocasio-Cortez, whom he described in January to Politico as having an admirable competitive spirit. "AOC has what I call 'gameness' or competitive heart—the combination of grit, determination, fighting spirit that you can't coach," Bannon told Politico.
His goal for his new academy has hit a few obstacles. He has endured protests from locals and last week, Politico reported that the Italy's culture ministry had revoked the lease on the monastery given to Dignitatis Humanae Institute (DHI), a right-wing Roman Catholic institute affiliated with Bannon.
"DHI has failed to comply with the obligation to pay the concession fee, the ordinary and extraordinary maintenance obligations," Gianluca Vacca, undersecretary for cultural heritage, said in a statement.
But Benjamin Harnwell, Bannon's close associate in Italy who is spearheading the project has vowed to fight the culture ministry's order, describing it as an "illegitimate maneuver," Quartz reported.
Last year, Bannon told CBS that he viewed it as a "modern gladiator school" which could help educate politicians fighting to eradicate globalism from Europe. However, in the documentary for HBO, Axios cast doubt about some of the claims that Bannon has made about his group called "The Movement" which he said would help European populist parties.
It reported that Salvini, whom Bannon claims he has enlisted for his movement, had only spoken to Bannon twice. Bannon also admitted European election laws had prevented him from doing the work he had wanted to do to help populist parties.
Bannon was the primary source behind the latest book by Michael Wolff, Siege: Trump Under Fire, in which he is said to have likened the presidential administration to a "criminal enterprise."