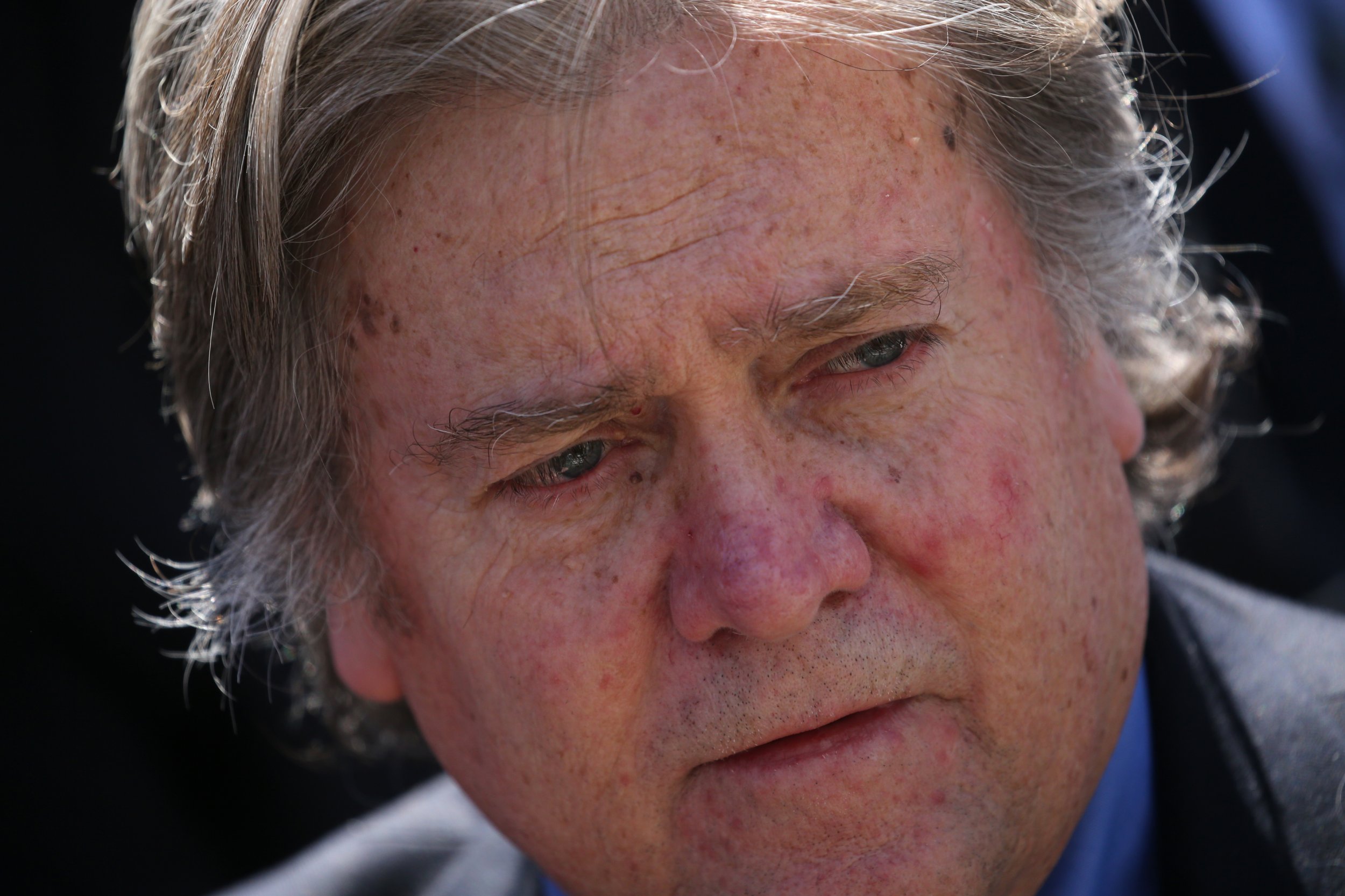 "I don't think the party survives," a Republican official told Politico two weeks before the 2016 election, when a victory by Democrat Hillary Clinton seemed certain. What followed instead was the unlikely victory by Republican Donald J. Trump, leading to a spell of triumphalism from the right. And yet, a year later, the fortunes of the GOP are, remarkably, even more fraught than they were last October, when the Democrats seemed confident of victory. And that's largely because of one man: Stephen K. Bannon.
Bannon—Trump's third campaign manager and later his chief political strategist—left the White House in August promising "war" on establishment Republicans who, in his estimation, were subverting Trump's agenda. The opening battle took place in Alabama, where, in a special GOP primary, Bannon's candidate, Roy S. Moore, defeated incumbent Senator Luther Strange, who was endorsed not only by many mainstream Republicans, but by Trump himself.
Now, Bannon is planning similar far-right campaigns across the nation. Speaking to Sean Hannity of Fox News last week, he promised a blitzkrieg of a kind that has never been waged. "There's a coalition coming together that is going to challenge every Republican incumbent except for Ted Cruz," Bannon said. The threat is remarkable because it is coming from within the Republican Party, from someone who shares a deep bond with that party's nominal leader, if not exactly with House Speaker Paul D. Ryan, Republican of Wisconsin, or Senate Majority Leader Mitch McConnell, Republican of Kentucky.
After that Fox News appearance, Bannon is said to have received messages of support from Trump and Trump's son-in-law, Jared Kushner, a White House adviser with whom Bannon reportedly clashed in the weeks and months before he returned to Breitbart News, where he is once again the executive chairman. Thus emboldened, Bannon took his message to the Values Voter Summit in Washington, D.C., where on Saturday he promised "a season of war on the GOP establishment."
While conservative candidates are "openly jockeying for the support of his network," as McClatchy reports, Bannon has plenty of time to choose which candidates he will support, and where. Along with Moore, who now faces a general election contest for the Senate seat in Alabama, Bannon is supporting Michael M. Grimm, a Republican from Staten Island who is hoping to return to the House of Representatives after serving time in federal prison for tax evasion. Bannon has also indicated that he would groom candidates to challenge Senators Jeff Flake of Arizona and Dean Heller of Nevada, both Republicans who have crossed Trump.
But wars aren't cheap. If he were to run challengers to every Republican incumbent in the Senate other than Cruz, the junior Senator from Texas, that would cost about $75 million ($10.5 million per Senate seat, with seven Republican seats in play). And if he were to similarly field candidates against every one of the 50 members of the Tuesday Group—a caucus of moderate Republicans in the House who represent the very kind of compromise Bannon despises—he would need an additional $65 million (a winning House campaign requires $1.5 million or so in spending). That would make Bannon's war on the Republican establishment a $140 million venture, and that's discounting any challenges to incumbent Democrats.
Some believe Bannon will be especially dangerous because of his links to Robert and Rebekah Mercer, the powerful father-daughter duo that funds conservative causes and candidates. But one individual I spoke to in Trump's inner circle says Rebekah Mercer has indicated to at least one associate that she will not be nearly as generous as some believe. (The Center for Responsive Politics found that Robert Mercer gave $25 million to Republican candidates and conservative groups in 2016.)
Reactions to Bannon's promised campaign range from glee to dismay. Some see it as a purifying flame that will harden the right's convictions. Others see Bannon as a pyromaniac who could hand Congress back to the Democrats in 2018—and the presidency two years later.
"Arson for the sake of arson," says Charles J. Sykes, the former conservative radio host who wrote of his GOP apostasy in How the Right Lost Its Mind. A critic of Trump since the Republican primary, Sykes is not much kinder to Bannon. "It's not a strategy, it's the uncontrolled release of rage," he says of Bannon's recent declaration. "It's not so much ideological as it is nihilism, a desire to burn it all down and damn the consequences."
(Bannon did not respond to multiple Newsweek emails and text messages asking for comment for this story.)
As evidence of his aversion to Bannon's renegade campaign, Sykes offers Bannon's support for Grimm, the former New York City congressman who, in addition to evading taxes, threatened to throw a journalist off a balcony and allegedly engaged in illegal fundraising. The district, encompassing mostly Staten Island, is represented by Daniel M. Donovan Jr., a relatively moderate Republican who is a member of the Tuesday Group and has done little to merit an aggressive primary challenge from the right. Bannon's only reason, Sykes suggests, is to cause chaos, forcing the National Republican Congressional Committee to defend a district it thought was safe.
The National Republican Congressional Committee did not respond to requests for comment about Bannon. Cassie Smedile, press secretary for the Republican National Committee, noted that the RNC does not get involved in primary contests. She also cited a CNN appearance by RNC Chairwoman Ronna Romney McDaniel earlier this month in which she acknowledged that 2018 "is gonna be a tough midterm" because of Bannon.
Roger J. Stone Jr., a longtime Trump associate who has feuded with Bannon, does not believe his mission is suicidal. "He is trying to remake the party in Trump's image and bust up the two-party elitist duopoly that has run the country into the gutter," Stone says, echoing Trump's rhetoric. The question, however, is whether that party can be remade without being destroyed. And whether that party, fashioned in Bannon's image, resembles the party of Ronald Reagan.
Another longtime Trump associate, Newsmax publisher Christopher Ruddy, told me he respects Bannon but believes he is making a "great mistake" in running his own challengers. Ruddy worries that Bannon's ideological inflexibility could prove disastrous in the 2018 midterms, when Republicans will be running on the platform of a historically unpopular president. Bannon could "undermine Republican efforts to keep the Senate," Ruddy says.
As a window into Bannon's thinking, Ruddy told me about a conversation they had at Mar-a-Lago when Bannon was still at the White House. Bannon wanted Trump to enact the kind of high tariffs on trade common in the first half of the 20th century. Ruddy countered with the view held by most Republicans, which is that trade protectionism would lead to a global economic downturn. "I don't care," Ruddy recalls Bannon saying. "Let the rest of them figure it out. I'm just gonna do what's good for America."
"Compromise," Ruddy says, "is not an operative principle with Steve Bannon."
Rick Wilson, the veteran GOP strategist, has watched with dismay—vividly chronicled on his Twitter feed and in his Daily Beast columns—as Trump has taken over his party's leadership. "The test McConnell now faces," Wilson told me, "is whether he's going to put up with this bullshit or whether he's going to rain down fire. He has the ability to shank Bannon in a hot minute, but the question is, Will he take it?" Requests to McConnell's staff for comment went unanswered.
Mark Penn, a Democratic pollster long affiliated with the Clintons, believes that Bannon is only a scapegoat for Republicans who now have all the power in Washington—and still can't govern. "People want action," he says. Republican elder statesmen, Penn believes, "produced gridlock and made the Republicans irrelevant; they are tanking because of inaction and infighting."
Now those Republicans may have to unite against a common enemy. Only this time, it won't be Barack Obama or Hillary Clinton, but one of their own.