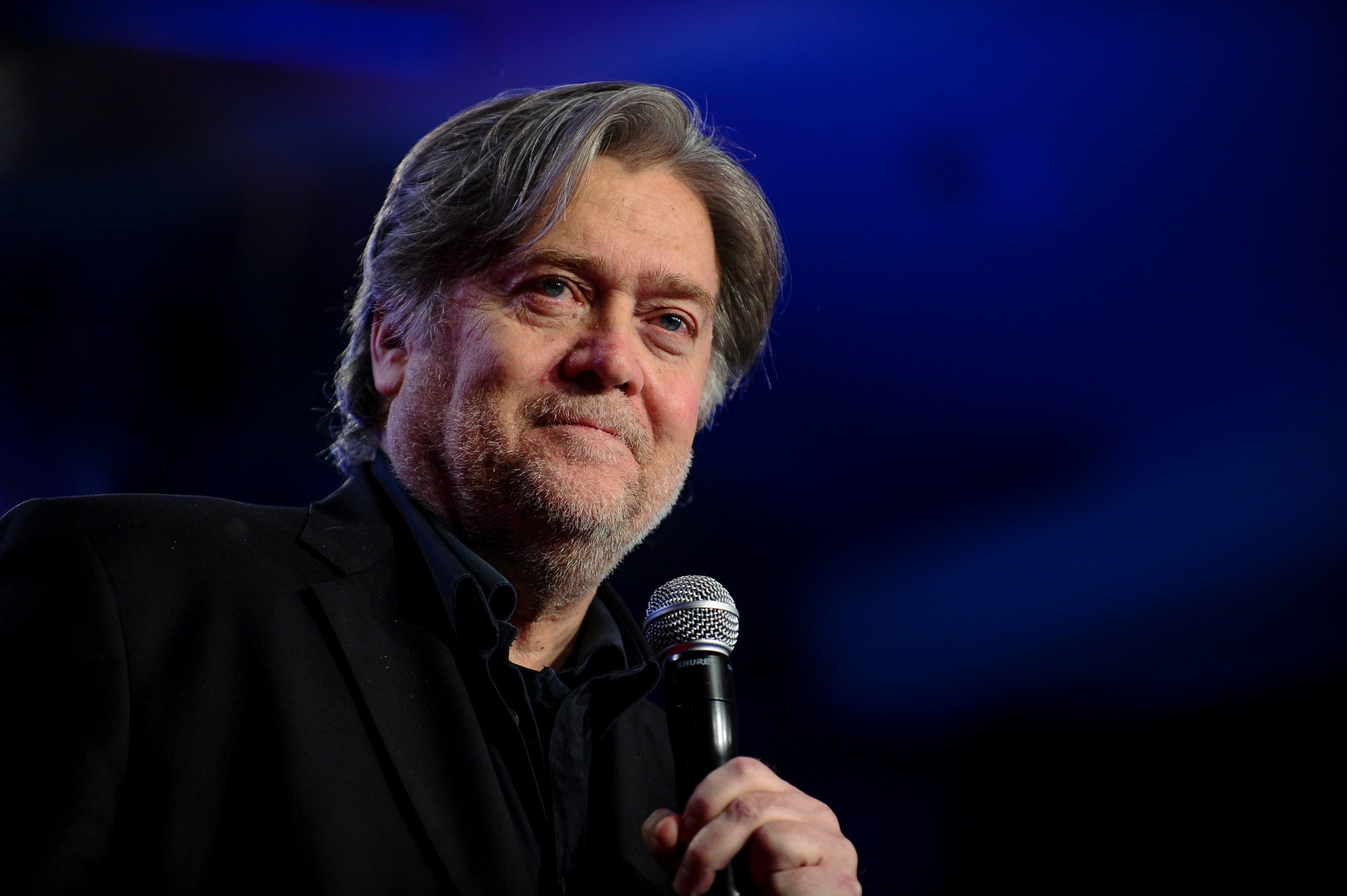 Donald Trump's former chief strategist Steve Bannon is urging American Jews to join his war against the Republican establishment — and he's bringing along a host of white supremacists and alt-right conspiracy theorists with him.
"We're leading an insurgency movement against the Republican establishment," Bannon told the crowd at the Zionist Organization of America's annual gala Sunday.
"We're a nation at war. This war is only going to be won if we bind together and work as partners," he continued.
Bannon, Sebastian Gorka, and a host of other alt-right and white supremacist luminaries were guests at the gala, which has been dubbed "the Academy Awards of the Jewish World."
The event was certainly a hot ticket for the far right. Over 1,000 people attended, including former Trump administration press secretary Sean Spicer and Laura Loomer, a controversial alt-right and anti-Muslim political activist who calls herself "a Jew who actually admits that globalist Marxist Jews run the media." Jack Posobiec, the well-known alt-right, pro-Trump conspiracy theorist behind the "Pizzagate" lie, also made an appearance.
During the event, Bannon played up the mutual disdain he and many Jews feel for Iran, and he accused congressional Republicans of "playing games."
"I am not a moderate, I'm a fighter," Bannon said to loud applause. "And that's why I'm proud to stand with the state of Israel. That's why I'm proud to be a Christian Zionist."
Around 200 young Jews protested outside of the event waving banners that said "Bye, Bye Bannon."
"We're not going to let the Jewish community be the launching platform for Steven Bannon's second career," protestor Sarah Lerman-Sinkoff told the Israeli newspaper Haaretz. "Jews forming alliances with the alt-right is not good for us and is horrible to our moral core of standing up for all targeted people, including Palestinians."
Many of the attendees at the event, including Bannon and Gorka, a former Trump assistant, have been accused of anti-Semitism. Bannon's publication Breitbart is supported by alt-right, neo-Nazi factions, and Bannon himself once said he didn't want his children to attend school with "whiny Jews."
Gorka has longstanding ties with white supremacists and anti-Semitic politicians in Hungary, and is believed to have been a member of a Nazi secret society. Critics say the presence of white supremacists and anti-Semites at a Jewish gathering shows that far-right Jews are willing to build alliances with the American alt-right no matter how unsavory their message.
"It's important to measure our own Jewish community's strange fellowship with anti-Semites associated with Trump and other white supremacists," Rafael Shimunov, a member of the Jewish youth organization If Not Now, told Newsweek.
"By allying with them, they are handing them two victories. The first by giving them the ability to claim that they aren't inciting anti-Semitism with Jews by their side. The second feeds their base by promoting ancient antisemitic myths that no hall of power can avoid Jewish influence, even white supremacy."