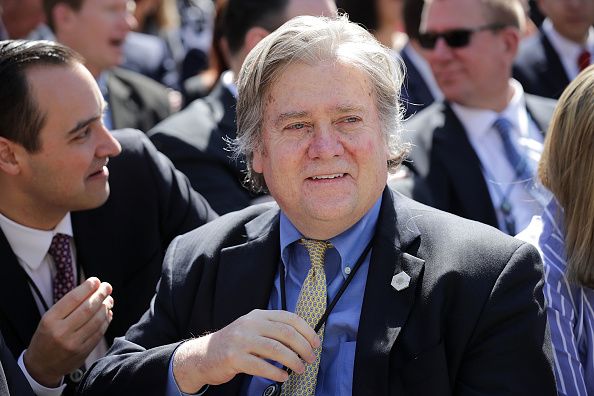 Steve Bannon isn't short. At five feet, 11 inches, he stands just above the average height for white males in America. Despite popular misconception, Napoleon Bonaparte wasn't short either, at least not for his time. But perhaps being slightly taller than average isn't all the two men have in common.
The White House chief strategist, it turns out, had a painting of himself as Napoleon hanging on his office wall, according to a story published by New York magazine on Sunday. The piece is an excerpt adapted from Joshua Green's forthcoming book Devil's Bargain: Steve Bannon, Donald Trump, and the Storming of the Presidency, due out July 18.
"With experience on Wall Street and in Hollywood, [Bannon] was nothing if not high energy, a mile-a-minute talker with a volcanic temper who rarely slept and possessed a media metabolism to rival Trump's own. And Bannon, too, had a healthy self-regard," Green writes, prefacing what he called his "favorite weird detail" about Bannon in a tweet Sunday.
The oil painting, he goes on to describe, depicts Bannon dressed as Napoleon posing as the French emperor did in the portrait The Emperor Napoleon in His Study at the Tuileries by Jacques-Louis David. According to Green, the painting was a gift to Bannon from Nigel Farage, a British politician who spent two decades campaigning for the U.K.'s exit from the European Union.
Two original versions of David's painting exist, one at the National Gallery of Art in Washington, D.C., and another at Versailles. At least one other figure in President Donald Trump's universe has a painting of himself as Napoleon, as several viewers of the recent Netflix documentary Get Me Roger Stone pointed out.
Napoleon rose through the military during the French Revolution and crowned himself emperor of France in 1804 after seizing power in a coup five years earlier. He was exiled initially after a failed invasion into Russia and again after a brief return to power. He died in exile on the remote island of Saint Helena.