Steve Bannon, Mark Meadows Among Trump Advisers Subpoenaed by 1/6 House Committee
The House Select Committee to Investigate the January 6th Attack on the U.S. Capitol issued subpoenas to four ex-advisers of former President Donald Trump on Thursday.
The subpoenas seek testimony and documents on activities during the days leading up to January 6. Subpoenas were issued to former Trump adviser Steve Bannon, former White House Chief of Staff Mark Meadows, former White House Deputy Chief of Staff for Communications Dan Scavino and Kash Patel, a former Department of Defense official.
"The Committee is investigating the facts, circumstances, and causes of the January 6th attack and issues relating to the peaceful transfer of power, to identify and evaluate lessons learned and to recommend corrective laws, policies, procedures rules, or regulations," committee Chairman Rep. Bennie Thompson (D-Miss.) said in a statement.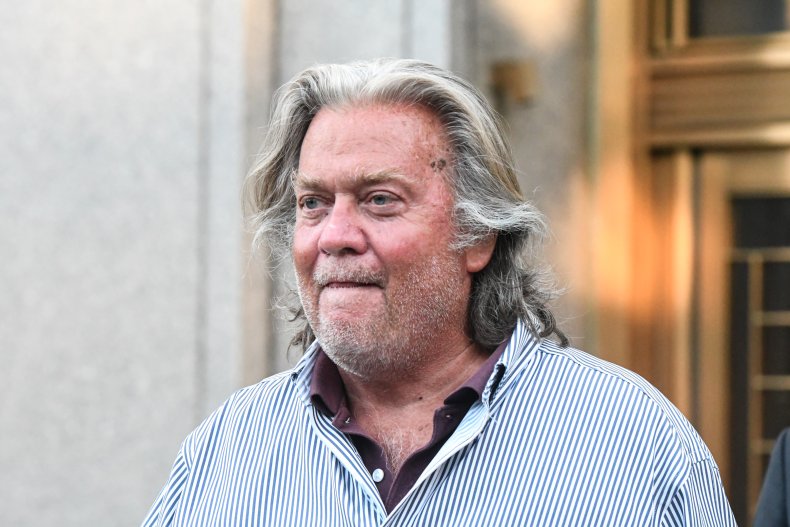 Bannon communicated with Trump on December 30 and urged him to "focus his efforts on January 6th,' according to reports cited by the committee. He also reportedly said that "[a]ll hell is going to break loose tomorrow" one day before the riot took place. A letter from Thompson to Bannon said that lawmakers "have reason to believe that you have information relevant to understanding important activities that lead to and informed the events at the Capitol."
Thompson wrote to Meadows that the committee's investigation had "revealed credible evidence of your involvement in events" related to the insurrection, noting that Meadows was "with or in the vicinity" of Trump on January 6 and had discussed the events of the day with the former president. The letter also noted Meadows' role in efforts to overturn the 2020 election results and his communications with organizers of the rally that immediately preceded the attack.
Scavino was sent a letter informing him that the committee "has reason to believe that you have knowledge regarding the communications strategy of the former President and his supporters leading up to the events on January 6." Scavino was told that it "appears that you were with or in the vicinity of former President Trump on January 6, and are a witness regarding his activities that day" and that he "may have materials relevant to his videotaping and tweeting messages on January 6."
Patel, who was serving as chief of staff to former acting Secretary of Defense Christopher Miller at the time of the attack, was told that the committee had "substantial reason" to believe that he has "additional documents and information" outlining the Department of Defense's role in preparing for and responding to January 6. Thompson also wrote that Patel had "personal involvement in planning" for "the peaceful transfer of power."
"I am disappointed, but not surprised, that the Committee tried to subpoena me through the press and violated longstanding protocol—which I upheld as a congressional staffer—by resorting to compulsory process before seeking my voluntary cooperation," Patel said in a statement obtained by Newsweek. "I will continue to tell the truth to the American people about the events of January 6th."
All four men were given until October 7 to produce documents sought by the subpoenas. Bannon and Patel were told to appear for a deposition on October 14, while Meadows and Scavino were given deposition dates of October 15.
Newsweek reached out to the office of Trump for comment.
Update (9/24, 4:08 p.m.): This article has been updated to include a statement from Kash Patel.