Steve Bannon: Martin Luther King Would Be Proud of Donald Trump
Steve Bannon, the former White House chief strategist, claimed the black civil rights leader Martin Luther King Jr. "would be proud" of President Donald Trump.
Bannon, whose relationship with Trump soured after he left the White House in August 2017 during a politically rocky period, made the comments to the U.K.'s BBC Newsnight program in an interview set to air Wednesday night in Britain.
"Donald Trump has the lowest black unemployment in history," Bannon said. "Donald Trump has the lowest hispanic unemployment in 25 years.
"If you look at the policies of Donald Trump, OK, anybody—Martin Luther King would be proud of him and what he's done for the black and hispanic community for jobs."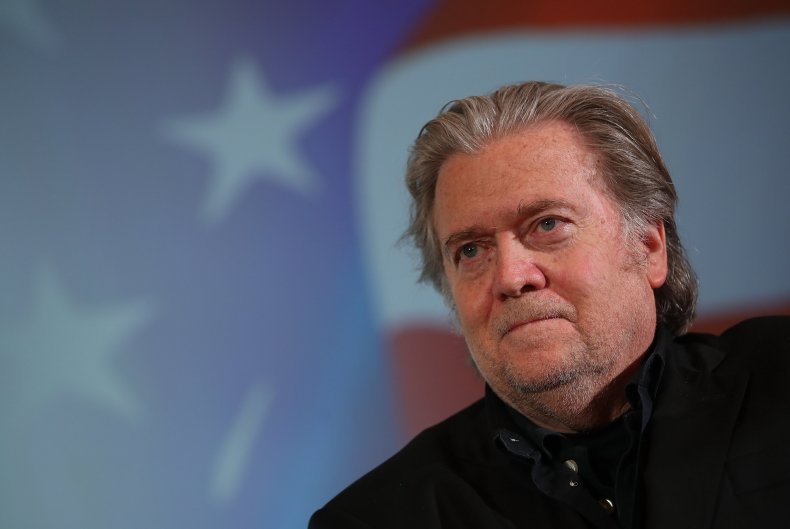 Bannon, who describes himself as an "economic nationalist," went on to suggest that King would be happy that Trump "finally stopped the illegal alien labor forces coming in and competing with them every day and destroying the schools and destroying the healthcare."
The unemployment rate for black people hit a record-low 6.6 percent in April 2018, according to the Bureau of Labor Statistics. Hispanic unemployment was at its record-low rate of 4.8 percent in the same month.
But both rates have been in steady decline since peaking around 2011, and that fall has not accelerated alongside Trump's presidency, which is partly defined by its vaunted crackdown on illegal immigration.
"Dems did nothing for you but get your vote!" Trump tweeted in January, noting the falling unemployment rates for black and hispanic people.
Martin Luther King Jr. was assassinated aged 39 on April 4, 1968, just over 50 years ago after a long and successful nonviolent campaign for black civil rights. A Christian minister and skilled orator, his famous "I Have A Dream" speech is widely regarded as one of history's finest.
Two of King's children—Bernice King and Martin Luther King III—did not respond to a request for comment.
Despite a fractious relationship between the two, Bannon continues to push the Trump agenda—shaped by him both as campaign manager and then as White House chief strategist—after leaving the administration.
Bannon told the journalist Michael Wolff in his book charting the Trump presidency so far, Fire and Fury, that the infamous 2016 Trump Tower meeting between the campaign, including Donald Trump Jr., and a Kremlin-linked Russian lawyer was "treasonous, or unpatriotic, or bad shit."
President Trump hit back at Bannon, who is former executive chairman of the hard-right pro-Trump organ Breitbart News. Trump called him "Sloppy Steve" and said "he lost his mind," adding that "he's only in it for himself."
But Bannon later said on his radio show that he still thinks Trump is "a great man" and that he continues to support him "day in and day out" despite the war of words between the pair.
"Nothing will ever come between us and President Trump and his agenda, don't worry about that," said Bannon, who has recently been touring Europe to learn from populist and hard-right electoral successes in places such as Hungary and Italy. "Don't worry about us and Trump and the MAGA agenda. We are tight on this as we've ever been."