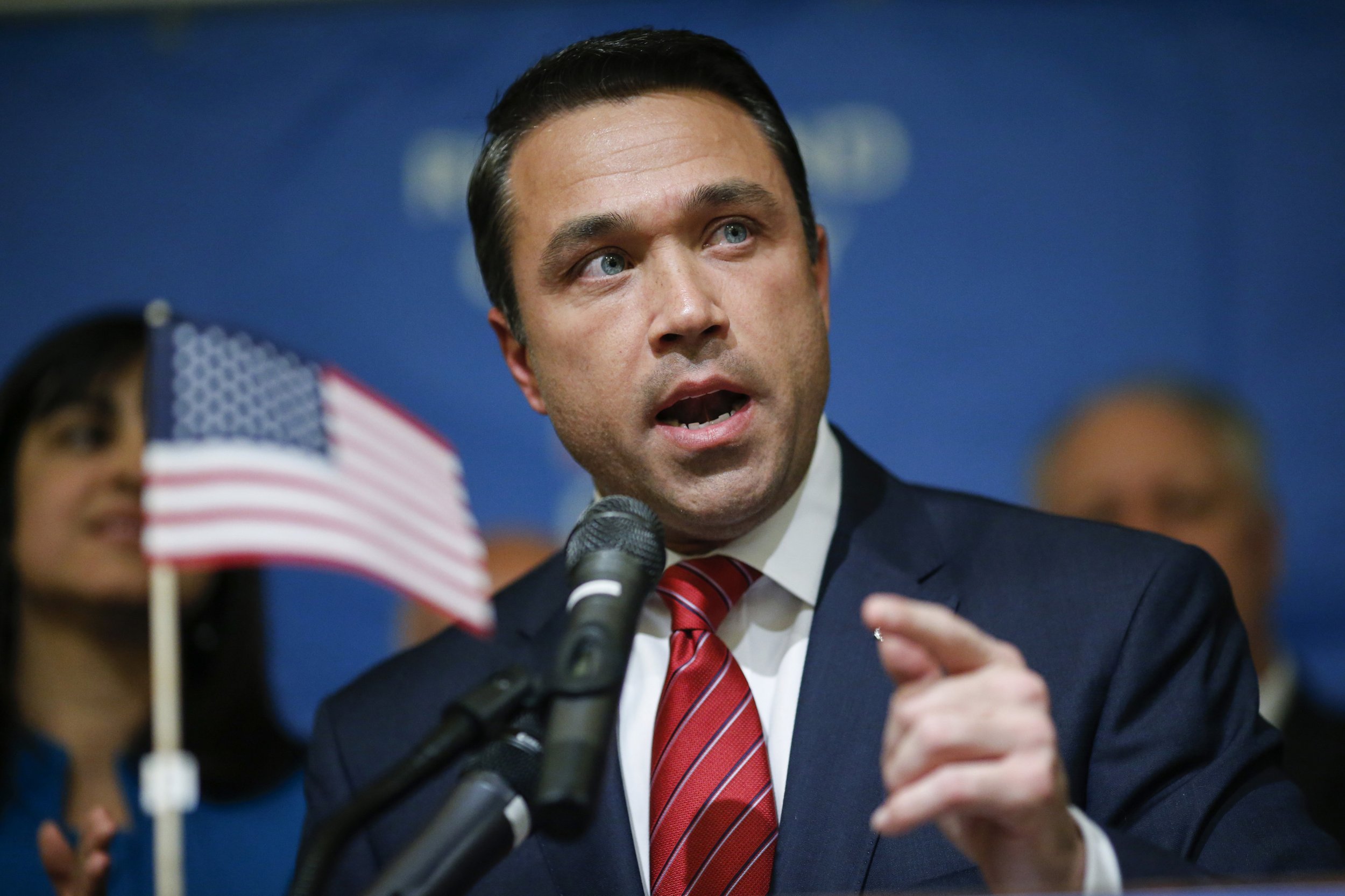 Michael Grimm is dead certain of these things: He didn't deserve that prison time. He can recapture his old seat representing New York in Congress. And he'll get back to Washington with the enthusiastic support of one Mr. Steve Bannon.
"We're definitely going to work together…. And I can say that Steve Bannon was very excited about it," Grimm told Newsweek in an exclusive interview after his Wednesday sitdown on Capitol Hill with the former chief strategist to President Donald Trump.
What convinced the high-octane former Marine and FBI agent—who resigned his congressional office after pleading guilty to felony tax evasion—that Bannon is amped to help him trounce incumbent Representative Dan Donovan?
"His reaction!" Grimm enthused. "I mean, he's not the type of guy that shows emotion easily, but I could tell he was definitely excited."
Bannon, dubbed a visionary by conservative fans and a hatemonger by liberal foes, hosted Grimm at the headquarters of Breitbart News, the right-wing website to which he returned after leaving Trump's employ in August.
A picture tweeted by Michael Caputo, the onetime Trump campaign adviser who is now handling Grimm's press, memorialized the get-together. Bannon went casual in khakis; Grimm posed in a suit and tie likely a bit nattier than what he wore as inmate No. 83479-053 at McKean Federal Correctional Institute in Pennsylvania while doing time for the tax rap.
Caputo captioned the image "Game On" and shared it, he said, at Bannon's behest.
The Breitbart chief's foray into Grimm's campaign, confirmed in a separate interview by another meeting attendee, is part of a crusade much bigger than New York's 11th Congressional District: Bannon has declared "war" on establishment Republicans, vowing to drive them from office for wimping out on Trump's foundational agenda.
The battle is already underway, most recently marked by the headline-grabbing victory of Bannon's candidate, Roy Moore, over Trump-endorsed incumbent Luther Strange in Alabama's Republican Senate primary last month.
After that Southern success, "Bannon's looking for traction. He's looking for candidates that can notch a win," said David Birdsell, dean of the Austin W. Marxe School of Public and International Affairs at Baruch College in New York.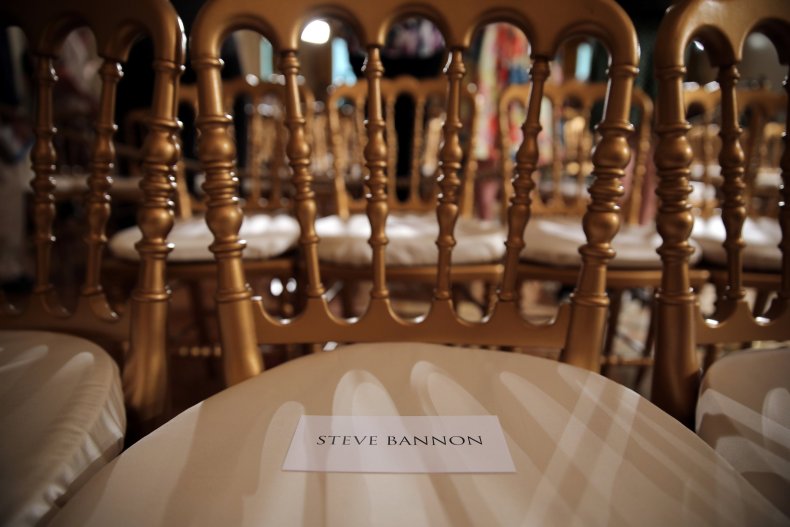 In putting his imprimatur on Grimm in that quest, Bannon is gambling on a hyper-driven contender with a winning record at the polls—and a backstory remarkable even in New York City's anything-goes political pantheon.
Grimm, first elected in 2010, continued to represent Staten Island and part of Brooklyn in Congress while facing federal charges of hiding nearly $1 million in revenues related to Healthalicious, a Manhattan restaurant in which he had a stake.
He successfully defended his seat in 2014 even while under indictment and having been shunned by most of New York's GOP establishment.
A tireless retail campaigner with high-beam blue eyes, Grimm wooed and wowed his district's voters with the confident air of a decorated Gulf War veteran, lawyer and former FBI agent who took down bad guys while undercover as a shady, sharp-dressed Wall Streeter nicknamed "Mikey Suits."
In the House, he sponsored legislation in the name of veterans, small businesses and victims of Superstorm Sandy, and in contrast with the aggressive, tough-guy image he could project in political debates, Grimm doted endlessly (and publicly) on his rescue dog—a teacup Yorkie he called Sebastian.
It wasn't all puppies and parades, though.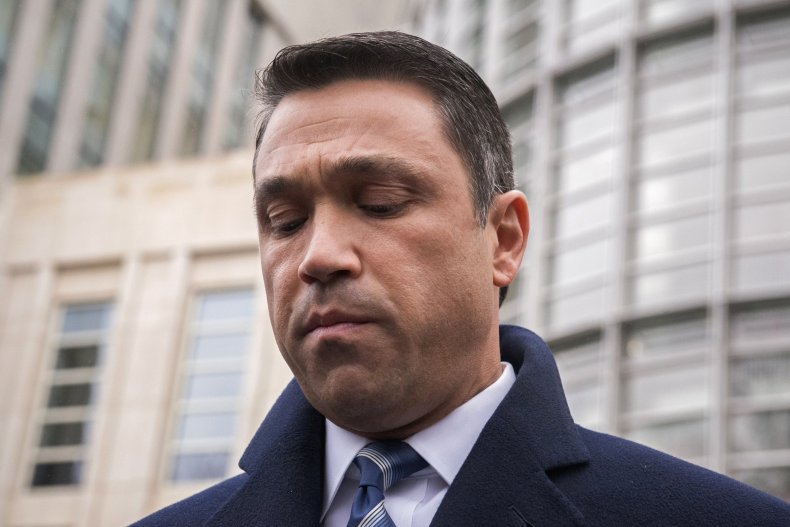 In 2011, The New Yorker detailed a 1999 nightclub fracas during which Grimm, then still with the FBI, allegedly drew his gun on the dance floor. Grimm says the off-duty cop who spoke to the magazine outlandishly mischaracterized what happened and filed a "bogus" lawsuit, but he came out unscathed.
In 2012, Grimm staunchly defended his integrity in the face of a New York Times investigation questioning whether he'd run wildly afoul of fundraising laws.
In 2014, he apologized repeatedly after threatening to toss a reporter off a Capitol balcony and break him "in half, like a boy"—unwittingly while still on camera.
All that was before being imprisoned for a seven-month stretch, from which he emerged in May 2016—about a year after Donovan, the former Staten Island district attorney, won Grimm's vacant House seat in a special election.
Being a convicted felon is "a poor resume on which to run for Congress," Birdsell, the Baruch College political scientist, told Newsweek with supreme understatement. Still, he said, Bannon both knows "this is a transitional moment in American politics" and is "extremely adroit at disrupting and baiting and beating on members of the press and political opponents of his candidates."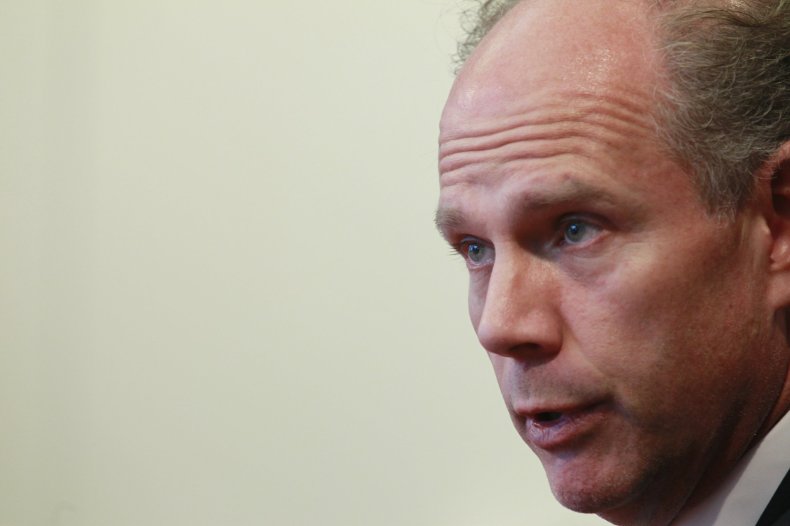 All told, Birdsell theorized, it might be possible to topple Donovan by playing up Grimm's high name identification, his military service and his "political talent," all while blaming his conviction on entrapment by "an overreaching bureaucratic system looking to punish Republicans."
Grimm says all options are open as to how Bannon, who still has ties to financial power players in the world of politics, may use his influence in the campaign. While that blueprint isn't yet clear, Grimm said he did come away with a solid sense that Bannon, a Navy veteran, respected his background.
"He knows [I'll] work as hard as I have to for the people that I represent. I'm not beholden to Washington," Grimm said. "I think that there's a stark contrast between myself and Donovan, and Bannon sees that."
Grimm's current talking points are heavy on legislating to cut taxes and spur economic growth to help "those hard-working people that I grew up with, that I'm friends with in Staten Island, that have been forgotten about.... That's President Trump's agenda," he said.
"So yeah: Anyone that's against that agenda needs to get out of the way."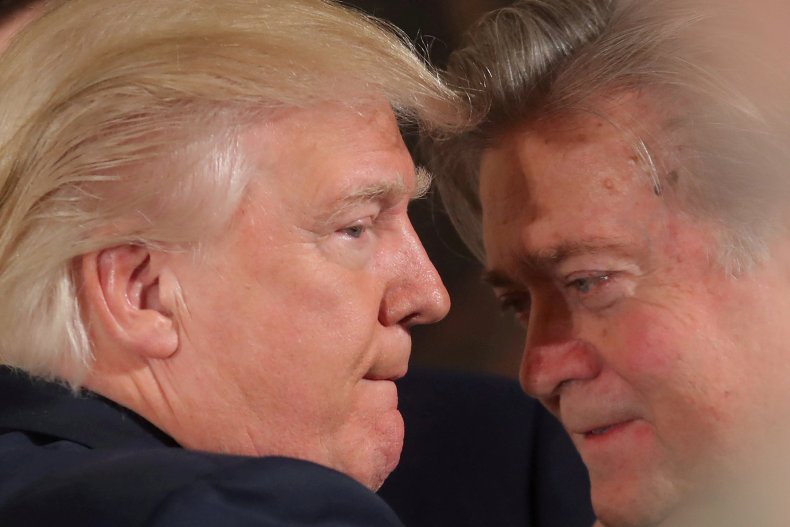 In a preview of the race, Grimm tried to frame "Danny" Donovan as squishy on the Second Amendment, on ending sanctuary city protections and on repealing Obamacare.
"I believe that's how how Mr. Bannon sees it too—that Danny has been, you know, up until now, until I was running, he's been against the president's agenda," he said. "I really believe that if we do not help President Trump succeed, then we're going to pass a tipping point of no return, and we're going to lose the greatest country in the world."
Donovan's camp, unsurprisingly, was less than impressed with Grimm, who had echoed Trump's promise to "drain the swamp" at this past Sunday's campaign kickoff.
"Not a great day for draining the swamp," scoffed Donovan spokeswoman Jessica Proud by email when asked about the Grimm-Bannon photo-op.
"Michael Grimm was one of the most liberal Republicans in Congress and didn't even vote for President Trump, while Dan Donovan has voted with the president 90% of the time," she said. "The people of Staten Island and South Brooklyn know the truth."
Proud didn't immediately unleash an attack related to the jail time when commenting on the Bannon meeting, although she told the Staten Island Advance the day of Grimm's kickoff that the former lawmaker had "lied to his constituents, then quit and left them in the lurch with no representation under President Obama."
On Wednesday, Grimm got on the phone clearly prepared to field questions about how his prison sentence might play in the election—both in the hands of an opponent and in the minds of the voters.
"I really do believe based on all the constituents that I speak to every day that people in Staten Island and Brooklyn know I got railroaded with a political witch hunt," he asserted. "Was I wrong? Yes. But it was a civil wrong, and I deserve a civil fine. I should have paid the fine and walked on and I'd still be in Congress today."
Grimm also lobbed corruption accusations at Loretta Lynch, the then-U.S. Attorney for the Eastern District of New York who prosecuted his case.
"I never deserved to be in prison. That is a black mark on them—on their records," he insisted. "Anyone who thinks it's a coincidence is not the sharpest tool in the shed, but two months after my indictment, she's the attorney general of the United States."
Does Bannon, who declined comment on the meeting through a representative, seem troubled about the felony conviction?
"Obviously not.... I think he sees it for what it is," Grimm said, doubling down on insisting he suffered harsher treatment than countless other business owners with "a few delivery boys off the books."
If Grimm should manage to get past Donovan to a general election, Bannon's support could be used as a cudgel by a Democratic opponent: Countless critics, notably including Hillary Clinton, have said his influence signaled Trump's willingness to tolerate, exploit or even embrace white nationalism, misogyny and xenophobia.
Caputo says Team Grimm isn't worried about naysayers.
"We are proud to stand with Steve Bannon in this important fight for the Trump agenda, regardless of what the hand-wringing left and anti-Trump Republican Quislings call him," he said. "They can pound salt."