Comedian John Oliver has curated a highlight reel of the most embarrassing moments from Steve Bannon's blunder-filled online election coverage. The 70-second segment features serious sound problems, prolific coughing, and even an off-screen burp.
Oliver homed in on technical errors from Bannon's Citizens of the American Republic outlet's five-hour midterm election special, broadcast via YouTube.
First, Bannon tries and fails to contact Jim Hoft, founder of far-right media company The Gateway Pundit. "Jim Hoft, you on?" he says before pausing and asking his crew, "Did he pick up?"
He then speaks to remote reporter, whose answers are almost impossible to hear because of a tinny audio connection.
Several interview sections are interrupted by repeated off-screen coughing and even a burp. At least 10 coughs are heard over the course of Oliver's segment—most of which take place over a 9-second chunk of footage.
Next, Bannon attempts to interview American alt-right social media personality Michael Cernovich. As Cernovitch speaks, out of synch, to the camera, Bannon is seen shaking his head and discussing whether or not an off-screen producer can hear the interviewee. Cernovitch, looking confused, says "Yeah I hear you Steve." Bannon then shakes his head again.
The segment ends with Bannon waving his hand at someone offscreen and saying, "Stay. You're not going anywhere."
"I'm producing," Bannon adds after a long pause.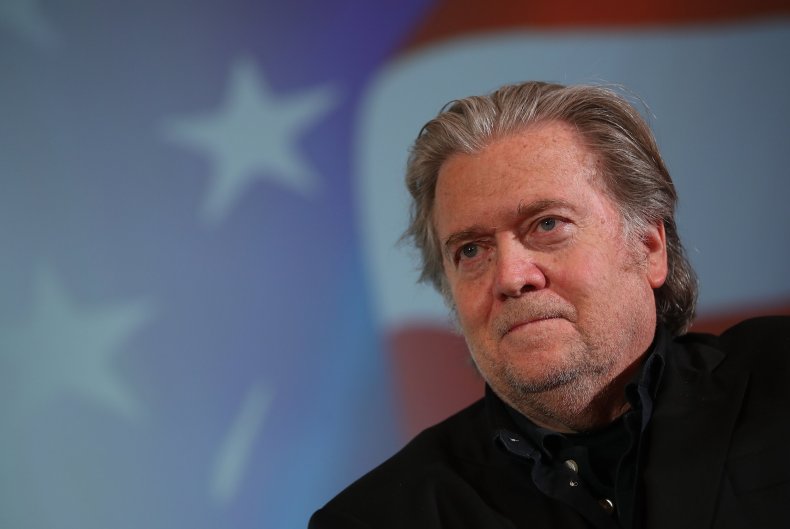 Citizens of the American Republic calls itself a social welfare organization "dedicated to Making America Great Again via maximizing YOUR citizenship value." The COAR website calls for all "patriotic and nationalistic" Americans to support the movement.
The special was funded by Bannon outfit Trump@War and The Pundit. The Pundit is known for reporting numerous innocent people as shooters and terrorists.
The former Breitbart boss and Trump campaign chief recently made headlines when less than 20 people showed up to a campaign event he ran at a Kansas Holiday Inn. Bannon reportedly held the "Red Tide Rising Rally" in support of then-GOP congressional candidate Steve Watkins. But Watkins' staff said they had nothing to do with the event.
The candidate went on to win the vote. During his campaign, doubts emerged about claims made in an online testimonial that said he showed "heroic leadership" during a deadly earthquake on Mount Everest and that he once started a fast-growing Middle East business, The Associated Press reported.