Steve Bannon to Mitch McConnell: You're Not Fit to Lead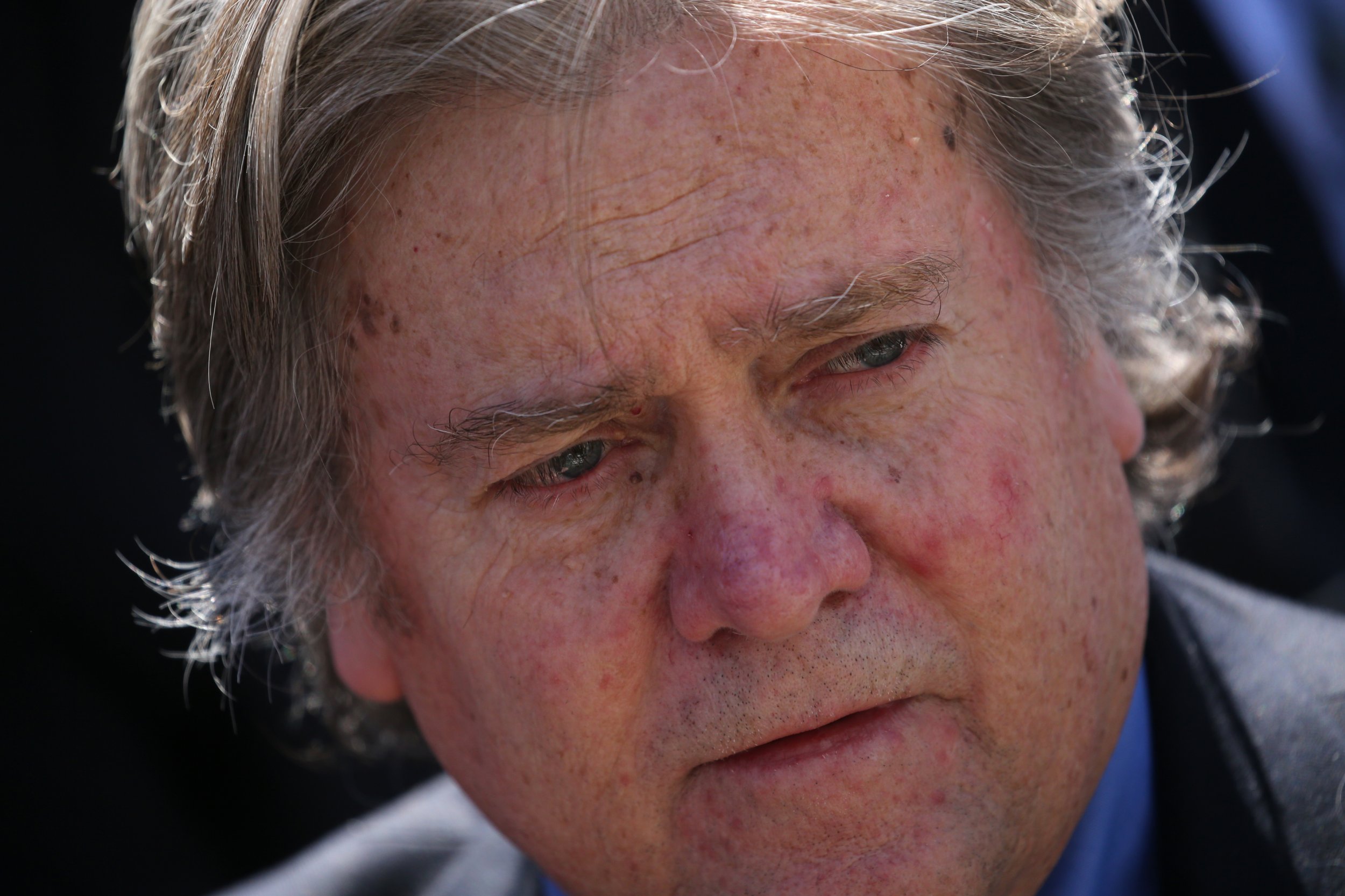 In the latest battle of the ongoing war between Stephen K. Bannon and the Republican establishment, the former White House chief political strategist called on Senate Majority leader Mitch McConnell, Republican of Kentucky, to step down from the leadership position he has held for nearly two years.
The extraordinary suggestion, made on Fox News on Wednesday evening, underscores the profound philosophical disagreements in the GOP, which controls both the legislative and executive branches of the federal government but has so far been unable to settle on a governing philosophy. While President Donald Trump is somehow able to embody both the party's populist and corporatist strains, his à la carte Republicanism can leave legislators bewildered, unsure of where he stands on longstanding party values.
Bannon's broadside comes a day after Republicans lost in gubernatorial races in New Jersey and Virginia, in votes that were seen—whether fairly or not—as referenda on Trump's policy proposals and accomplishments.
For Bannon, the Trump agenda—trade protectionism, stricter immigration laws—is not the problem. As for Trump's lack of legislative accomplishments, he blames Congress, in particular the chamber in which McConnell has a four-seat majority over the Democrats. Though touted as a master parliamentarian, McConnell was unable to muster the voters for a repeal of the Affordable Care Act (ACA) this summer, in what was seen as a failure for both him and the White House.
"I think Mitch McConnell, to really bring unity to the Republican Party and get things done, I think Mitch McConnell ought to tender his resignation," Bannon told Sean Hannity, the prime time Fox News host who is a reliable pro-Trump voice. Trump is reportedly a regular viewer of his program.
"What he ought to do is to offer to resign as soon as taxes are done. We can't do it in the middle of taxes," Bannon said. The reference was to congressional Republicans' plan to radically transform the American tax system by lowering corporate tax rates, reducing the number of personal income tax brackets and eliminating some popular deductions. Republicans in the House Committee on Ways and Means introduced their Tax Cuts and Jobs Act last week, to generally tepid reviews. Senate Republicans are expected to propose their own plan.
Discrepancy between House and Senate healthcare bills partly doomed the ACA repeal-and-replace effort. Trump had promised to abrogate the health law, President Obama's signature achievement, on the first day of his presidency. It will almost certainly remain in place for the foreseeable future.
"I gotta tell you," Bannon said. "There needs to be a sense of urgency in the Senate." He praised the House of Representatives, where Republicans have a 45-seat majority that makes it much easier to pass legislation, even if that legislation stands little chance of ever becoming law.
House Speaker Paul D. Ryan, Republican of Wisconsin, has similarly blamed the Senate for the lack of legislative victories, though not in terms anywhere near as explicit as those Bannon used on Wednesday. Over the summer, Ryan said the inability to repeal and replace the Affordable Care Act was the result of Senate dysfunction. "We're just gonna have to wait and hope that our friends in the Senate can figure out how they can get a bill passed, get it into conference, or whatever, and get something passed," Ryan said in a press conference.
Last month, when the Senate was on a break, White House press secretary Sarah Huckabee Sanders made a similar accusation. " They're on another vacation right now," she said. "I think that we would all be a lot better off if the Senate would stop taking vacations, and start staying here until we actually get some real things accomplished."
It is not clear how much of this is McConnell's fault, given the broader intractability of party politics in 2017 (the Democrats, after all, aren't exactly a unified front either). And although Bannon has promised "war" against McConnell ever since departing the White House several months ago, it is not clear whom he would want elevated to Senate leadership. The Daily Caller, a conservative news outlet, compiled a list of potential replacements that included Lindsey Graham of South Carolina, John Cornyn of Texas and Shelley Moore Capito of West Virginia.
But that comes later. First, McConnell must go, according to Bannon, who clearly sees Trumpism succumbing to the usual grinding machinations of Capitol Hill.
Hannity sees it too. "Step up, get the job done or get out," he said of McConnell, jerking a you're-outta-here thumb over his shoulder. "I'm tired of it."