Steve Bannon Says Mitt Romney Has Launched a 'Direct Challenge to Trump for Leadership' With Op-Ed
Steve Bannon—the former White House chief strategist for President Donald Trump—said he thought incoming Senator Mitt Romney was making a play to lead the party with his recent op-ed in which he harshly criticized the president.
Politico published a story on Thursday titled "Romney Broadside Stokes Trump Camp's Suspicions About 2020."
In the piece, in Bannon told the outlet that he thought Romney's Washington Post op-ed was nothing short of a "direct challenge to Trump for leadership."
Romney wrote, in part: "But, on balance, his conduct over the past two years, particularly his actions last month, is evidence that the president has not risen to the mantle of the office."
Where the 2012 GOP presidential nominee criticized Trump the most was his determination to divide the country. He wrote in the Post:
"To a great degree, a presidency shapes the public character of the nation. A president should unite us and inspire us to follow 'our better angels.' A president should demonstrate the essential qualities of honesty and integrity, and elevate the national discourse with comity and mutual respect. As a nation, we have been blessed with presidents who have called on the greatness of the American spirit. With the nation so divided, resentful and angry, presidential leadership in qualities of character is indispensable. And it is in this province where the incumbent's shortfall has been most glaring."
The op-ed has stirred up controversy within the GOP. Ronna McDaniel—chairwoman of the Republican National Committee and, interestingly enough, Romney's niece—spoke out against her uncle, expressing a view prevalent on the right of American politics that any criticism of Trump is de facto unfair.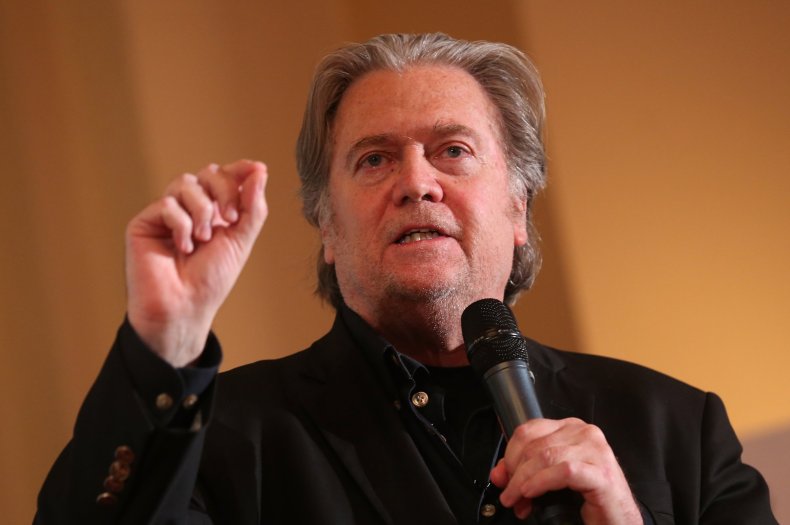 "POTUS is attacked and obstructed by the MSM media and Democrats 24/7," McDaniel tweeted. "For an incoming Republican freshman senator to attack @realdonaldtrump as their first act feeds into what the Democrats and media want and is disappointing and unproductive."
Bannon and others within the Trump orbit thought Romney's move might hint at bigger ambitions. Politico reported that Romney had "taken steps in recent weeks to reactivate" his fundraising network from 2012. but that those close to him said he wasn't planning on running against Trump in 2020.
Trump, predictably, attacked Romney via Twitter on Wednesday.
He tweeted: "Here we go with Mitt Romney, but so fast! Question will be, is he a Flake? I hope not. Would much prefer that Mitt focus on Border Security and so many other things where he can be helpful. I won big, and he didn't. He should be happy for all Republicans. Be a TEAM player & WIN!"