Steve Bannon Looks Like 'Disheveled Drunk,' Should Be Dumped By GOP After Roy Moore Loss, Rep. Peter King Says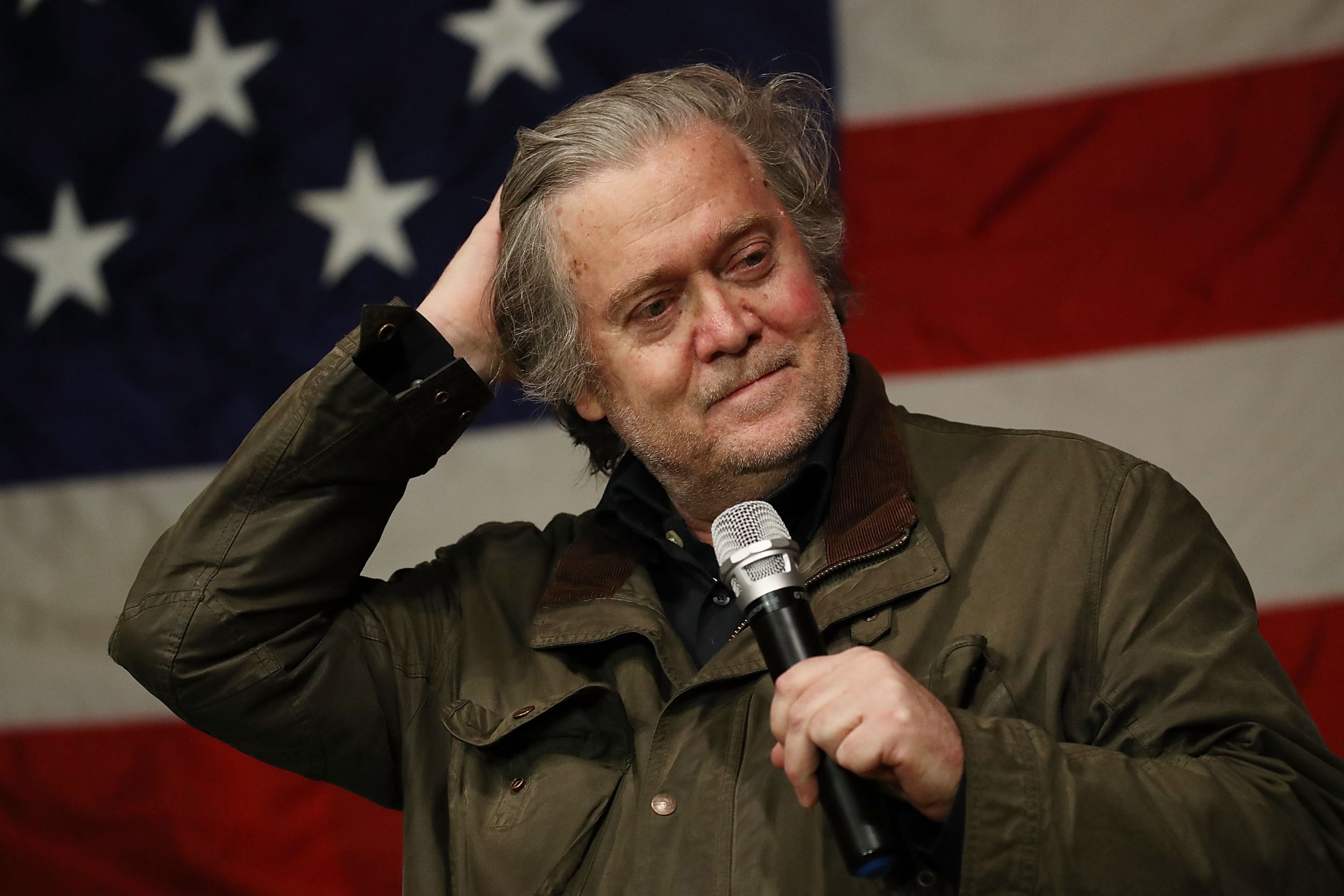 Steve Bannon's rough week after the defeat of his favored Alabama Senate candidate Roy Moore continued Wednesday morning as a Republican congressman said the former White House strategist looks like a "disheveled drunk" and needs to be disowned by the GOP.
"This guy does not belong on the national stage. He looks like some disheveled drunk that wandered onto the political stage," Representative Peter King, of New York, told CNN. "He sort of parades himself out there with his weird alt-right views that he has, and to me, it's demeaning the whole governmental political process."
King also said on Twitter that Bannon, who was largely credited for helping Donald Trump's populist presidential campaign prevail, should be cut off from the Republican Party after Moore's upset loss to Democratic candidate Doug Jones.
"After Alabama disaster GOP must do right thing and DUMP Steve Bannon. His act is tired, inane and morally vacuous. If we are to Make America Great Again for all Americans, Bannon must go! And go NOW!!" King tweeted Wednesday morning.
King said Bannon, who went back to running Breitbart after being fired from the White House in August, doesn't represent what he and other Republicans stand for.
"Last night in Alabama was not just a political statement," King said on CNN. "That was really just a revulsion by people at [Bannon's] style and his type of divisive views, whether they're political or governmental, whether he was fired from the White House [for] trying to undercut the president on his foreign policy, whether he encourages racial division. This is not the type of person we need in politics."
Bannon has declared a "war" on the GOP establishment and hoped to get Moore into the Senate as part of his outsider campaign. But after sexual misconduct allegations dogged Moore in the final weeks of the campaign, the reliably red Alabama chose a Democratic senator for the first time in two decades. King was among the Republicans in Congress who declared he would refuse to vote for Moore.
Despite King's insults about Bannon's alcoholic appearance, Bannon doesn't usually drink. In Keith Koffler's book Bannon: Always the Rebel, the author wrote that Bannon "hasn't had anything to drink in nearly twenty years." Bannon told Koffler he had issues with alcohol in the '80s and '90s before beginning to practice Jesuit founder St. Ignatius of Loyola's spiritual exercises.
Nowadays, Bannon guzzles juice. Koffler mentioned that, while interviewing Bannon for the book, he held "a mug containing a mysterious thick green concoction." He later drank from "a small ceramic cup containing a vinegary solution" as part of his diet.