Steve Bannon Praises Islam in New Book but Compares Radical Muslims to Communists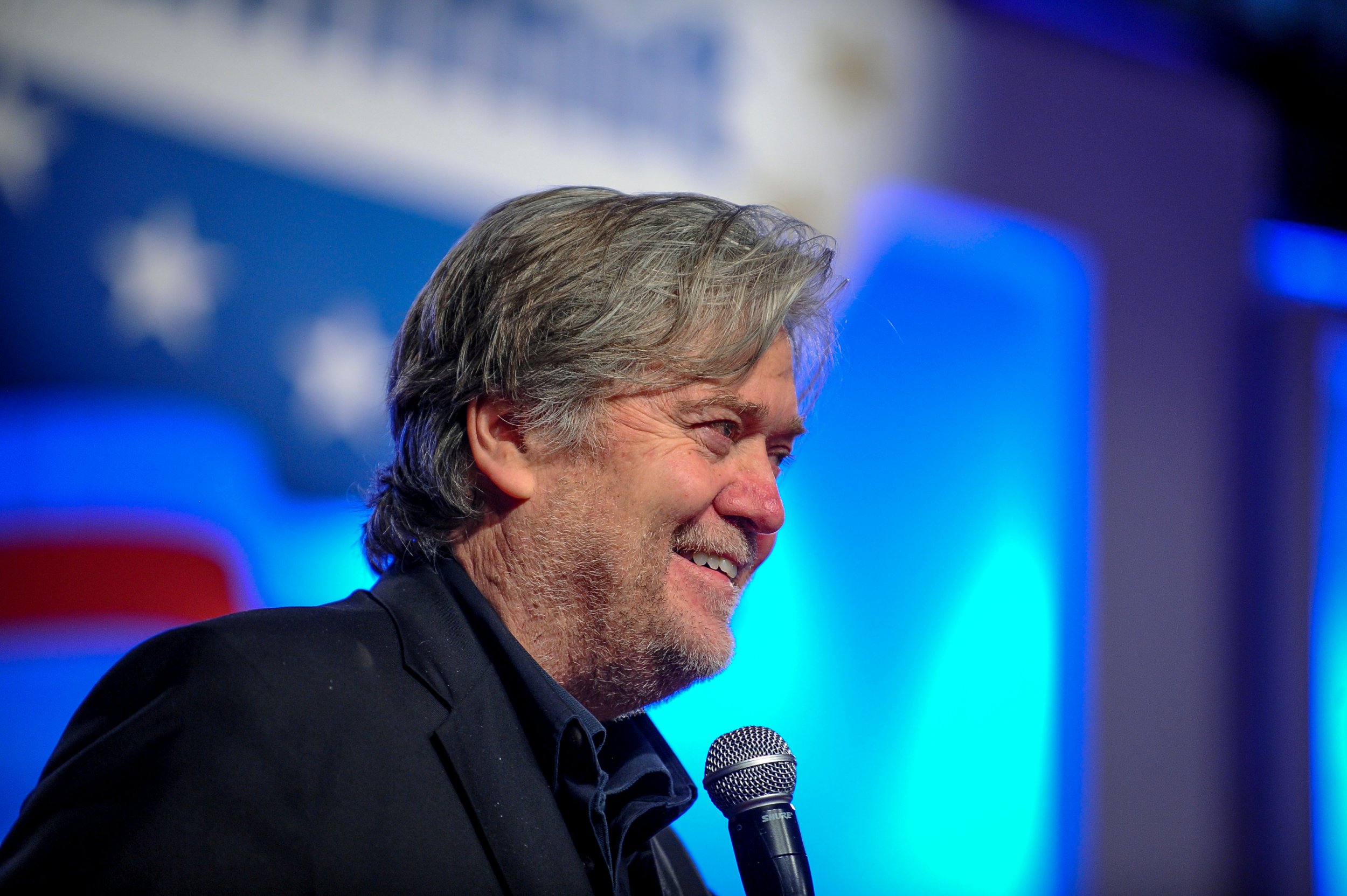 Steve Bannon now says he's OK with Islam.
The Breitbart leader and former Trump strategist praises Islam in a new book about his life, despite criticizing the religion for years and helping put the man who called for a Muslim ban in the White House. Even so, Bannon likens radical Islam to communism and says it needs to be destroyed.
Islam "as a faith" is not a threat or inferior to other major religions, Bannon tells journalist Keith Koffler in the book Bannon: Always the Rebel, which comes out November 13. Newsweek obtained an early copy.
Bannon speaks highly of Sufism, a mystical sect of Islam that he has studied, as well as the "internal struggle" that Islam urges in its followers.
"It's a path to enlightenment or a path to God...just like Judaism's got its path, just like Christianity's got its path," Bannon says. "It's not for anybody to determine what path an individual takes."
He compliments the religion's focus on "inner work on oneself." Bannon also emphasizes, "We're not enemies of Islam," and calls it a "major, great religion in the world."
But the book, which is based on 10 hours of interviews with the pioneer of the so-called alt-right white nationalist movement, also notes Bannon sees radical Islamic extremism as a global threat that must be crushed.
While discussing In the Face of Evil: Reagan's War in Word and Deed, a Ronald Reagan documentary he directed, Bannon says he saw the film as a wakeup call for "the fight against a radical ideology."
"I had an interest in showing us at the very beginning of this war [against radical Islam], because it's going to be just like how we destroyed the radical ideology of communism," Bannon says.
Bannon also holds strong on his belief that Islam is a hotbed for extremism because, he says, it has not modernized enough.
"It is very evident when you look at Islam, it has not had its meeting with the Enlightenment. It has not had that transition to modernity. Aspects of it...are quite radical and quite radical in proselytizing, where no other religion can be accepted," he adds.
"You don't see...enforcement of radical forms of Christianity," he says.
But Bannon says America has "no need" to "intervene all over the Muslim world" beyond its battles against militant groups like ISIS.
Bannon's favorable comments in the book are a departure from the incendiary rhetoric against Islam that he has spread for years. In a 2010 radio interview discovered by CNN, Bannon said, "Islam is not a religion of peace. Islam is a religion of submission." He also criticized former President George W. Bush for calling Islam a peaceful religion as the country went to war with extremists.
Through Breitbart and its SiriusXM show Breitbart News Daily, Bannon has given a platform to dozens of anti-Muslim extremists, like Milo Yiannopoulos, and has championed some of President Donald Trump's proposals to target Muslims for bans and surveillance. Bannon, who has produced several politically charged films, also wrote a script outline in 2007 about the United States falling to radical Muslims, who turn the country into the "Islamic States of America" and put the religion's crescent and star logo on the U.S. flag. The film was never made.