Steve Bannon Says Biden 'Regime' in 'Danger' From MAGA Forces
Former Trump White House strategist Steve Bannon sent a warning to President Joe Biden following his speech on Thursday night in Pennsylvania, cautioning that the "danger" of the MAGA, "Make America Great Again," forces were against the Biden "regime."
In a late Thursday post to the social media platform Gettr, Bannon wrote: "'MAGA Forces' are kicking your ass Illegitimate Biden Regime ....the 'danger' is to The Regime."
The Trump ally's comments come in response to a fiery speech Biden delivered ahead of Labor Day weekend, condemning former President Donald Trump and his followers and calling on Americans to protect democracy.
"Too much of what's happening in our country today is not normal. Donald Trump and the MAGA Republicans represent extremism that threatens the very foundations of our republic," Biden said in his primetime address.
"MAGA Republicans have made their choice. They embrace anger. They thrive on chaos. They live not in the light of truth but in the shadow of lies."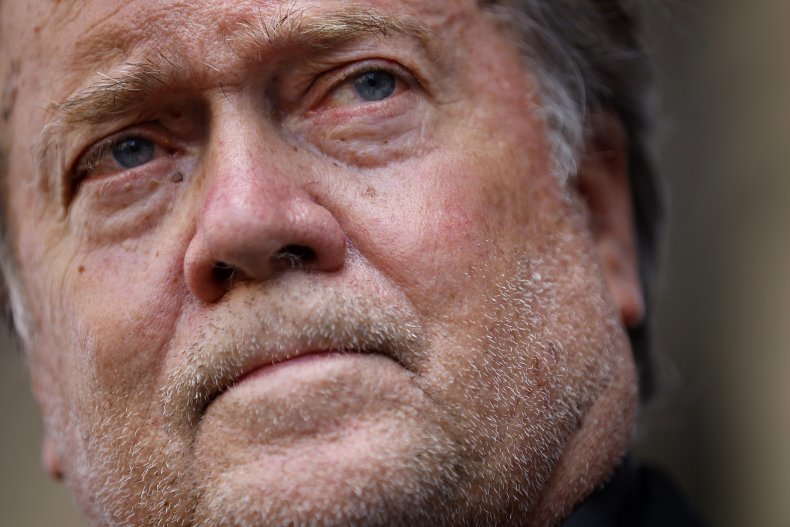 Sharing a photo of Biden during his speech at the Independence National Historical Park, Bannon called the president's address "a moment that will live in infamy" and called on Biden to be removed from the White House.
"Our duty is now clear : this usurper must be impeached and removed from office immediately upon MAGA coming to power in January'23 ...on this we have a moral obligation to every Patriot grave from the Revolution down to the 13 Honored Dead at the Abbey Gate," Bannon said, in reference to the terrorist attack outside the Kabul Airport in Afghanistan last year that killed 13 U.S. service members.
Biden's Thursday remarks were a rare move for the president, who has largely avoided referring to his predecessor by name since taking office, but the speech signaled that Biden is prepared to step up his attacks against extreme conservatives ahead of November's midterm elections.
Labor Day typically launches the beginning of the political season, and with a spike in Democratic voter enthusiasm driven by the U.S. Supreme Court's overturning of Roe v. Wade, Democrats are ramping up their efforts to hold on to their congressional majority.
On Thursday, Biden noted that not all Republicans embrace extreme ideologies but said "there's no question" that the GOP is "dominated, driven and intimidated" by Trump.
"Democracy cannot survive when one side believes there are only two outcomes to an election: either they win, or they were cheated," Biden said. "And that's where the MAGA Republicans are today.
"For a long time, we've reassured ourselves that American democracy is guaranteed. But it is not. We have to defend it. Protect it. Stand up for it. Each and every one of us."