Steve Bannon Says New York Times Op-Ed Isn't a Deep-State Conspiracy, It's a Coup
Former White House chief strategist Steve Bannon has called the anonymous op-ed in The New York Times a coup. "This is a direct attack on the institutions," he said.
The op-ed, titled "I Am Part of the Resistance Inside the Trump Administration," was published last week, forcing several administration member to deny they were behind the scathing piece, which said "the root of the problem was the president's amorality," and that senior members of his administration were working to "frustrate parts of his agenda."
Bannon said the essay posed a serious crisis, the likes of which had not been seen since Abraham Lincoln.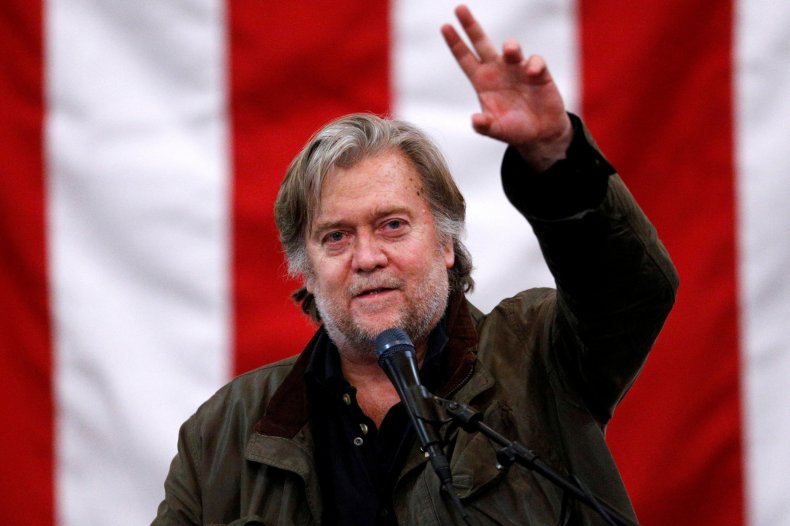 "What you saw the other day was as serious as it can get. This is a direct attack on the institutions," Bannon told Reuters. "This is a coup."
"This is a crisis. The country has only ever had such a crisis in the summer of 1862 when General McClellan and the senior generals, all Democrats in the Union Army, deemed that Abraham Lincoln was not fit and not competent to be commander in chief."
Bannon dismissed the idea that the op-ed was part of a "deep state" conspiracy. "I am not a conspiracy guy. I have said there is no deep state. It is an in-your-face state."
Trump has dismissed the article, telling reporters at the White House last week that its author was someone "who's failing and probably here for all the wrong reasons," NPR reported.
"The New York Times is failing. If I weren't here, I'd believe The New York Times probably wouldn't even exist. And someday, when I'm not president…The New York Times and CNN and all of these phony media outlets will be out of business, folks. They'll be out of business because there will be nothing to write and there will be nothing of interest," he said.
White House Counselor Kellyanne Conway pushed back on the idea that the author was someone working at the White House, suggesting that the newspaper's description of the author as a senior official in the Trump administration could refer to any one of hundreds of people.
"I just have to correct the record. It's not clear to us anyway that it's somebody in the White House. It says 'senior administration official,' that could be many people. There are I think thousands of political appointees, hundreds of folks that would qualify under that title alone," she told Laura Ingraham on Fox News.