With Omicron spreading rapidly throughout the United States, Steve Bannon warned that he felt a "war" against unvaccinated people is coming and pushed back on the White House's strategy to fight the pandemic by increasing inoculations.
Bannon, the former White House Chief Strategist under Donald Trump, called Omicron the strain of COVID-19 that could help America reach herd immunity. He noted that the variant, which is now the dominant strain in the U.S., is highly transmissible but believed to cause less severe disease than other variants.
"Herd immunity can be upon us if you don't get in the way of it with a redonkulous, blunt force instrument, which is mass vaccinations," Bannon said on Tuesday during his War Room Pandemic podcast. "It's really the war on the unvaccinated is about to commence and I mean war."
The goal of herd immunity, which is achieved through either large numbers of inoculations or a majority of people having antibodies due to previous infections, is to have enough people protected from a virus that it struggles to spread and thereby helps protect those who cannot be inoculated. At that point, the virus could still circulate but the U.S. wouldn't see the surge in cases, deaths and hospitalizations that it's currently experiencing.
President Joe Biden is expected to address the American people Tuesday afternoon and provide an update on the White House's plans to combat COVID-19. Part of that strategy is to increase access to vaccines and booster doses by creating pop-up vaccination clinics across the country and increase the number of people who can administer vaccine doses.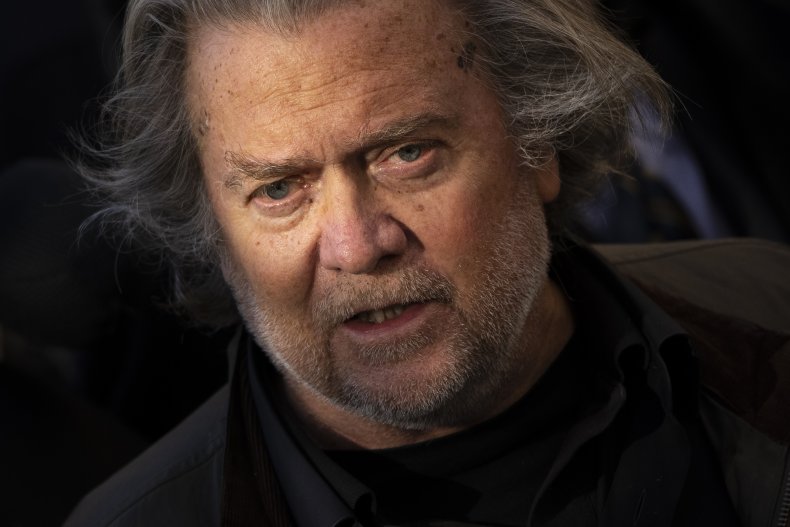 The White House has credited vaccines with being the "most powerful tool" America has against the pandemic and Biden warned that unvaccinated Americans are headed for a winter filled with serious illness and death.
Instead of increasing vaccinations, Bannon advocated for targeted interventions as outlined in the Great Barrington Declaration. Issued in October 2020, the declaration calls for people to be able to resume their normal lives if they choose, so infections in lower-risk individuals increase which would, in turn, build up immunity to help protect those who are more vulnerable to developing serious illness or dying of COVID-19.
Global health officials have pushed back on the strategy for being difficult to implement without a significant loss of life and hospitalizations. Dr. Tedros Adhanom Ghebreyesus, director-general of the World Health Organization, called the immunity approach "unethical" and the American Public Health Association accused it of ignoring "sound public health expertise."
Although Omicron may cause more mild disease, WHO COVID-19 technical lead Maria van Kerkhove has urged people not to create a narrative that this variant won't have a significant impact on people. She noted that increased numbers of cases mean some people will be hospitalized and additional deaths could occur because health care systems are already at their brink of collapse.
Dr. Mike Ryan, executive director of the World Health Organization's Health Emergencies Programme, also noted that even if Omicron is less lethal than Delta, if it infects significantly more people, there could still be the same raw number of hospitalizations.
Bannon criticized the Biden administration for being unprepared to handle the surge in cases fueled by Omicron. Pointing to comments that the outbreak is a "pandemic of the unvaccinated," Bannon predicted the administration would move forward with "more draconian measures" to boost vaccination rates in the United States.