Steve Bannon Says, 'We're Going on the Offense' Against 1/6 Committee as Arraignment Looms
Steve Bannon said on Monday that he plans to go "on the offense" against the January 6 Committee as his arrangement is expected in the next few days.
While speaking to reporters after his initial court hearing, Bannon said, "this is gonna be the misdemeanor from hell for [Attorney General] Merrick Garland, [House Speaker] Nancy Pelosi and [President] Joe Biden...We're going to go on the offense, we're tired of playing defense, we're gonna go on the offense and stand by."
Bannon continued, "We're going on the offense."
Bannon's lawyer, David Schoen, also spoke to reporters on Monday, saying, "what [Bannon] means by offense is we're gonna challenge this affirmatively. We're gonna fight to defend his rights and to defend your rights also."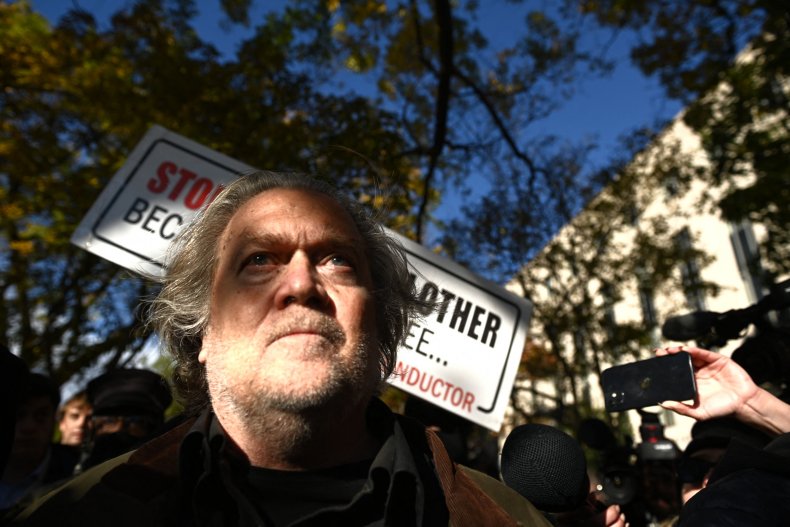 Bannon's comments came shortly after he turned himself in to authorities on Monday morning, following an indictment for defying the January 6 Committee's subpoena.
"Stephen K. Bannon was indicted today by a federal grand jury on two counts of contempt of Congress stemming from his failure to comply with a subpoena issued by the House Select Committee investigating the Jan. 6 breach of the United States Capitol," the Washington D.C. District Attorney's Office said in a statement on Friday.
According to the District Attorney's Office, each of the charges filed against Bannon carry a maximum of one year in prison and a fine of up to $1,000.
During his court appearance, Bannon appeared before U.S. Magistrate Judge Robin M. Meriweather, who detailed the charges against him. Bannon's arraignment is scheduled for Thursday, in front of District Judge Carl J. Nichols, who was appointed by former President Donald Trump.
Prosecutors did not request for Bannon to be placed in jail before his trial, but he was forced to surrender his passport and was ordered to check in weekly with pretrial services.
Prior to his court appearance, Bannon spoke with reporters and supporters outside of the FBI's field office in D.C. and said, "I don't want anybody to take their eye off the ball of what we do every day."
He continued, "We got the Hispanics coming on our side, the African Americans coming on our side. We're taking down the Biden regime...I want you guys to stay focused and stay on message."
Members of the select January 6 Committee have said that Bannon was reportedly present at a gathering at the Willard Hotel on January 5, just one day before supporters of Trump breached the U.S. Capitol building in protest of Congress certifying the results of the 2020 election.