Steve Bannon is 'Schizophrenic,' Matt Drudge Says After New Trump Tower Meeting Revelations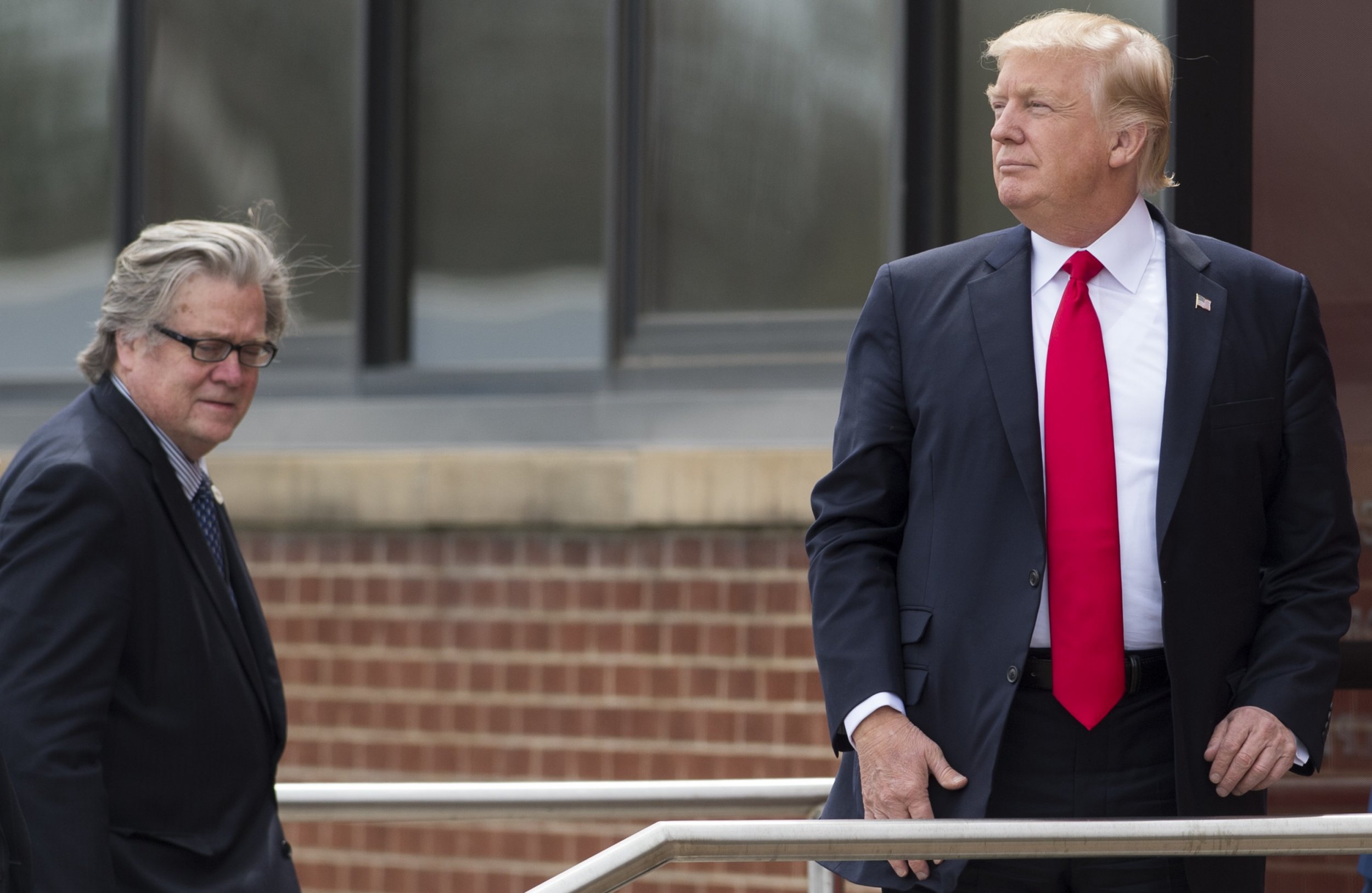 President Donald Trump's former strategist Steve Bannon is "schizophrenic" and in need of a full security detail after calling the Trump campaign's 2016 Trump Tower meeting with Kremlin-linked Russians "treasonous," says one of America's most-read right-wing journalists.
Matt Drudge, who runs the highly influential Drudge Report, made the remarks after Trump's former political adviser called the meeting "treasonous" and cast new doubts on Team Trump's denials about the subject of the meeting.
"No wonder schizophrenic Steve Bannon has been walking around with a small army of bodyguards," Drudge tweeted after journalist Michael Wolff's book Fire and Fury was excerpted in The Guardian on Wednesday.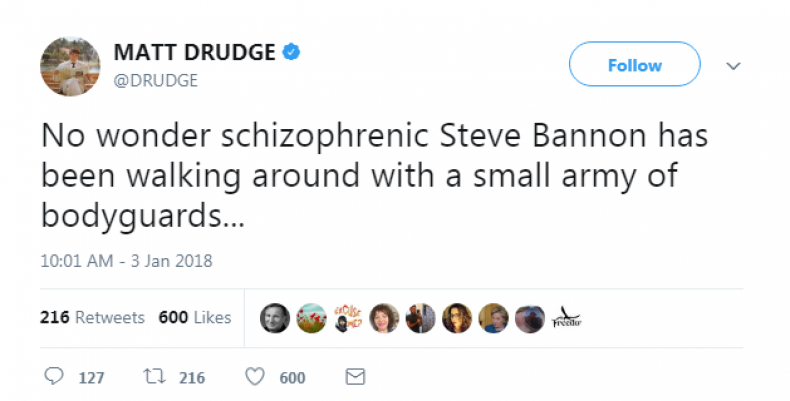 In the book, Bannon suggested that Donald Trump Jr.'s handling of the meeting—both before and after—made him a liability to anyone probing the campaign's possible collusion with the Russians.
"They're going to crack Don Junior like an egg on national TV," Bannon said according to the excerpts released by The Guardian.
Bannon also criticized the "brain trust" of the Trump campaign in the excerpts and suggested that Trump Jr. and others were woefully unprepared for what they were getting into during a meeting that took place at Trump Tower in July, 2016.
"The three senior guys in the campaign thought it was a good idea to meet with a foreign government inside Trump Tower in the conference room on the 25th floor—with no lawyers. They didn't have any lawyers," Bannon apparently quipped to Wolff.
"Even if you thought that this was not treasonous, or unpatriotic, or bad shit, and I happen to think it's all of that, you should have called the FBI immediately," he said, according to the excerpts.
Bannon also suggested that Junior foolishly ushered the Russians to meet with then-candidate Donald Trump.
"The chance that Don Jr. did not walk these Jumos up to his father's office of the 26th floor is zero," Bannon said on page 255 of the book, according to an NBC News correspondent.
Bannon also provided a roadmap to where the alleged collusion investigation led by Special Counsel Robert Mueller may head.
"You realize where this is going," Bannon is quoted as saying to Wolff in The Guardian. "This is all about money laundering. Mueller chose [senior prosecutor Andrew Weissman] first and he is a money-laundering guy. Their path to fucking Trump goes right through Paul Manafort, Don Jr and Jared Kushner … It's as plain as a hair on your face."
Bannon has been criticized for the degree to which he invested in failed Alabama Senate candidate Roy Moore, who lost to Democrat Doug Jones in a special election last month. Another candidate once backed by Bannon, Paul Nehlen, who is running for Paul Ryan's Congressional seat in Wisconsin, came out as a white nationalist in recent weeks through a series of social media posts. Bannon chose to distance himself from Nehlen through a statement made by Arthur Schwartz, one of his advisers.