Steve Bannon Screamed at Ivanka Trump: 'You're a Goddamn Staffer' and 'You Act Like You're in Charge,' Woodward Book Says
Ivanka Trump reportedly got into an expletive-charged argument with former chief strategist Steve Bannon over bypassing then–White House chief of staff Reince Priebus to get to President Donald Trump.
"You're a goddamn staffer!" Bannon screamed at Ivanka, a senior White House adviser, telling her she had to work through Priebus like other aides, investigative journalist Bob Woodward writes in his soon to be released book, Fear:Trump in the White House.
"You walk around this place and act like you're in charge, and you're not," Bannon said, according to an excerpt published by The Washington Post on Tuesday. "You're on staff!"
Ivanka Trump, who had special access to her father, responded: "I'm not a staffer! I'll never be a staffer. I'm the first daughter."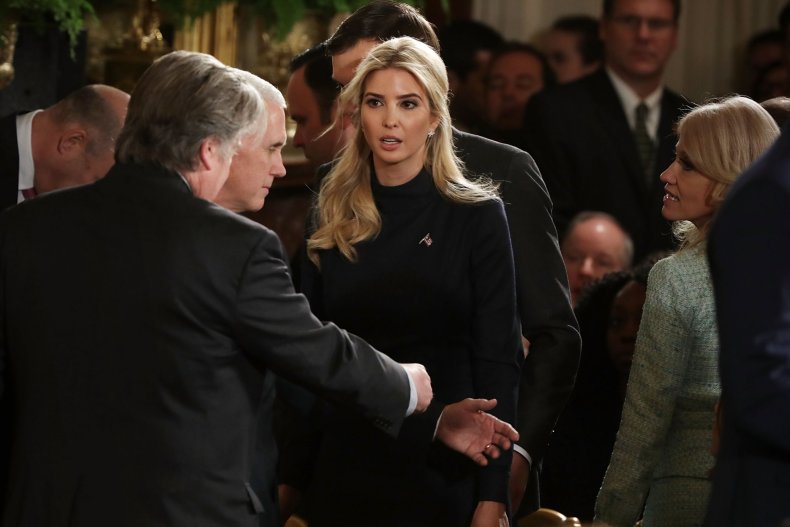 It is one of many heated exchanges Woodward detailed in his book, which was based on hundreds of hours of interviews with witnesses within the White House, personal diaries, meeting notes and government documents.
The book quotes Priebus as referring to Trump administration officials as "natural predators."
"When you put a snake and a rat and a falcon and a rabbit and a shark and a seal in a zoo without walls, things start getting nasty and bloody," said Priebus, who resigned in July 2017.
Priebus apparently complained that not much could be done to prevent President Trump from creating chaos, and he nicknamed the presidential bedroom where he watched cable news and ranted on Twitter "the devil's workshop." Priebus also called early mornings and Sunday evenings "the witching hour," because that was when the president frequently posted fiery tweets.
The hard feelings were mutual.
Trump told then–staff secretary Rob Porter, who was supposed to report to Priebus, to ignore the chief of staff because he was "like a little rat. He just scurries around."
A theme in Woodward's book is how members of Donald Trump's inner circle would try to control his impulses to avoid disasters, both for the president and the country. The executive branch experienced a "nervous breakdown," with senior White House aides even trying to remove papers from the president's desk so he would not sign them into law.
Ivanka Trump and other Trump family members are not major players in Woodward's book, but when they appear, they irritate their opponents in the West Wing.
Woodward, who helped uncover the Watergate scandal and currently serves as an associate editor at The Post, requested but was not granted an interview with Donald Trump. The president called Woodward in early August and complained it might be a "bad book"; Woodward responded that it would be "tough" but factual.