Sean Hannity and Steve Bannon Try to Rally Support for Trump During His Unpopular European Visit
While Donald Trump was meeting with European leaders at the NATO summit, his former chief strategist Steve Bannon and Fox News host Sean Hannity were busy trying to boost the president's popularity by gathering like-minded, populist politicians in London.
Upon his arrival to the United Kingdom on Friday, Trump will be greeted by thousands of protesters holding demonstrations in 30 cities across the nation. But the less than warm welcome is not surprising, as a survey published earlier this year showed Trump was even less popular in Europe than he is in the United States with only 23 percent of Europeans viewing the president's performance positively.
But Trump remains well-liked by a small circle of Europopulist leaders who are slowly gaining traction across the continent. In British politics, the right-wing U.K. Independence Party founded by Nigel Farage had a major victory when the U.K. decided to leave the European Union. Earlier this year, Italian voters voted a populist, anti-establishment government into power. France's far-right party leader Marine Le Pen credits the growing movement to Donald Trump's 2016 election as it "made the impossible possible."
Bannon told Politico that he was in London to serve as a "surrogate on British media."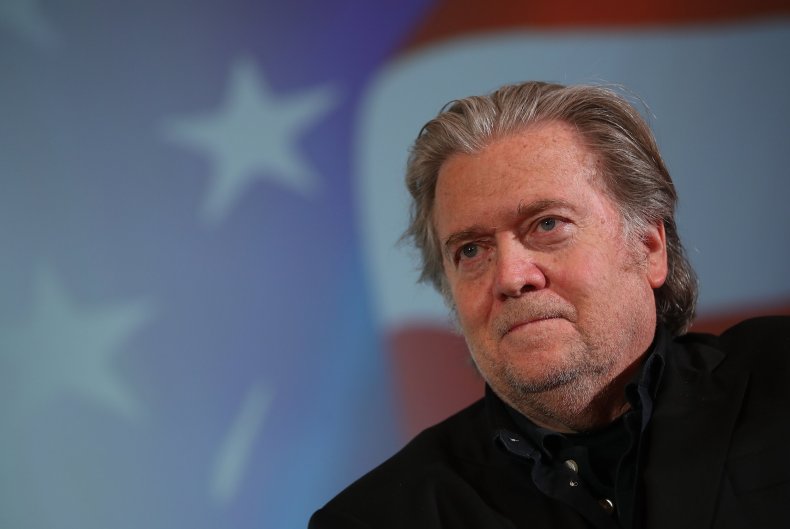 According to the report, Bannon had set up meetings with some of the continent's prominent populists, including Le Pen, Farage and Ben Harris-Quinney, the chairman of a British conservative think tank. The congregation of populist leaders showed that despite a large amount of distaste for the president, Europe is still finding success with their own version of Trumpism and far-right politics.
Following these meetings, Bannon was set to appear on Sean Hannity's show onFox News. The goal of these interviews and meetings, Bannon told Politico, was to "contextualize Trump" and change the way that the European audience views the president.
In the interview, which aired in the U.S. on Wednesday, Bannon and Hannity analyzed the president's appearance at the NATO summit and refuted media reports that Trump had isolated himself in the event by attacking close U.S. allies.
"This is total engagement and treating people like adults," Bannon said. "Trump is saying, 'if we are going to make this alliance work people have to step up and participate.'"
Hannity added: "Well, they only like apology tours Steve," claiming that those who are critical of Trump's handling of the NATO meetings only like "weak America."
President Trump said he considered the NATO summit a success, describing himself as a "stable genius" in a press conference on Thursday following discussions with allies about defense spending.
"The United States was not being treated fairly, but now we are," Trump told international reporters. "I believe in NATO."