Steve Bannon Suggests 'Scumbag' Senator Lindsey Graham Is Secretly Backing Biden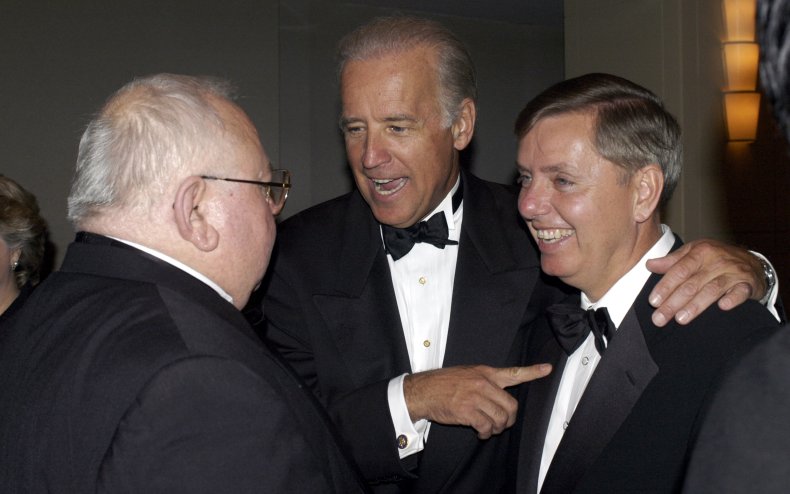 Steve Bannon, ex-adviser to former President Donald Trump, has suggested that Senator Lindsey Graham (R-S.C.) is one of five Republican "traitors" who are secretly backing President Joe Biden.
During the Thursday edition of his War Room: Pandemic podcast, Bannon vowed to "find out" the identities of the five GOP senators that Biden said privately "agree with whatever I'm talking about" but remain silent and refuse to back his agenda over fears that they would be "defeated in a primary."
Bannon heavily suggested that Graham—a vocal GOP critic of Trump prior to the 2016 election who went on to become one of his most outspoken supporters after he was elected—was one of the "scumbags and slime balls" who had secretly betrayed Trump and "the War Room posse" by backing Biden.
"The five traitors—and this is Republicans and this is the scumbags and slime balls you have here in the nation's capital ... they agree with what [Biden] is doing and they would actually vote and support him but they are afraid of, wait for it, the War Room posse," Bannon said. "They're afraid they will get primaried ... And they'd be off the money train, they'd be away from the trough. The hog would be away from the trough."
"We need those five senators to have enough guts to step up, we're going to find out who you are," he continued. "Have enough guts to step up and tell us, Lindsey Graham, who you are. You five, we need you guys to step up to the plate, Lindsey Graham, and tell us who you are."
Newsweek reached out to Graham's office for comment.
Although Graham and Biden had a decades-long friendship that began while both were serving in the Senate, their relationship has been strained in recent years and reached a breaking point when Graham backed an investigation into the future president's son Hunter Biden. During a December 2020 interview with Stephen Colbert, Biden said that Graham was "a personal disappointment because I was a personal friend of his."
Graham has blasted Biden repeatedly during the first year of his presidency. He said he would "never forgive" the president for withdrawing U.S. forces from Afghanistan during a Fox News interview last November, maintaining that he believed Biden had "blood on his hands." His assessment of Biden was far different in a 2015 Huffington Post interview.
"The bottom line is if you can't admire Joe Biden as a person, you've got a problem, you need to do some self-evaluation," a teary eyed Graham said during the 2015 interview. "What's not to like? ... He's the nicest person I think I've ever met in politics. He is as good a man as God ever created."
Graham's statements on Trump have also wildly differed over the years. Although he relented on Trump's efforts to overturn the 2020 election results after the January 6 attack on the Capitol last year, he said that the Republican Party would not be able to "move forward without President Trump" during a May 2021 interview with Fox News Host Sean Hannity.
Graham recently demanded that his Republican colleagues pledge an almost unconditional loyalty to Trump. He told Hannity last week that he would not back Senate Minority Leader Mitch McConnell (R-Ky.) or any other Republican seeking to lead the party in the Senate unless they "have a working relationship with President Trump." In contrast, his statements prior to the 2016 election advocated for anything but loyalty to Trump.
"You know how you make America great again? Tell Donald Trump to go to hell," Graham told CNN in 2015. "He's a race-baiting, xenophobic, religious bigot ... He doesn't represent my party. He doesn't represents the values that the men and women who wear the uniform are fighting for."