Steve Bannon Takes Rare Swipe at Trump as He Questions Influence
Steve Bannon, a former top adviser to Donald Trump, took a rare swipe at the ex-President as questions mount about his influence on the modern-day GOP.
In a post on the right-wing social media platform Gettr on Monday, Bannon, whose "War Room" podcast is essential listening in populist conservative circles, appeared to suggest that Ron DeSantis was poised to assume the mantle of today's Republican Party. He praised the Florida Governor's strategy success when others, namely Trump, had failed.
In a speech at the Republican Jewish Coalition's annual conference over the weekend, DeSantis spoke of the virtue of never backing down one's principles. He evoked General Douglas MacArthur's famed quote, "there is no substitute for victory," after consecutive elections in which Trump's influence appeared to hold the party back.
Bannon agreed.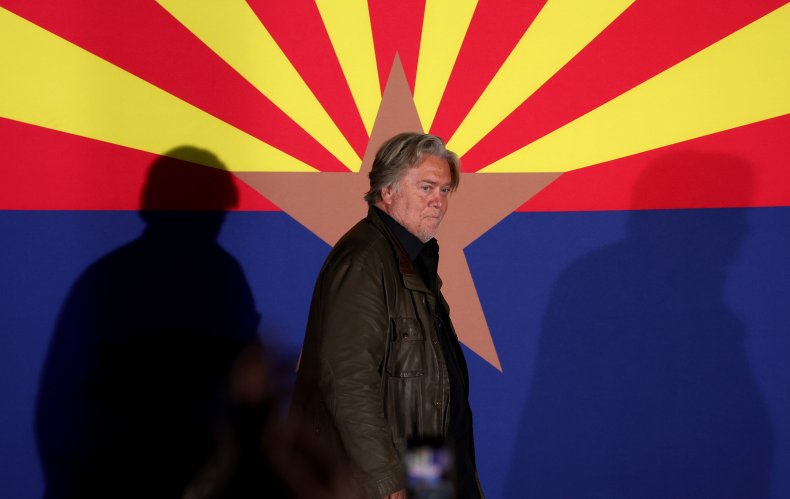 "Governor DeSantis Watching WarRoom and doing a straight lift," Bannon wrote.
It's been an unusual shift for Bannon, who was widely accused of being an integral player in a violent attempt on January 6, 2021, at the U.S. Capitol to keep Trump in power after he lost the 2020 presidential election.
While Bannon has remained a cheerleader for the Make America Great Again movement Trump inspired, Bannon reposted an article in The Hill late Monday morning authored by Republican consultant Keith Naughton that questioned whether Trump would "flame out" before the crucial Iowa caucuses. The article noted Trump's poor performance in recent polling and his apparent inability to discuss anything new on the campaign trail.
And over the weekend, Bannon reposted a CNN poll showing that Trump was in his weakest position in "years," while positive DeSantis-related content has been increasingly present on Bannon's Gettr feed.
But he has also been critical of DeSantis' apparent campaign strategy. Bannon criticized a report from Politico reporter Gary Fineout on CNN that said DeSantis was already listening to a group of hedge funds and other donors to wait for Trump to "punch himself out" before they began consolidating around DeSantis.
"Disturbing report from Politico," Bannon wrote. "The money is dictating the strategy for Governor DeSantis—the hedge fund money."
And though Bannon has not formally endorsed a single candidate, he has offered little criticism of DeSantis and his policies, even praising him as a "national leader" following his decision to send undocumented migrants from the U.S.-Mexico border to the liberal enclave of Martha's Vineyard in Massachusetts in September.
"Governor DeSantis reinforces image as national leader in forcing illegal immigration to the top of the news," Bannon wrote at the time.
Newsweek reached out to Trump's office for comment.